Norway can leave you speechless when it comes to its beautiful landscapes and outdoor activities. Don't worry you won't need to find any more words when it comes to find the perfect Norway puns for your Norway captions for Instagram! We have them all, easily sorted for you to pick the one you are looking for. And if you are looking for more Instagrammable places (I have a specific post to Lofoten) or inspiration posts, check out our Norway page.
Disclosure: anitabeyondthesea.com is reader-supported. When you make a reservation through links on my site, I may earn an affiliate commission, at no extra cost for you. That will help me keep the blog up and running. Thank you!
In this Article
Norway Captions for Instagram
When in Norway…
Adventure awaits in Norway.
I love you to the fjords and back.
My heart belongs to Norway.
To Norwegian adventures.
Life is better by the fjords.
There is no better place to experience the magic of nature.
In the land where fairy tales are brought to life.
Viking heritage is alive and well.
When life gives you fjords, embrace the Norwegian lifestyle
Seasonal Norway Captions
Lost in the land of the midnight sun and Northern Lights.
Embracing the midnight sun.
In the land of the midnight sun.
Chasing the Northern Lights.
Welcome to the Winter wonderland.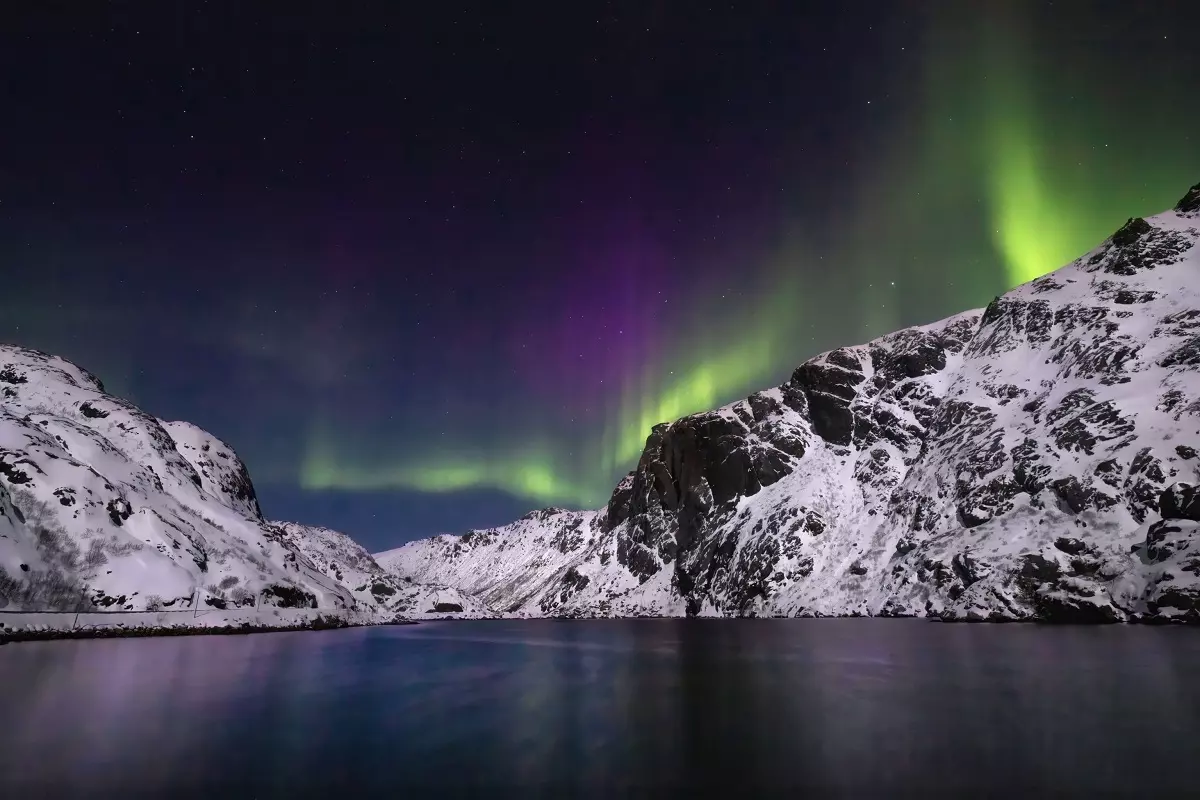 Funny Norway Captions
When in Norway, do as the Norwegians do: eat lots of Brunost and pretend you like it!
Note: Brunost is one of the most popular local cheeses.
In the land where trolls are friendly.
Lost in translation: Asking for ice cream and getting a reindeer instead…
When you can't tell if it's a fjord or just a really wide river.
Norwegian winters: When your hair freezes faster than your brain.
When the fjord's so stunning, you forget how to take a normal selfie – windblown hair, don't care!
Tried to blend in with the locals by wearing a Viking helmet, now I just look like a tourist with a horned hat.
In Norway, 'rustic' means it's been around since the Viking era.
Norway Puns for every occasion
There is Norway I'm leaving this place!
I think I peaked in Norway.
I can't a fjord to come back.
Oh, whale.
Norway gets my seal of approval.
I can bear-ly contain my excitement.
Trips to Norway are the most a-moose-ing.
Ship happens.
I love you ferry much!
Norwegian Mythology Puns
it's Loki annoying how beautiful this place is.
Trying to keep a Loki profile as I'm traveling to Norway.
This place is Frigg-en amazing!
I don't need a hammer to be Thor-tastic.
Viking puns are so axe-iting!
Puns about Norwegian cities and places
Life is better if you go Oslo.
I love how Norway places are different. Sommarland and some are water.
I have Lofoten goals.
Bergen, it's cold in here.
Where should I Bergen my Norwegian trip?
Feeling Blå-ssed.
Norway Jokes
How did viking ships communicate with each other? Norse code.
What math do Norse gods use? Frigg-anometry.
What do you call a vain person from Norway? A norse-cissist.
How do you call the Norse god of lightning after he turned into gold and began writing books? Au-Thor.
What's the most popular car in Norway? A Fjord Fjocus.
Have you heard about the Viking who was reincarnated? He was Bjorn again.
Do you know the Norse god who couldn't stop losing hair? Balder.
How did you say getting a movie about Norse gods from the Internet? Downl-Odin.
Let's wrap the best Norway puns and Norway captions!
I hope like us you liked our captions ferry much (sorry)! And if you are regularly lacking inspiration for your social posts, check out our Travel Inspiration page for more captions, quotes, etc… You will never be caption-less! See you back soon.
Have you liked our Norway puns and captions? Sharing is caring!