Martinique is a beautiful Caribbean island that is also a popular stop for many cruise lines. Got only one day to catch the island essentials? In this guide, we will explore the best things to do in Martinique on a cruise stop. With its sandy beaches, lush rainforests, and vibrant culture, you will have plenty of activities to choose from!
Disclosure: anitabeyondthesea.com is reader-supported. When you make a reservation through links on my site, I may earn an affiliate commission, at no extra cost for you. That will help me keep the blog up and running. Thank you!
Table of Contents
Go hiking on an active volcano
If you are an outdoor enthusiast, Martinique's North has some great hiking trails. One of the most interesting? Without a doubt Pelée Mountain, the island's active volcano. Remember to wear hiking shoes and comfortable shoes. The trail is medium/expert level with some climbing points. It will take you between 1.30 and 2.00 hours to get on top and the complete hike is about 4 hours.
This is definitely not a relaxing activity, but it's an incredible experience, and if the weather is good you can expect amazing views once you are on top of the volcano.
Note: Most excursions you will find on the internet, have only a brief stop to the panoramic points you can access by car. If you want to hike Pelée Mountain, you should negotiate with one of the taxis at the terminal.
Explore Fort de France
Fort-de-France is the largest city in Martinique, and it's also a great place to explore on a cruise stop. The city is known for its vibrant markets, historic architecture, and delicious cuisine.
Visitors can wander through the colorful market stalls. Among the most interesting to visit you should note the Spice Market, perfect to buy a tasty planteur or rhum arrangé, or the Park's Market, the most authentic and the local's favorite market, to buy every kind of local fruits and vegetables.
Fort de France is also home to several historic sites, including the Schoelcher Library and the Fort Saint-Louis, one of the best historical attractions in Martinique. The Fort which dates back to the 17th century was the center of many important battles for the control of the island.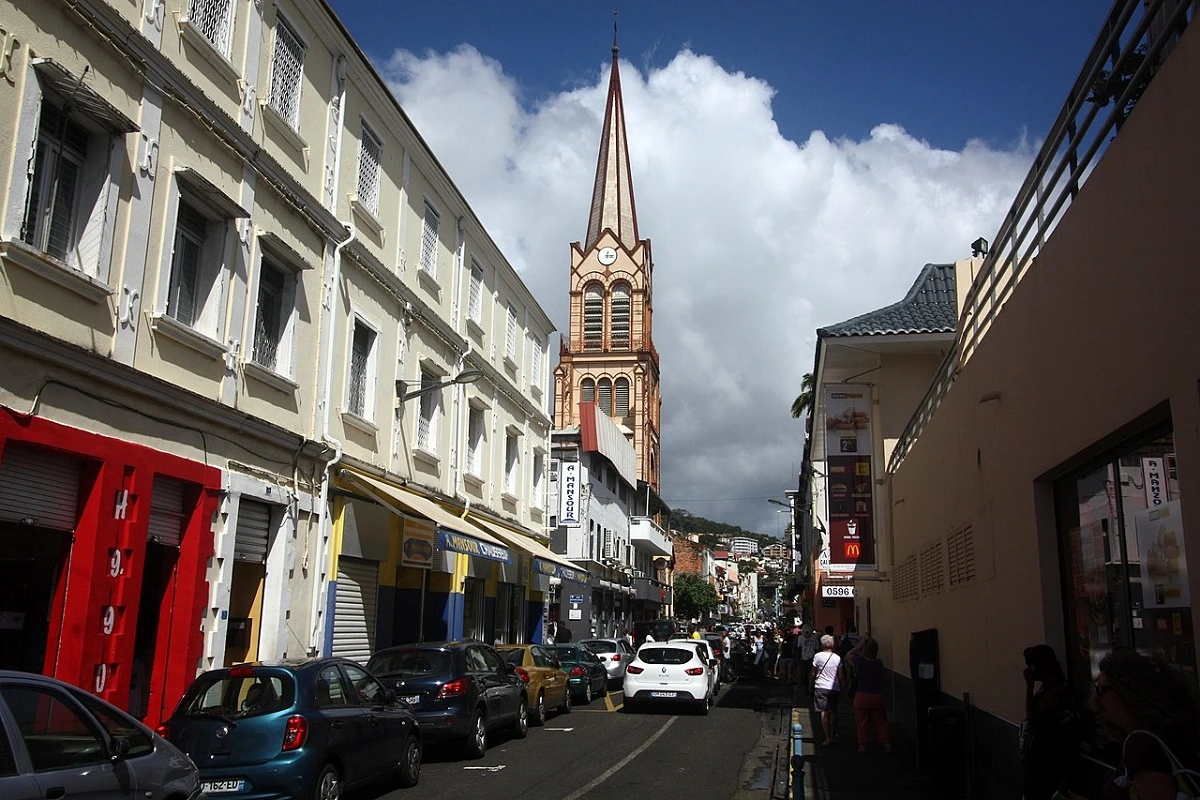 Wander in Galata's lush forest and visit Latouche Dwelling
The Balata Gardens are one of the most beautiful locations in Martinique. A few kilometers outside Fort-de-France, the gardens contain over 3,000 species of tropical plants and flowers, there are more than 300 different types of palms alone! Visitors can stroll through the gardens and admire the colorful flora, including orchids, heliconias, and bromeliads.
The highlight of the gardens is the treetop walkway, which offers stunning views of the surrounding rainforest. And for passionate photographers, how not to mention the feeder outside the ticket office which attracts hundreds of hummingbirds every day.
Latouche Dwelling was an ancient distillery that was almost completely destroyed during the Pelée volcano eruption in 1902. Nowadays it hosts Martinique Zoo and you still can see some engines that were used when the dwelling was an active indigo and manioc workshop.
Why am I coupling the two? Because for a reduced ticket you can visit both of them. If you have enough time to see only one, I'd recommend Balata's gardens for the lush beauty of their forest.
Visit Diamond Rock and Memorial Cap 110
The iconic rock formation is located just off the coast of Martinique and has a fascinating history as a British naval stronghold during the Napoleonic Wars. You can take a boat tour to see the rock up close and learn about its history.
When visiting, stop by le bourg du diamant, Diamond Rock's Village. A small fishing village with a beautiful white sand beach. Diamond Rock's beach is also the location of the suggestive Memorial Cap 110, a tribute to the tragic shipwreck that claimed the life of 42 slaves in 1830.
Take a rum tour
Martinique is famous for its rum, and several distilleries on the island offer very interesting tours and tastings. Some popular options include the distilleries La Favorite, De Paz, and Dillon.
Almost every tour includes at least one distillery in its program. Many mention Habitation Clément which is both a distillery and a place of interest regularly hosting art exhibitions. You can check their agenda and learn about the ongoing exhibitions.
Note: when shopping for alcohol, remember to check the quantity you are allowed to carry on the boat and the plane back home. The custom may seize part of your precious liquors!
Take a food tour
Martinique is known for its delicious Creole cuisine. You can try local specialties like accras (fried cod fritters), colombo (a spicy curry dish), and boudin (blood sausage).
There are two different ways to discover Martinique's local cuisine: street food tasting at the local markets or taking a food tour. Our pick: Esthelle's food tour! Embark on a culinary adventure to discover samples of tasty local cuisine. The tour is also packed with the best sightseeing you could consider for a daily trip: from Balata Cathedral to Saint Pierre, and how not to mention the stop in De Paz distillery. It is really a must! Wine is also included.
Go snorkeling or scuba diving
Martinique's clear waters are home to a variety of marine life, including colorful coral reefs, tropical fish, and sea turtles. Snorkeling or scuba diving is one of the best things to do when in Martinique!
There are several locations where you can snorkel, one of the most beautiful locations is in the South-West villages like Trois Ilets or Anse Arlet. Although you may be short on time depending on your cruise.
A great alternative is Pol's sailing tour. Departure is from Case Pilote a few kilometers from Fort de France and you will embark on board a catamaran to discover the island's highlights and discover underwater life. The eco-friendly launch is included and you will get to taste the delicious local products.
Enjoy a day at the beach
I get it, you are cruising around the Caribbean, so you may be tired of sunbathing and relaxing, and yet Martinique is breathtaking and has some incredible beaches that are worth visiting. It's really difficult to pick a few favorites, depending on what you are looking for there you go:
Anse Mitan has a breathtaking view of Fort de France's bay and its surroundings. It's also the departure for many short catamaran cruises and snorkeling tours.
Anse d'Arlet is one of the most photographed spots on the island, you probably have seen the village's church a few meters from the beach in many advertising photos.
Les Salines, also known as Saint'Anne, is a beautiful beach in the South-East of Martinique. When visiting on a cruise it is one of the most touristy beaches, if you prefer something quieter maybe you should look elsewhere.
What to do? Lay your towel on the sand, swim in the crystal clear waters, and enjoy the sunshine. To get there just rent a taxi outside your terminal.
Note: all these beaches have white sand and are in the South of the island. As you get in the North, the island is wilder and beaches have darker sand as a result of the volcanic activity of Pelée Mountain.
Book a tailored tour and see your favorite locations
Gather your favorite travel companions, and enjoy a fully custom tour to pick your favorite choices from our list. The price is fixed at 380€ and it can take from 1 to 7 passengers. Check out the offer here, before booking it I'd recommend you to discuss with the driver for suggestions and special requests.
The price doesn't include entry fees. You can book the tickets from Viator or the single locations websites.
Frequently asked questions
Which is the closest beach to the cruise port in Martinique?
Plage du PLM is a very small but nice beach, which is also the closest to the cruise terminal. You can snorkel or enjoy a drink from the bar nearby. To get there from the cruise terminal by walking will take you an hour, the distance is 4,6 km. Even if it's nice, the best solution is to take a taxi or tour and go elsewhere.
When is the best time to visit Martinique?
From April to May. That time of the year is considered low season and the weather is still good. Rain season begins in June and ends in November. While the peak season is from December to February.
Which is the currency? And do they accept dollars?
As a region of France, Euro is Martinique's currency. Most locations will accept only Euro and credit cards. The closest ATM to the cruise terminal is Point compte nikel, at 95 Av. Maurice Bishop, Fort-de-France. You can also ask your driver to stop by one before leaving the city.
Which language do they speak in Martinique?
French is the first language. But many people especially those who work in tourist environment speak English. Before booking any tour or activity, make sure it's translated for non-French speakers.
Note: You can apply this also to Guadeloupe if you are stopping over there.
Take your sunscreen and sunglasses and enjoy Martinique!
And don't forget your mask for snorkeling! If you are preparing a cruise to the Caribbean you may be interested in our recommendations. Each island is absolutely unique and special. You won't regret your choice!
Have you liked this post? Sharing is caring!