Located in Emilia-Romagna one of Italy's central regions, Castell'Arquato is a charming medieval town that is worth exploring when wandering in Piacenza, or (why not?!) as a day trip from Milan. The town is situated on a hilltop surrounded by stunning landscapes, making it an ideal place for a relaxing getaway. Castell'Arquato is considered one of Italy's most beautiful villages and is included in our itinerary of the 13 most beautiful villages and towns in Emilia Romagna.
Disclosure: anitabeyondthesea.com is reader-supported. When you make a reservation through links on my site, I may earn an affiliate commission, at no extra cost for you. That will help me keep the blog up and running. Thank you!
Table of Contents
What to see in Castell'Arquato
Castell'Arquato's old town is one of the best-preserved medieval towns in Italy. Some of the town's architecture dates back to the 8th century and boasts narrow streets, cobblestoned alleys, and ancient buildings. Walking through the old town is like taking a trip back in time.
The Visconti Fortress
La Fortezza Viscontea is an imposing fortress built in the 14th century and dominated by an impressive 42 meters keep. You can visit the interior of the fortress and get to the tower's top for the best views of the city.
While climbing up to the keep's steps (there are a lot!), you will notice small rooms on both sides of the stairs, that's where you can learn about how life was in the Middle Ages in the Po' valley.
Before continuing the old town's exploration, stop by the beautiful small garden at your left when exiting the fortress. The view from the terrace is very nice, and there are a few benches in the shadow of tall pine trees.
Did you know? Visconti Fortress was the set of the movie Ladyhawke.
Palazzo del Podestà (Podestà Palace)
But first who was the Podestà? According to Wikipedia, the Podestà was the name given to the holder of the highest civil office in the government of the cities of Central and Northern Italy during the Late Middle Ages.
So the Podestà was still subject to a lord. And it was Alberto Scotti, lord of Piacenza who commanded the construction of the palace at the end of the 13th century. Today the palace regularly hosts exhibitions.
The Church of Santa Maria Assunta
Be sure to visit the Collegiata di Santa Maria Assunta, a Romanesque-style church that was built in the 12th century. The church features beautiful frescoes and is a testament to the town's rich history. There is also a small museum that displays religious relics.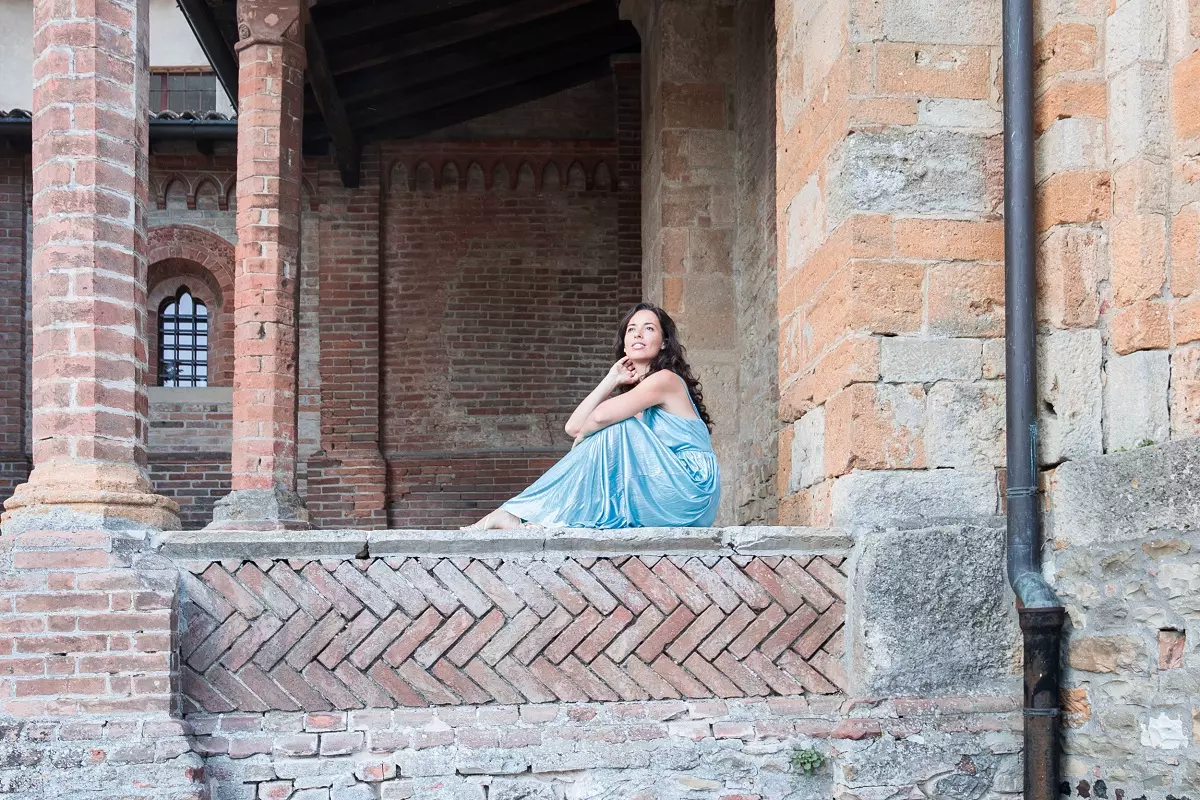 Geology Museum G. Cortesi
It may seem weird to host a geology museum in a rather plain area. But if you go back in time to some million years ago, the Po valley was covered by the sea. Witnesses from that period, several fossils were found in the area and are now on display at G. Cortesi Museum.
There is a small entry fee of 3,50€ to enter the collection. You can find more information and check the museum schedule on their website Museo Geologico G. Cortesi (the access information is only in Italian)
How to arrive?
The town arise on the hills between Piacenza and Parma. Getting there will take about 40 minutes from both locations. While it stands about 1 hour and a half from Milan.
The easiest way to arrive is by renting a car at your arrival airport. The closest international airport is Milano Malpensa, but if you can fly to Parma or Linate you will be closer. For the best deals and offers check discover cars or rental cars.
From Milan by car
Take the A1 highway to Parma. Exit at Fiorenzuola and take SP462R, then the SS9 direction Castell'Arquato. It's about 15 minutes once you have exited the highway.
By public transport (train + bus)
Take the train to Fiorenzuola station. Once you arrive, take the bus E43. It's a 30-minute ride. Note that the schedule variates during the weekends. You can check out the bus schedules here.
How long does it take to explore Castell'Arquato?
It depends on your pace, but I'd say in half a day you will have explored all the main towns sights. What's exciting about the area is that there are so many hidden gems (small towns and villages) to discover. The icing on the cake? Piacenza's cuisine is the best in the world! And believe me, it costs me a lot to admit this as a Tuscan native who married a Piacentino.
Things to see nearby the town
Castell'Arquato is surrounded by stunning landscapes that are worth exploring too. A few minutes away there is Monte Moria Regional Park, a nature reserve that is home to several species of flora and fauna.
Just 20 minutes away you should visit the nearby castle of Vigoleno. A charming fortified village that has been famous since Roman times for the quality of its precious wines. Did you know you can also sleep in Vigoleno Castle?! It's also one of the most incredible accommodations to spend a special night in Emilia Romagna's hills. Check out Vigoleno Castle prices here.
Where (and what) to eat in Castell'Arquato?
Emilia-Romagna is known for its delicious cuisine, and Castell'Arquato is no exception. The town is home to several restaurants (among the best check out Stradivarius) that serve traditional dishes such as tortelli di ricotta e spinaci (ricotta and spinach tortelli), you can also try them with a zucca (pumpkin) filling instead, and pisarei e fasò (gnocchi with beans).
My pick? Go for Tortelli Ricotta e Spinaci, seriously if I could I'd eat them every day!
The area is also famous for its wine production, particularly Gutturnio, a red wine that is produced locally. If you prefer sweeter and less strong wines taste Bonarda instead.
Where to stay?
As it is a small town, the prices may be higher than in larger cities, you will also have fewer choices. In general, I'd recommend sleeping in Piacenza or Parma instead. but you can still check out the best accommodations on booking.
If you are in for a treat spend a night in the above-mentioned Vigoleno Castle or the neighboring Locanda di Grazzano Visconti. You will have the feeling of going back in time!
Come discover one of the most enchanting towns in Italy
Get off the beaten path and explore one of Italy's most beautiful towns. With its charming alleys and majestic Medieval architecture, Castell'Arquato will not disappoint you! And if you are looking for more hidden gems in Emilia Romagna, don't forget to read the 13 best villages and towns in Emilia Romagna next.
Have you liked this post? Sharing is caring!