Lofoten are by far one of the most mesmerizing places on our planet. The beauty of the sharp and irregular peaks surrounded by the crystal clear waters of the Norwegian Sea, and the little red houses (by the way, did you know you can sleep inside one?) dotting the irregular surface of the islands, make it a bucket list location for many photographers. But with so many places to visit it's easy to get lost. With this helpful guide, complete with a map, I'll help you choose the best photo spots in Lofoten to visit all year long!
Disclosure: anitabeyondthesea.com is reader-supported. When you make a reservation through links on my site, I may earn an affiliate commission, at no extra cost for you. That will help me keep the blog up and running. Thank you!
In this article
Where to find the Best Photo Spots in Lofoten?
Lofoten are easy to explore. There is one main road, the E10, and a few narrow roads that will lead you to the most remote places. Even so a practical guide can help you to save time, and that's why you made be interested in this road trip itinerary tailored on a 5-days journey.
Otherwise the map down below will help you locate all the points on our list. I choose to order them by geographical area starting from the North-East and saving the best part, Moskenesøya island, for the end.
1. Trollfjord (Svolvær)
How to get there: by boat on a cruise or on a sea eagle safari tour.
Best time to get there: all year long.
Situated between Vesteralen and Lofoten, Trollfjord became famous after a battle between fishermen in the late 19th century. Following the events, a painting illustrating the naval fight captured the attention because of the landscape.
Since then Trollfjord is an iconic location that can be reached only by boat, or during Summer after a long an difficult trek in the surrounding mountains.
Want two birds with a stone (or should I say eagles?!) ? RIB sea eagles safari will bring you there after showing you the majestic bird of prey in their natural habitat. Want to learn more about this experience? Check out our detailed guide.
2. Svolværgeita (Svolvær)
How to get there: Northern Alpine Guides.
Best time to get there: Summer.
Climbing the Svolværgeita, literally Svolvaer's Goat (because of the two spires that look like horns), is one of the best activities to do in Lofoten. And the view from up there is insane! The hike isn't as difficult as it may look and with Northern Alpine Guides you will get on top in no time.
If you are not feeling confident enough to go up to the horns, Fløya trail head is an easy/moderate that will gift with some incredible views as well.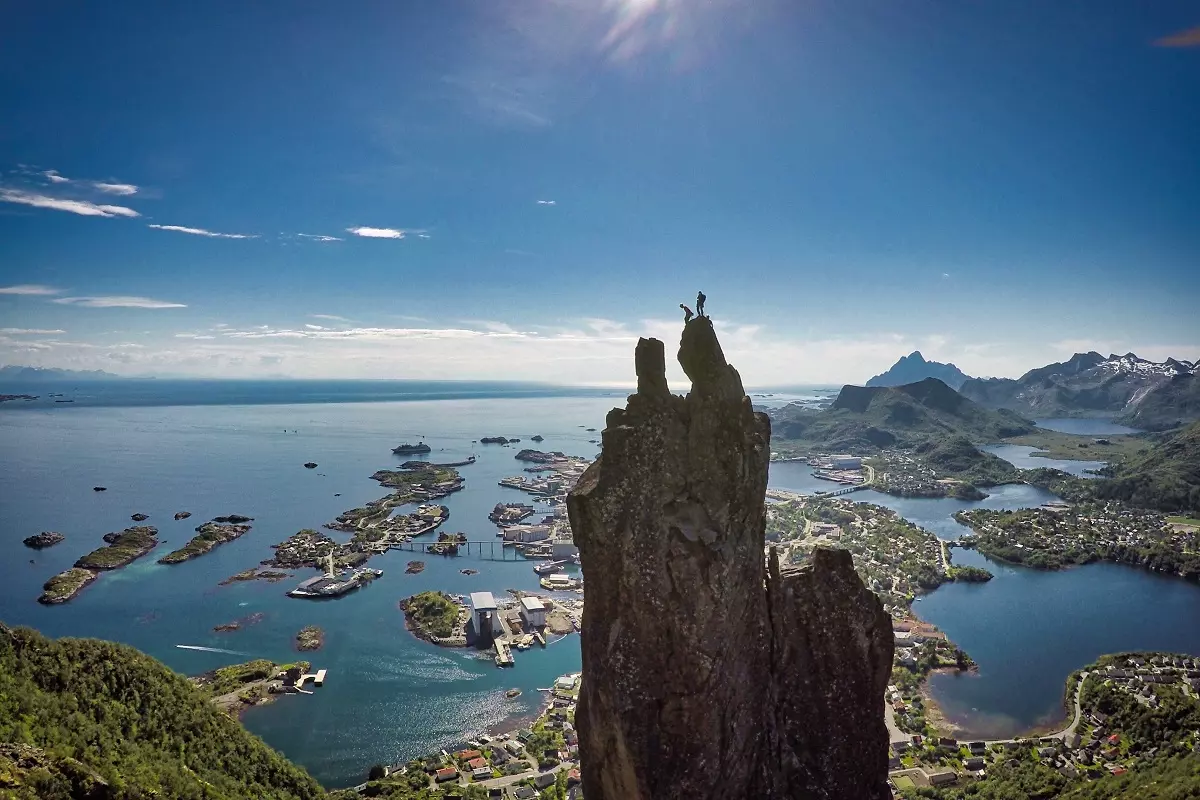 3. Henningsvaer Stadium
How to get there: Road 816 to Henningsvaer.
Best time to get there: Summer, when the field is clearly visible.
Henningsvaer Stadium is one of the most iconic soccer fields in the world! Since the use of drones became so accessible, Henningsvaer saw its popularity increase because of the particular location of its stadium.
The stadium is a few meters away from the small city center, to have the most non-aerial view of it climb to the rocks opposite to the entrance. You can also take on the right when arriving to the cod drying stacks for a panoramic view of the surrounding islets.
4. The cemetery in front of Vik
How to get there: on Voieveien direction Hauklandstranda.
Best time to get there: Winter.
Cemeteries in Lofoten are the place where I can really imagine people "resting in peace". There is something poetic about them, and when snow lays its veil on the island they become surreal.
When going to Hauklandstranda and Uttakleiv strand, Vik cemetery stands on the right backed by one of Lofoten typical mountains you can stop there and respectfully admire the view.
5. Buskenes Kirche
How to get there: on the road 818 direction to Ballstad.
Best time to get there: all year long.
If you come to Lofoten with the idea of seing viking-like buildings and boats, you may be disappointed. Although we did see a drakkar staying at Solsiden Brygge.
On the building side, you can visit Lofotr Viking Museum, which is hosted inside the largest viking longhouse that survived the test of time. And of course you can admire the beautiful Buskenes Kirche.
Situated nearby Ballstad, Buskenes Church is built in dragestil, an architectural style very popular in the 19th and 20th century in Scandivia, that takes elements from the ancient viking constructions.
6. Uttakleiv strand
How to get there: on Voieveien direction Hauklandstranda.
Best time to get there: all year long.
There are many incredible beaches in Lofoten and Uttakleiv stands proudly among the top to visit. During Summer you can enjoy the hike to the top of Mannen Mountain. While in Winter you can walk from Hauklanstranda to Uttakleiv along the coast.
The parking fee is cheaper in Hauklanstranda, but if you are not willing to walk skip directly to Uttakleiv. The area is also open to camping and there are toilets nearby that are often closed during Winter.
7. Flakstad Kirche
How to get there: along the E10.
Best time to get there: all year long.
Flakstad Kirche is nearby the beautiful beach of Skagsanden. Popular during summer as a camping site and a good spot to enjoy the freezing arctic waters, in Winter it's a very popular surfing spot.
The church is interesting because of its typical architecture. If you are staying nearby, camping in Flakstad or staying in Ramber consider coming there in the freezing winter nights to admire the Northern Lights.
8. Nusfjord
How to get there: take the Fv807 before Flakstad to Nusfjord.
Best time to get there: all year long.
The most well preserved fishing village in Lofoten is also an open air museum and UNESCO World Heritage Site that is absolutely worth visiting! Nusfjord preserved many historical buildings and original rorbuer (where you can spend an unforgettable stay!).
The open buildings features everyday objects and fishing tools. I highly recommend visiting the ancient general store, which is now a café but kept many of the original objects on display.
Learn more about Nusfjord in our travel guide.
9. Ramberg Rorbu
How to get there: along the E10.
Best time to get there: all year long.
Ramberg Rorbu became famous thanks to socials and is probably after Eliassen Rorbuer, the most photographed rorbu in Lofoten. Easily accessible, it's very close to a parking, photographers favorite spot to photograph it is from the bike path next to the road.
There is no best time to photograph Ramberg Rorbu, but let's be honest when the red house is surrounded by snow the white/red/blue contrast is just perfect!
10. Yttersand
How to get there: leave the E10 direction Fredvang, surpass the village, you will find the beach on your right.
Best time to get there: all year long.
Yttersand beach is a tranquil beach framed by large rocks with the incredible backdrop of Volandstind, the mountain you can admire coming back from the beach while crossing the curvy Fredvang bridges, and Ramberg mountains.
Just like many other beaches in Lofoten, Yttersand is very popular during Winter among the arctic surfers.
11. Kvalvika Beach
How to get there: leave the E10 direction Fredvang, surpass the village, the parking to the hike is on your left.
Best time to get there: Summer.
One of the most beautiful locations in Lofoten is Kvalvika Beach, although to get there you will have to complete a moderate 1 hour and a half hike. The beach is a famous camping site, and it's easy to see why!
If you are looking for the most beautiful spot to photograph Kvalvika, consider the trail to Ryten (the view below is from the trail). It's a moderate hike that will take you 2 more hours to complete, once you'll be up there you won't regret it!
12. Hamnøy Bridge
How to get there: on E10.
Best time to get there: all year long.
The view from Hamnøy Bridge is probably the most famous view of Norway, and I'm sure as you are preparing your trip you've already come across it at least once.
This view is very representative of Lofoten: Festhelltinden peak towering over the red rorbuer on the waterfront. It describes the islands so perfectly!
To get the perfect photo park your car after the bridge and go back, there is a small sidewalk. Good to know: the bridge has alternating traffic, if you want to cross it entirely from the parking just wait that the last vehicle has passed before the green light goes on for the other side.
Did you know? You can sleep in one of the mythical rorbu you see from the bridge!
13. Sakrisøya Yellow Rorbu
How to get there: on E10.
Best time to get there: all year long.
Accidentally Wes Anderson Book made this location world famous by changing the yellow rorbu into a dog (wearing a yellow raincoat).
But of course even if you don't have a Jack Russell with you you can still match the view of Olstind peak with the yellow rorbu in front of it.
In case you end up on Sakrisøya for lunch or dinner, you can stop at one of Lofoten's most famous restaurants: Anita's Seafood. Their menu is simply delicious, and the view is unmatched!
14. Reine
How to get there: on E10.
Best time to get there: all year long.
Reine is one of the most famous villages in Lofoten, and for a good reason: its bay which includes also Sakrisøy and Hamnøy is one of the most spectacular in the world.
There are several points to admire the beauty of this small village but one of the most famous and the one from this you can have the view you see below is from the bridge that connects E10 to the center.
If you are traveling during Winter it's also an excellent point to get the Northern Lights.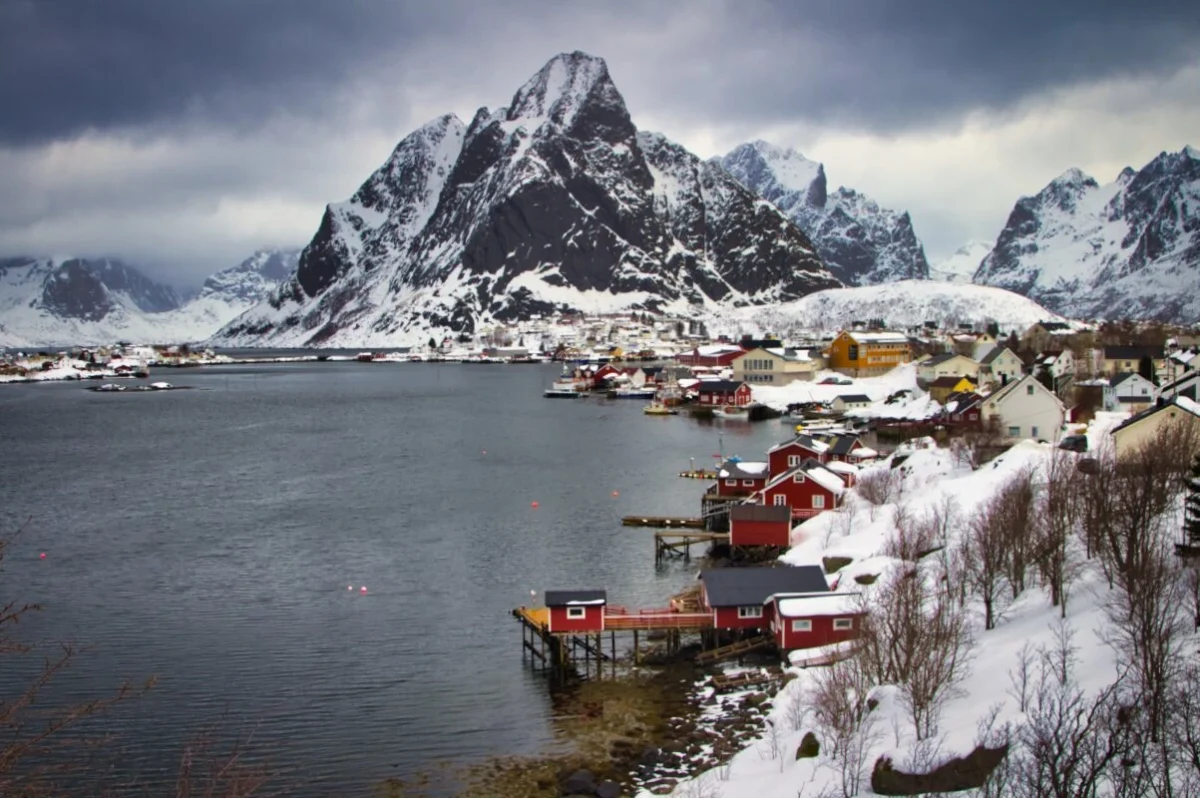 15. Reine lighthouse
How to get there: from the Reine center there is parking nearby where you can also camp.
Best time to get there: all year long.
Reine has a typical small Lofoten lighthouse, unlike Andenes 40 meters giant, nothing particularly photogenic. But the views you can admire along the lighthouse pier are amazing!
The bay of Reine is surrounded by dramatic peaks, below you can see Olstind, and wherever you will turn the view is magical. The spot is very good especially for photographing the Northern lights. In that case I strongly advise you to stay in Reine Rorbuer by Classic Hotels Norway. These rorbuer are very close to the pier and they itself are a beautiful subject to photograph.
16. Reinebringen
How to get there: from Reine there is a trail that brings you to the top.
Best time to get there: Summer.
The hike to Reinebringen is a must if you are traveling in the area during Summer, and sometimes even during Winter, although it's way less safer.
Reinebringen is a moderate/expert level hike of 3 hours (round trip). On the top it will feel like you have the world to your feet with Reine bay just below. The view below is taken along the trail, there is a panoramic view on top that will let you see all the bay including Hamnøy.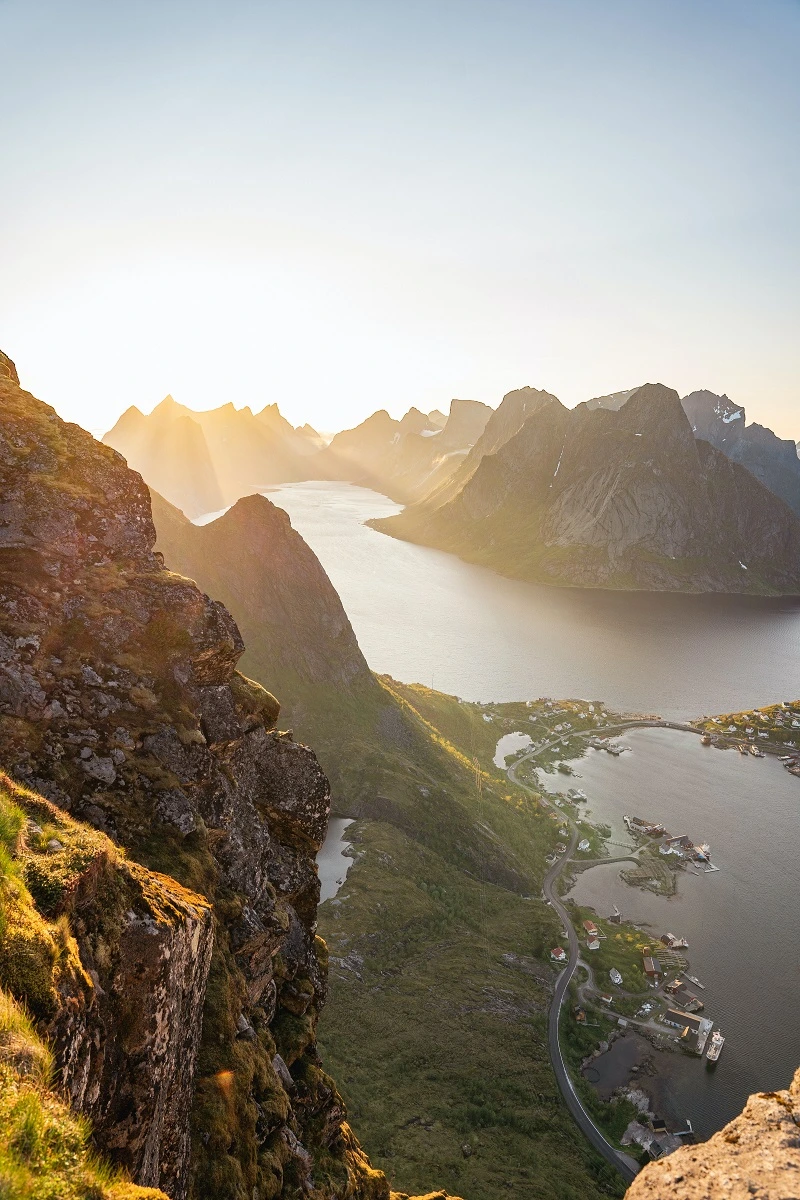 17. Å
How to get there: reach the end of E10.
Best time to get there: all year long.
Å is the last village in Lofoten that you can reach on the road. Even if through the years the fishing village has evolved and has a modern look, there are some areas that have maintained an old times charm, such as the open air museum and the Southern part which is where the rorbuer are.
For taking some memorable pictures you can visit the above mentioned Å Open Air Museum, or the Stockfish Museum, displaying objects and explaining techniques from centuries of fishing history.
When is the best time to visit the Lofoten islands?
Take it from my father, an award winning photographer, who has visited the Lofoten islands multiple times: nothing can beat the beauty of exploring the Lofoten islands during the Winter. Especially if you are a photographer!
There are two main reasons for that: the Northern Lights and snow. To be sure to have both plan you trip in February or March. December and January are the darkest months and you have almost no daylight, while in November you will see the Northern Lights but sometimes it doesn't snow until the last days of the month.
In case you are planning to enjoy the hikes and outdoor activities Summer is of course the best period, with June and July being the most touristy months.
It's a wrap of the best photo spots in Lofoten
I have seen so many incredible places around the world, but I must admit that Lofoten are one of the most beautiful I have visited and I'm already considering to go back! So even though they are pricy, they are absolutely worth visiting. And you won't regret any cent you invested. Before leaving check out our Norway page for more inspiration and guides to this incredible country.
Have you liked our selection of the best photo spots in Lofoten? Sharing is caring!