Known for its dramatic natural scenery and picturesque villages, Lofoten are one of the most famous archipelago in the world. A road trip to Lofoten is indeed one of the best way to explore the islands, and with five days, you can see some of the best sights the region has to offer. In this blog post, we'll provide a detailed five-day Lofoten road trip itinerary, with suggested stops and activities for each day. If you are looking for the best places to sleep in Lofoten, check out our best rorbuer selection.
Disclosure: anitabeyondthesea.com is reader-supported. When you make a reservation through links on my site, I may earn an affiliate commission, at no extra cost for you. That will help me keep the blog up and running. Thank you!
Table of Content
Day 1 – Svolvaer
Morning – Sea Eagle Safari
On your first day, start your Lofoten road trip by embarking onboard a RIB sea eagle safari. The whole experience lasts about 3 hours, and will let you admire the beautiful white-tailed eagles as well as the incredible landscape of Trollfjord.
Wanna know more about a RIB sea eagle safari? Read our blog post about it! You can also book your experience choosing between Lofoten Explorer AS or Lofoten XX.
Note: Sea eagle safari are all year long but the best time for observing sea eagles is during winter when they are more active.
Do you like animal watching activities? In Andenes, about 2 hours from Svolvaer, you can take part to whale watching expeditions and puffin safari. It's an incredible experience I highly recommend if you are considering of visiting Vesteralen too. Check out our guide about Andenes where you can learn more about these activities.
Afternoon – Exploring Svolvaer (option 1)
In the afternoon depending on the time you are visiting you have two alternatives.
During Winter, spend some time exploring Svolvaer. Take a stroll along the waterfront, and try some fresh seafood at one of the local restaurants. After your meal you can go to Kuba, one of Svolvaer's islands. Why Kuba is so special? Because of the ruins of WWII bunkers and other small military buildings. On Kuba you will also find Fiskerkona. The statue of a woman waving to the sea, an important tribute to all the fishermen going in the cold Norwegian Sea. Kuba is also one of the best spots to admire the sunset in the Winter months.
Another option is visiting the Magic Ice bar. Be aware of the price, 25 € / par person for the entry and a welcome drink. You will see that Norwegian prices are quite expensive but honestly I would keep this activity as the last resource in your list.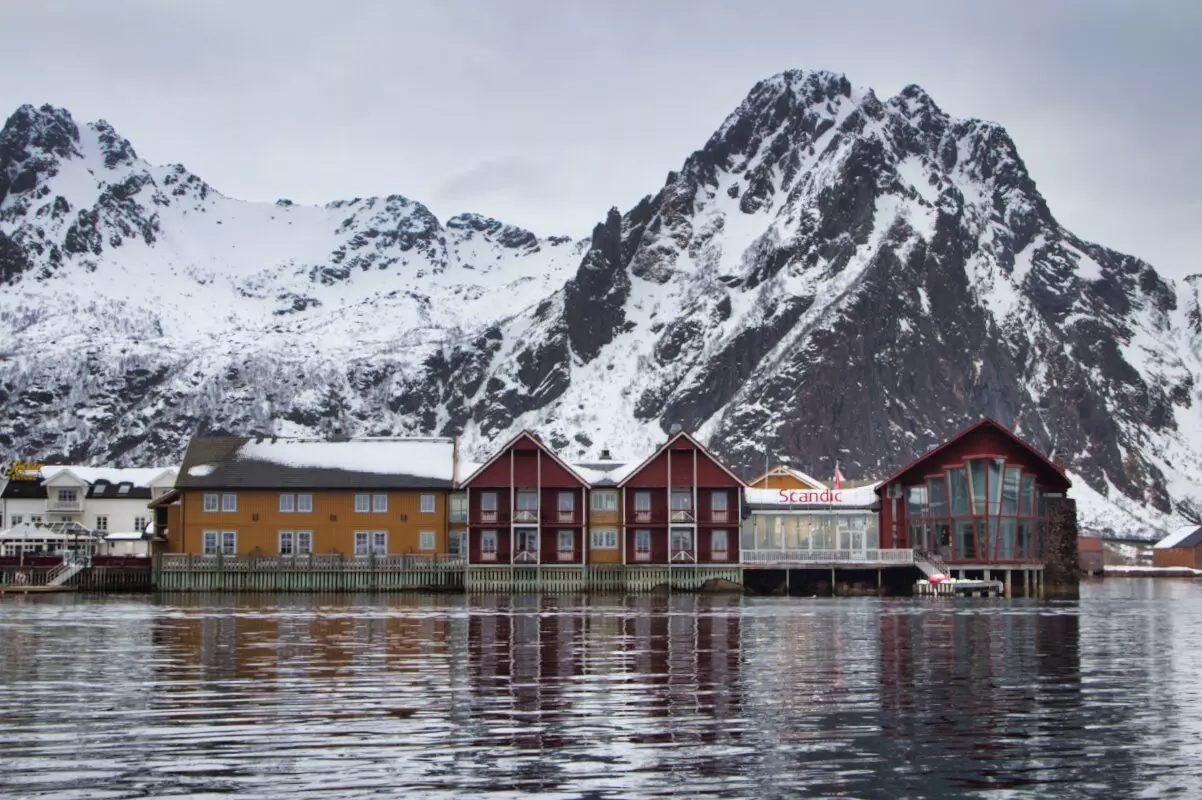 Afternoon – Svolværgeita hike (option 2)
During Summer, one of the most epic activities you can do in Lofoten is hiking to Svolværgeita which translates as Svolvaer's goat. This 150 meters pinnacle has two "horns" that you can achieve after a 4 to 5 hours climb. The climb is quite easy even for beginners, but it's not for the feint of heart as the final meters you will have to climb into the void.
If you are interested in this experience check out Northern Alpine Guides. As they say in their website they can get everyone on top, even non-expert travelers!
Evening – in Svolvaer
There are many restaurants in Svolvaer if you want to try local food. If you are staying in a Rorbuer a budget-friendly solution is shopping in one of the city's supermarket, like Kiwi and cook inside the fishermen's cabins. We did that ourselves almost every evening as Norway can be VERY expensive.
Our pick in Svolvaer: Svinøya Rorbuer.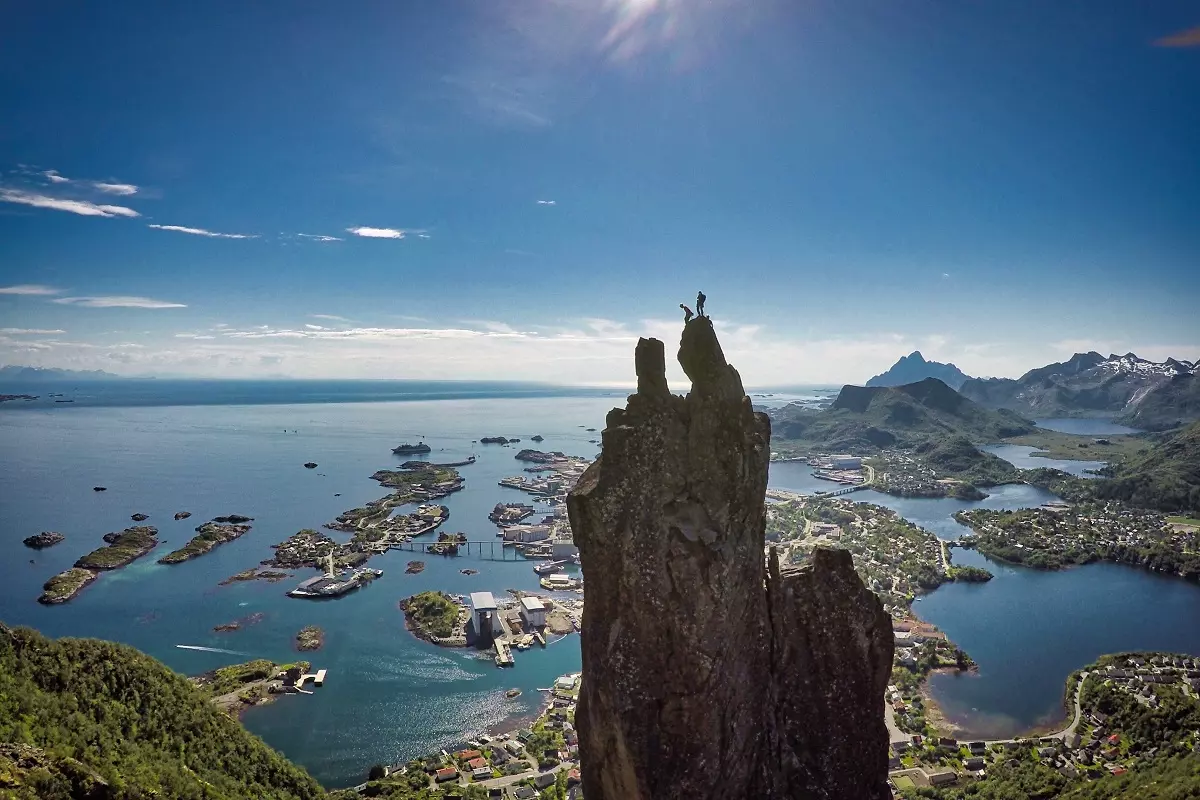 Day 2 – The beaches of Vestvågøya
Morning – Kabelvåg
Leave Svolvaer direction to the South, for those who are traveling in Winter consider a stop at Kabelvåg and its Lofotmuseet, or to one of the many art galleries on the way. The Lofoten's main road is one of the most scenic you will ever have the chance to drive so take your time to stop and enjoy the many panoramic points on the way.
At noon you can eat in Leknes before heading to the North of Vestvågøya. Leknes is a medium size town (Lofoten metric) where there is one of my favorite restaurants, the DIGG. For a rather honest amount of NOK, DIGG is one of the less expensive restaurants around, you can eat their excellent focaccia or taco, filled with local seafood or other meats (vegetarian options are also available). The staff is also very lovely and kind. We went there twice!
Afternoon – Vestvågøya northern beaches
The landscapes are incredible all around Lofoten but the beaches in Vestvågøya are truly special and you can easily spend the afternoon walking on the beach and admiring the panorama. There are three beaches especially that you should explore:
Hauklandstranda is the closest to Leknes among the three. It's also the less exposed to the wind as it's inside a small bay surrounded by high peaks. During Summer there is a small fee for the parking and toilets. Before arriving you will see on your right a cemetery on a hill. During Winter when the white snow covers everything the whole place become surreal.
Uttakleiv is on the other side of the mountain, you pass under a tunnel and there you land in a pristine landscape of turquoise waters. To access to the parking of the beach you will have to pay a small fee. In the Summer there is a beautiful hike to the top of Mannen Mountain. While during the Winter you can walk from Hauklanstranda to Uttakleiv along the coast. Note that Hauklanstranda's parking fee is cheeper.
Unstad is a small village that has a beautiful beach, that is on the bucket list of many surfers. There is a paying parking where you can stop. There is an expert trail that connects Unstad to Eggum, but if you aren't an expert hiker it's not recommended.
Distances in Lofoten aren't long and you can easily get from one beach to another while enjoying amazing landscapes, but if you are visiting in Winter, be aware that sometimes due to the bad weather conditions the small roads that lead to the beaches may be closed.
Evening – in Ballstad
Ballstad is a lovely fishermen's town where you will see many fish dryers for cod along the harbor area. The town as a fairy vibe very similar to Reine, especially in Winter. It's indeed a very cute location to spend the night while admiring the sky looking for the Northern Lights or enjoying the Midnight Sun.
Our pick in Ballstad: Solsiden Brygge.
Day 3 – Flakstadoya
Morning – Buskenes Kirche, Myrland, and Vikten
Hit the road direction Flakstadoya, the next Island to explore. But before stop for a few minutes to the picturesque Buskenes Kirche. This beautiful red church that dominates the park is very cute to see.
Myrland and Vikten are the first beaches you will find once you have crossed the underwater tunnel to Flakstadoya. Both beaches are very small but beautiful to see! If you are traveling during Summer you should consider picnicking on the beach. In Winter the temperatures are very cold as they are very exposed to the Atlantic breeze.
Afternoon – Ramberg, and Skagsanden
After lunch break your next stop is Ramberg. This small village is one of the most photographed spots in Lofoten. Why? Because of the iconic red house on the beach. There is a small free parking where you can stop and enjoy a walk on the beach.
Our next stop is Skagsanden, take the road on the way back, as you were going to Svolvaer and stop by Skagsanden. This small village is remarkable for two reasons, the beautiful beach (I hope you are not getting tired of hearing that!) and Flakstad Kirche. A small church that I recommend visiting for it's typical architecture.
Evening – Nusfjord
Nusfjord is a very secluded village, it was reachable only by boat until recent years, that has become an UNESCO World Heritage Site since 1975. There are several historical buildings that you can visit while wandering among the narrow alleys.
Unfortunately due to mass tourism during Summer the village gets very crowded, in order to regulate tourism an entry fee is applied (only in the Summer months at the moment).
Nusfjord is a must visit in Lofoten and to enjoy the atmosphere of the village even more I recommend spending the night there. You have two options: Lofoten Cottages or Nusfjord Arctic Resort. Both accommodations are in traditional fishermen's cabins with the Arctic Resort being more luxurious.
To learn more about Nusfjord check our travel guide.
Day 4 – Nusfjord, Kvalvika (in Summer) and Reine
Morning – Nusfjord Open Air Museum
Nusfjord is a real charmer and exploring its ancient buildings and alleys is an amazing discover. In the Winter if the snow isn't too high you can also walk to the lighthouse that is at the entry of the bay. While in Summer you could even start the panoramic trail that goes to Nesland. It takes about 3 to 4 hours to complete, so in case this is on you to do list, start early in the morning to have enough time to explore the village as well.
Before leaving Nusfjord eat at one of the restaurants inside the village. We ate a sandwich inside the excellent Landhandleriet Café. Their smoked salmon focaccia was one of the best meals we had in our entire trip!
Afternoon – Fredvang bridges and Kvalvika (Summer) or Yttersand (Winter)
Landscapes in Norway are mostly natural, with the rorbuers as lonely witnesses of human presence. Fredvang bridges are an exception. The two bridges connecting Ramberg to Fredvang are an exceptional addition in the already spectacular landscape. And driving on them is an experience too! There are two view points where you can stop to take pictures and admire the sight.
After crossing the bridges you have two options depending on the season you are visiting:
In Summer I'd recommend starting the 1 hour trail to Kvalvika.
In Winter Yttesand is a better option because of the snow on Kvalvika trail.
Evening – Hamnoy and Reine
Take the road back to Fredvang bridges and take the main road (E10) to Reine. Before arriving you will drive through Lofoten's most famous landmark: Hamnoy's fishermen cabins. Cross the bridge and you will see the small rorbuers on your right. There is a parking right after the bridge, park there and head back to the bridge for some memorable photos!
Pro tip: coming from the parking there is a short road portion without sidewalk. Cross it (of course check if big trucks are coming before!) to be sure to admire the beautiful view from all sides. The bridge has alternate circulation.
After Hamnoy bridge continue to Sakrisøy where you will see another iconic spot: the yellow Rorbuer. This iconic yellow hut has become one of Norway's most Instagrammable spot since it was featured on Accidentally Wes Anderson.
End your itinerary in Reine, one of the most beautiful town in Lofoten. The town is on a narrow land that stretch between the open sea and the bay. There are some incredible views worth of the most beautiful landscapes. If you still have energies start a walk to the small lighthouse at the entry of the bay, the views are a 100% worth it!
Our pick in Reine: Reine Rorbuer by Classic Norway.
Day 5 – Reinebringen (Summer), Å and Henningsvær
Morning – Reinebringen and Å (option 1)
Stretch your legs from your night with the panoramic hike on top of Reinebringen. This intense (medium to expert level) hike will bring Reine to your feet after a 3 hours (round trip) trail. This hike is definitely one of the most beautiful in Lofoten and if you have the time and the weathers allow it, you should do it!
You can do the Reinebringen hike both in Summer and Winter but of course with snow the path become slippery and it's more difficult to follow the trail.
Next stop after the hike or first stop if you decide not to go, will be Å. Å is the most southern village in Lofoten. Just like the rest of Lofoten their economy revolves on fishing. For this reason it won't surprise you to see the Lofoten Stockfish Museum as well as the Norwegian Fishing Village Museum.
You can visit both but I'd recommend especially touring the traditional buildings of the Norwegian Fishing Village Museum. You can tour them on your own from the outside, or for about 12 € you can explore the buildings inside.
Morning – Bunes Beach (option 2)
Bunes beach is a small piece of Paradise you can achieve only by boat from Reine. If you are traveling during the Summer months booking in advance (ideally 2 or 3 days before) your place on the boat is mandatory as it gets fully booked very fast. Check out the ferry tickets -> Booking reisnordland.no. Vindstad hurtigbåtkai is your stop.
Once you arrive at the harbor you will have a 30 – 40 minutes hike to the beach which is on the other side. The landscapes are pristine and wild. It's indeed an interesting option if you are not interesting to explore Å.
Afternoon – The way back to Henningsvær
On optimal weather conditions the way back to Henningsvær should take you about 2 hours from Å. With a short stop to Sakrisøy island to eat at the iconic Anita's Seafood, you will be in Henningsvær in the middle of the afternoon.
Also known as Norway's Venice Henningsvær is a picturesque fishing village with charming houses and a stunning mountain backdrop. The village is set on an archipelago of small islands connected by several bridges.
Since the widespread use of drones, the fishing village has become worldwide known because of its soccer field which occupies almost the whole size of the island where its built. On this same island you will find also many stockfish dryers, a lighthouse, and a beautiful view of the town.
Evening – Henningsvær
Depending on your flight schedule you could also get back to Svolvaer on your last day in Lofoten. But I'd recommend spending the night in Henningsvær to enjoy the landscapes with the soft light of the dawn.
Our pick in Henningsvær: Henningsvær Rorbuer.
Frequently Asked Questions about Lofoten
How to get to Lofoten?
By plane
There are two airports: Svolvaer and Leknes. We chose Svolvaer because we continued our road trip to Vesteralen islands. In addition to that, landing in Svolvaer will let you see all the islands and villages without passing too many times by Leknes which is in the center of the archipelago.
Note that distances are very short in Lofoten, so there isn't really a big different between the two airports.
By boat
The best solution is to take the ferry from Bodø to Moskenes. The duration is about 3 hours and you will be ready to explore Lofoten starting from the South. If you choose this option consider starting the road trip itinerary from day 5 (exploring Å) and then go up from the itinerary during day 4, etc…
Check out the ferry schedule, prices, and make your reservation on Reis Nordland.
When is the best time to travel to Lofoten?
It depends of what type of traveler you are. Outdoor lovers and hikers should visit during Summer, when the sun never goes down, the temperatures are ideal for hiking, and there is no snow on the trails.
Ask me when you should visit and I'll tell you there is no best season than Winter. I know the polar temperatures are scary, but with the right warm clothes (invest on your wardrobe) you won't even suffer cold too much. And the landscapes are, well, there are no words to describe it. Magical? Fairy? The snow covers everything with its candid cloth making the landscapes even more dramatic.
And then you have the Northern lights! I mean, can it get any better than this?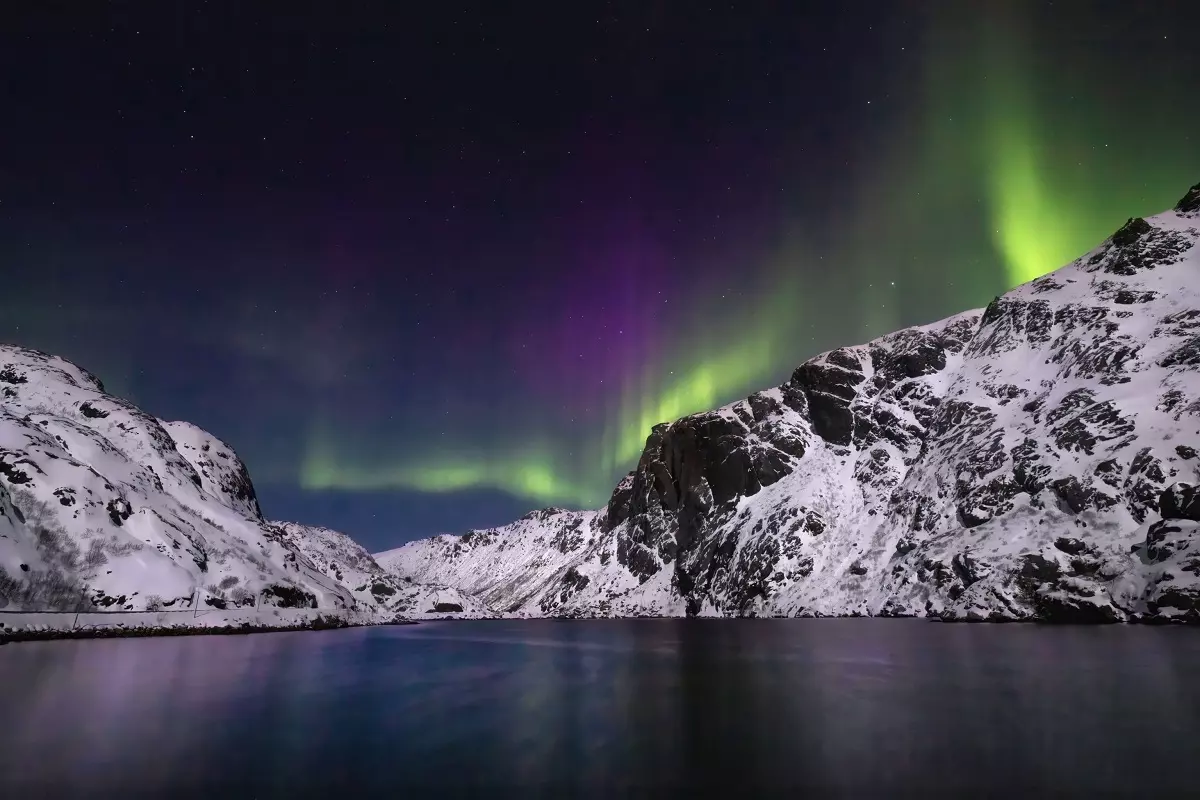 When is the best time to see the Northern Lights in Lofoten?
Northern lights in Lofoten can be seen during Winter, but also in late Autumn or early Spring. In fact to see the Northern lights you will need a cloudless dark sky and solar activity. The best moments to see the Northern lights are in December and January. Although as the daylight last for a very short amount of time it's preferable to travel there in November or February/March.
Unfortunately even if you travel in these months you have no guarantee to see them. Bad weather or the solar activity may not align for the time you are traveling to Lofoten meaning you won't see any Aurora Borealis.
One last word about our Lofoten Road Trip Itinerary
A road trip to Lofoten is a truly unforgettable experience, with its breathtaking natural scenery and charming villages. If you are inspired (and have the budget!) to stay more and do all the options 1 and 2 of our Lofoten road trip itinerary, I highly advise doing so. There are endless options for every type of traveler in Lofoten. Yes, even for art lovers with the many art galleries! So grab your passport and go enjoy Lofoten! For more travel inspiration from Norway and Lofoten check out our Norway page.
Have you liked this post? Sharing is caring!