One of the most exciting activities you can do while exploring the amazing Lofoten archipelago is observing the sea eagles fishing among the fjords. The best way to see them? Take part in a sea eagle safari on board a RIB. Starting from Svolvaer you will sail among amazing landscapes including the famous Trollsfjord.
Disclosure: anitabeyondthesea.com is reader-supported. When you make a reservation through links on my site, I may earn an affiliate commission, at no extra cost for you. That will help me keep the blog up and running. Thank you!
Table of Contents
Sea eagle safari in Lofoten, what to expect
Where does the sea eagle safari start?
Sea eagles can be spotted quite regularly along all of the Lofoten and Vesteralen landscapes, we saw many while road-tripping around. But they can be observed more easily nearby Svolvaer. And that's also where the two tour operators XX Lofoten and Lofoten Explorer AS start their safari.
Both tours start from the same point in Svolvaer Harbor (you can locate them on the map down below). There is no hotel pickup but you can park your car in the large parking close to the agencies.
Sea eagle safari in Svolvaer, the preparation
The companies will ask you to come about 30 minutes before you start navigating. The reason behind that? The dressing phase, is also known as the "becoming the Michelin man" phase.
Yeah, I'm not exaggerating. Imagine being all dressed up for winter already, then you add an extra waterproof suit, similar to the skiing suits, goggles, mittens, and the life jacket. Don't worry though if it's hot when you put them on and keep all the layers, when you'll be on the RIB, hit by the winds you will see why!
The suit also allows you to maintain your body temperature for about 45 minutes in the extremely rare case you fall from the boat. Once you are all dressed up you will get on the boat and proceed with some safety demonstrations.
Which is the best place to sit on the boat?
I went all in because I wanted to take videos and photos, meaning I sat in the front. I'm absolutely glad I did. But, logically being in the front you will be more exposed to the breeze and less protected. So consider also sitting behind. The seats are horse bench style, with pommels in the front to hold onto.
The most important thing: no matter the season you are doing the safari, remember to properly cover your ears. The breeze is merciless!
Are you ready? It's time to sail!
As you start navigating from Svolvaer you will see the cute fishermen's red houses known as Rorbuers along the canals. You can also take a few pictures and videos on the way. But once you are outside the harbor remember to hold on to your seat.
If you are lucky you will have good weather but be prepared also in case there are waves. And remember to cushion the bumps with your legs. It's similar to horse riding.
It's time to enjoy the ride and admire the surrounding landscapes. As your eyes will be drawn to the mountains, keep also an eye on the waters, you may be lucky and spot whales in the distance.
What will you see during the RIB ride?
Sea eagles of course, but also much more! And every sight on your 2 hours tour will be accompanied by the guide's explanations. Let's go more in detail:
Sea eagles
Also known as white-tailed eagles, are majestic birds of prey that are native to the coastal areas of Norway. With a wingspan of up to 2.5 meters, they are the largest bird of prey in Europe and are known for their impressive hunting skills.
The guide brings a bucket with some fish to attract them nearby the boat, and when the magic happens you will get to see them fishing a few meters from you! Even if for ethical reasons the quantity of fish that the guide gives them is not much, the number of eagles that are attracted by the boat is impressive, there are so many!
It's now time to set your camera on sport mode, or use a high shutter speed and enjoy the moment. Although you may want to be aware of a small anecdote in case you are willing to record these moments.
Our guide told us that a tourist was recording some videos with his phone. When suddenly they heard him screaming. As he wanted to take an aerial-like view of the scene he lifted his hands above his head to get the shot. Who could have guessed that an eagle, believing it was fish for him, clasped the phone from his hand taking it away? Luckily the man wasn't blessed, but I can't say the same about his phone who is now lying somewhere lost in the Lofoten.
So just in case, don't handle your phone to the hungry eagles!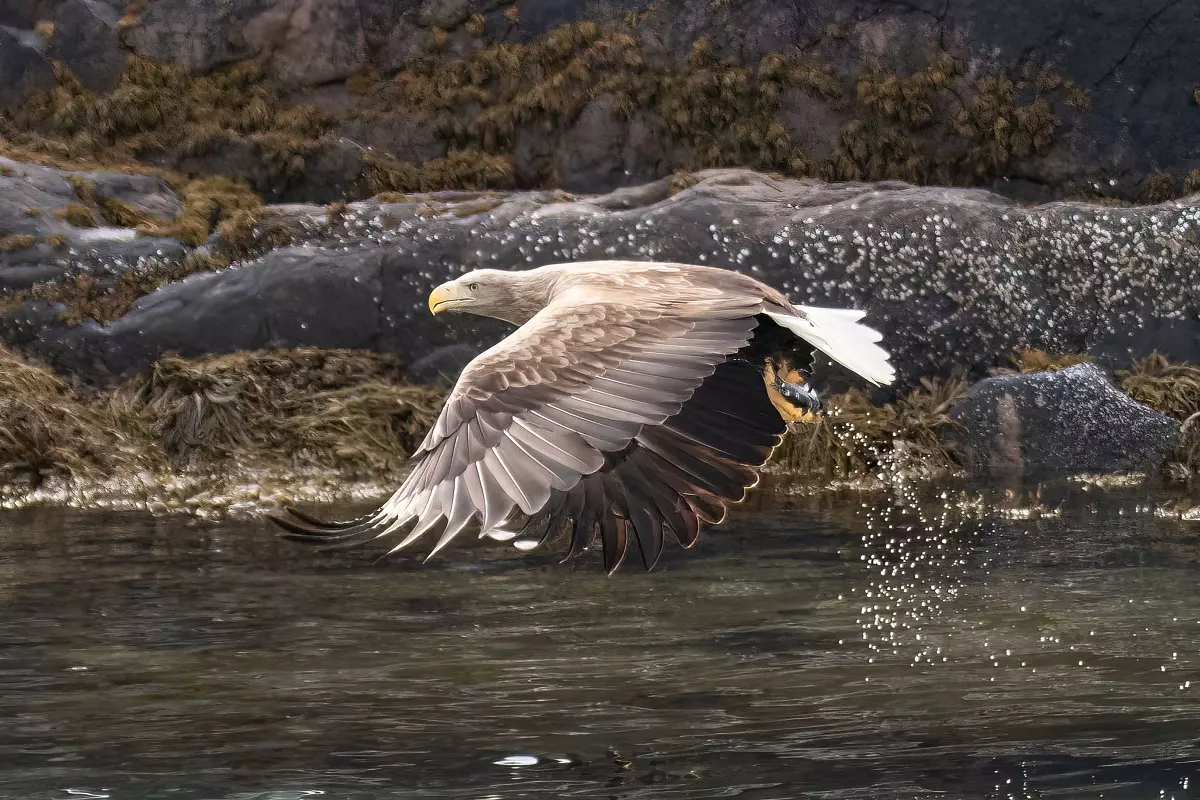 Trollfjord
This is indeed a sight not to be missed in Lofoten! When we booked the safari I didn't put much attention to Trollfjord and even though I loved seeing the eagles so close, the sight of Trollfjord was incredible!
The 2 kilometers fjord is accessible only by boat, or via a 10 kilometers expert hike. It caught the tourist's attention thanks to a painting of 1890 by Gunnar Berg, which represents the battle between steam-driven fishing ships and traditional fishermen that happened there. You can see the painting here. Since then this pristine corner between the Lofoten and Vesteralen islands has been one of the most appreciated sights in Northern Norway.
If you have some luck (like us!) you may catch a sailing ship cruising inside the fjord. It will look like you went back in time.
And of course pristine landscapes
The beautiful mountain peaks create incredible landscapes along the ride. In addition to that the guide tells stories about the Viking age and information about modern Norway. Adding some extra details to your adventure.
FAQ about Trollfjord's sea eagle safari in Svolvaer
How much does it cost?
Both tours can be found on Viator and GetYourGuide, on Viator you will find the lowest prices, but to be sure in case there are some promos, check out GetYourGuide as well. There are two companies XX Lofoten and Lofoten Explorer AS that offers the same circuit.
The cost for the 2 hours ride, about 2.30 hours in total with the dressing, etc…, is 107 €. Keep in count also the 50 NOK (about 5€) fee for three hours at the parking.
Is it worth it for the price?
Yes absolutely! Of course, it's not cheap especially if you are traveling as a family/small group. But seeing the eagles so close and the ride among the fjords is absolutely worth it!
Can the safari get canceled?
Yes. If the weather conditions don't allow it, the tour will be canceled. But of course, you will get a refund.
How many chances do I have to see sea eagles?
As sea eagles are wild animals, there still could be an extremely rare chance to see them only from afar. But with time they got used to the RIB and now always come close for their extra fish supply.
When is the best time to go on a sea eagle safari?
You could go at any time of the year, but during the winter months the eagles are more active and you will have more chances of seeing them hunting close to the boat.
If you are going during the low season (April or October) there are fewer excursions available. In that case, you should also reserve as soon as possible to be sure to have a spot at the time you are visiting.
Can anyone go on the RIB safari?
Unfortunately not. The safari isn't accessible. And due to the bumps, people who have back problems and pregnant women cannot go. Even when the sea is really calm there are some traits where you will have a few bumps.
Also for safety reasons, you must be at least 1,40 meters tall to be accepted on the boat. Keep that in mind in case you are traveling with kids.
One last word about Trollfjord sea eagle safari in Lofoten
A sea eagle safari in Lofoten is an unforgettable adventure that combines the natural beauty of Norway with the majesty of the sea eagles. Would you like to take part to more animal watching activities? Check out our Andenes travel guide, you can take part to whale watching expeditions or puffin safaris.
With its stunning coastline, diverse wildlife, and abundance of outdoor activities, Lofoten is the perfect destination for adventure seekers. You can even sleep inside an original fishermen cabin! So, pack your bags, grab your camera, and get ready for an experience you'll never forget.
Have you liked this post? Sharing is caring!