Stockholm's Metro is probably the longest art gallery in the world! Among its 100 stations, 90 have murals, mosaics, sculptures, and installations, and most often have the bedrock exposed. It may take you about 2 days to properly explore all of them, and there are so many things to see on the surface! Unless you want to become a mole, steal our top picks in this guide about the most beautiful metro stations in Stockholm.
Disclosure: anitabeyondthesea.com is reader-supported. When you make a reservation through links on my site, I may earn an affiliate commission, at no extra cost for you. That will help me keep the blog up and running. Thank you!
Table of Contents
T-Centralen Station (all lines)
Where the fun begins! If you are coming from Arlanda International Airport, this is probably the first metro station in Stockholm you will see.
As the name says, T-Centralen is the city's central station and the intersection of the three lines of the Stockholm Subway. The station is very large and the most beautiful murals are in a specific area. To find them I will give you a little clue, they are on the line which is the same color as the murals. If you are still in the clouds, that's the blue line.
From T-Centralen you will get access to Stockholm station and the bus terminal that brings to the airport.
Kungsträdgården Station (blue line)
The majority of Stockholm's metro stations reflect what's above them. Kungsträdgården (King's Garden in Swedish), was built under one of Stockholm's most important gardens.
The station is painted in red, white, and green, and the main entrance from Kungsträdgården Square has architectonic elements from ancient buildings that were torn down around 1970 to modernize the neighborhood.
Did you know? Originally the entrance should have been in the middle of the garden, destroying 13 ancient elm trees. Thanks to an organized public protest the trees were saved and the main entrance was moved. Today the scars of the saws on the elm trees are still visible.
Kungsträdgården is located in an elegant area where you can find shops and also the Hallwyl Museum. It's also 5 minutes away from Gamla Stan. This self guided Gamla Stan walking tour includes a map and hidden gems.
Tensta Station (blue line)
To see Tensta metro station you will have to get almost to the blue line terminal. But the sacrifice is absolutely worth it! The colored subway station is one of the cutest and my personal favorite.
What makes it unique? For sure the positive messages about love, freedom, and brotherhood. But how not to mention the tiny penguins' sculptures nestled in the walls? Or the bright murals that channel positive vibes? We love it!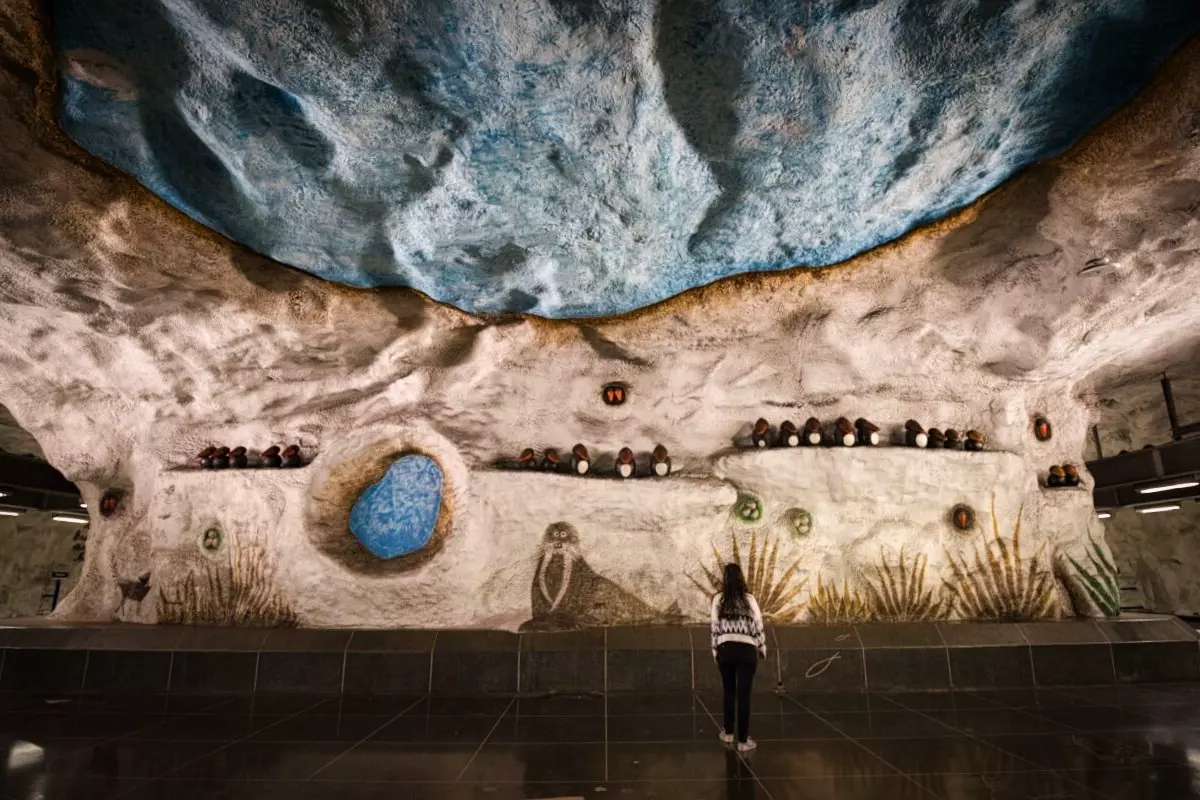 Solna Centrum Station (blue line)
You may think you have landed in an elves' village at Solna Centrum. This beautiful red and green colored station features bucolic murals of Sweden's hilly landscapes populated by animals and typical characters.
Solna Centrum is named after a large mall that has more than a hundred shops and restaurants.
Hallonbergen Station (blue line)
Hallonbergen translates from Swedish as "the raspberry hill". This metro station was decorated from the visionary drawings of two artists: Elis Eriksson and Gösta Wallmark.
The motives they chose to use, were inspired by both artists' childhood. As a result, Hallonbergen is a cute white and pink colored station.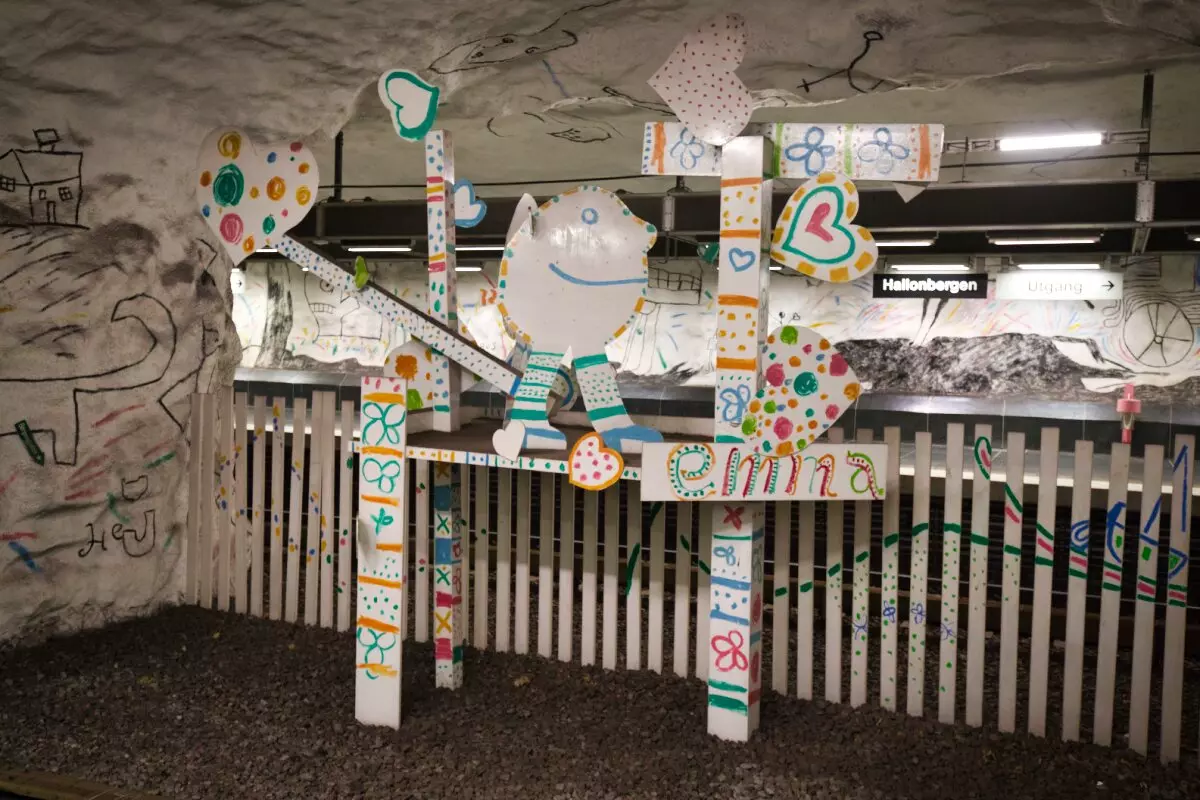 Rådhuset Station (blue line)
You may feel like you just passed Hell's gates when entering Rådhuset metro station. One of the most suggestive metro stations in Stockholm has a rather simple decoration: terracotta-colored walls with some rare blue and white column tiles. One detail is very important, the natural bedrock is exposed, giving the whole place this Inferno look.
Close to the train's platform, there is also a large column base that seems to emerge from the bedrock. There are no fancy murals or vibrant tiles, and yet, this is probably one of the most beautiful metro stations in the world to photograph.
Västra Skogen (blue line)
Stockholm's subway is home to an escalator that is not only Sweden's longest but also one of the longest in the world. With a length of 66 meters (217 feet) and a descent of 33 meters (108 feet) underground, this escalator is ranked as the ninth-longest in the world and the fifth-largest in Western Europe. Source Atlas Obscura.
Besides its record-breaking interest, Västra Skogen features many colored mosaics that are very nice to see. You can visit this metro station while switching from Hjulsta terminal (to see Tensta) to Akalla terminal (where you will find Hallonbergen and Solna Centrum).
Mörby Centrum Station (red line)
Optical illusions lovers must visit Mörby Centrum station. At first, the white, pink, and grey walls may look plain compared to other stations. But as soon as you move towards the famous rainbows columns, you will notice the colors of the tiles start to change.
The intriguing art work was created by artists Gösta Wessel and Karin Ek in the station which takes its name from a large mall above the surface.
Stadion Station (red line)
Stadion is also known as the Rainbow Station for its colorful rainbow which connects the two platforms. Stadion was the first "cave station" in Stockholm. In an attempt to enlighten the "sad feeling" of the grey cave, artists Enno Hallek and Åke Pallarp painted everything in light blue and added many rainbow-themed decorations.
It's indeed one of the most positive-vibes stations in Stockholm!
Tekniska Högskolan Station (red line)
Stockholm University of Technology has its science-themed metro station. Created by artist Lennart Mörk the station celebrates some of the most important scientific discoveries over the centuries.
From Newton's gravitational law, in form of a big apple in the ceiling, to optical prisms. A big celebration of science.
Universitetet Station (red line)
Universitetet Station is an open book narrating the travels of Swedish scientist Carl Linnaeus. The uniqueness of this station is the azulejos mosaics that were specifically created to represent Linnaeus's research and part of the Universal Declaration of Human Rights.
Between maps and ancient writings, you will have the feeling to embark on one of Linnaeus's travels.
Thorildsplan Station (green line)
Nostalgic arcade players will LOVE this Super Mario, PacMan, and more themed station. This is also the only outdoor station of our tour.
Blue tiles cover almost completely the tunnels towards the exit, with the addition of Mario pipes and other pixel-art-arcade-themed decorations.
Are you ready to 1-up your Stockholm Subway art tour?!
Odenplan (green line)
When in 2017 the Citybanan, a railway tunnel, was created a new art piece was added to the rather plain Odenplan station. To appreciate the beauty of the new futuristic installations, you will have to get to the commuter train platforms. Note: as this station is very large don't hesitate to ask to locate the "heartbeats" art installation.
As you wander around don't forget to look for other "curious" installations, like the shoes hanging from the ceiling, or the drawings on the elevator.
"The shape of the lights was inspired by the heartbeats of the artist's son, as shown on the CTG-monitor during the childbirth".

Marie Andersson, for visitstockholm.
Prepare your Stockholm Subway Art Tour
The stations are open from 05:00 to 01:00 AM
Easter eggs on Stockholm metro trains
The newer trains, which can be found mainly on the red line, have some cute hidden patterns on the ventilation system of Stockholm's metro trains.
There are crowns, which represent the national emblem of Sweden, the play, pause, forward, and reverse buttons, that symbolize Sweden's important presence in the global music industry. But also Pacman and three ghosts, or oak leaves and stars.
And don't forget to look where you seat! Some of the seats are decorated with small silhouettes that may be mistaken for dirt stains at first.
When is the best time to visit Stockholm Metro Stations?
I'm not reinventing the wheel here, outside of particular events, festivals, and festivities, the best moment to take your subway tour is during the weekdays between 9 AM and 4 PM. It's outside the rush hours and you will get to explore quietly and with fewer people.
Of course, if you are not too tired to explore in the evening you can get out after 7-8 PM as well. Stockholm is very safe, but don't venture alone anyways at night and get your travel companion/s out of bed.
Which ticket should you buy to visit Stockholm?
You have different options regarding the ticket duration, the shorter formula is 75 minutes you can also buy 24, 72 hours, and 7-day tickets, depending on the length of your stay. You can find all the prices and options on SL website.
Stockholm metro lines spread through the city, but on some islands like Djurgarden (Vasa Museum and Skansen) and Skeppsholmen (Moderna Museum and ArkDes), you will need to take the train or tram to get there. All these transports and also ferries are included in SL tickets.
In conclusion, get ready for some Subway wonders!
The metro stations in Stockholm are truly unmissable when exploring the city as they also are one of the best photo spots in Stockholm. And if you need help to insert them in your itinerary, check out our 3 days itinerary to see them all! Would you like to know more about Stockholm? Grab our guides and inspiration posts for an unforgettable stay! To continue your reading, check out the other destinations we write about.
Have you liked this post? Sharing is caring!