When I started planning my road trip to Lofoten I didn't know much about the archipelago besides the outstanding natural landscapes and the lovely little red houses that you can see all along the road. As I learned later the little red houses aren't only there for pure aesthetic (even if it highly contributes to the beauty and magic of the islands), but they are fishermen cabins also known as rorbuer. The best part you can sleep inside them! But of course you already knew all this since you are here. So which are the best rorbuer in Lofoten? Without further ado let's see!
Disclosure: anitabeyondthesea.com is reader-supported. When you make a reservation through links on my site, I may earn an affiliate commission, at no extra cost for you. That will help me keep the blog up and running. Thank you!
In this Article
Don't have time to read the whole post? Here are our pick!
Unlike other accommodation posts I've written I can't really sort a budget-friendly option as the starting prices are very similar. So I'll go with two favorites that are personally the most worth to invest into:
Nusfjord Arctic Resort is the rorbu par excellence. The cabins are inside the UNESCO village and they have been perfectly preserved as they were in ancient times, of course without forgetting the modern touch which has been added to make them more comfortable.
Eliassen Rorbuer are probably the rorbuer that have the best location in our list (with Sakrisøy Rorbuer being a very close second). But the minimalist and bright wood interiors make them another must when planning your trip.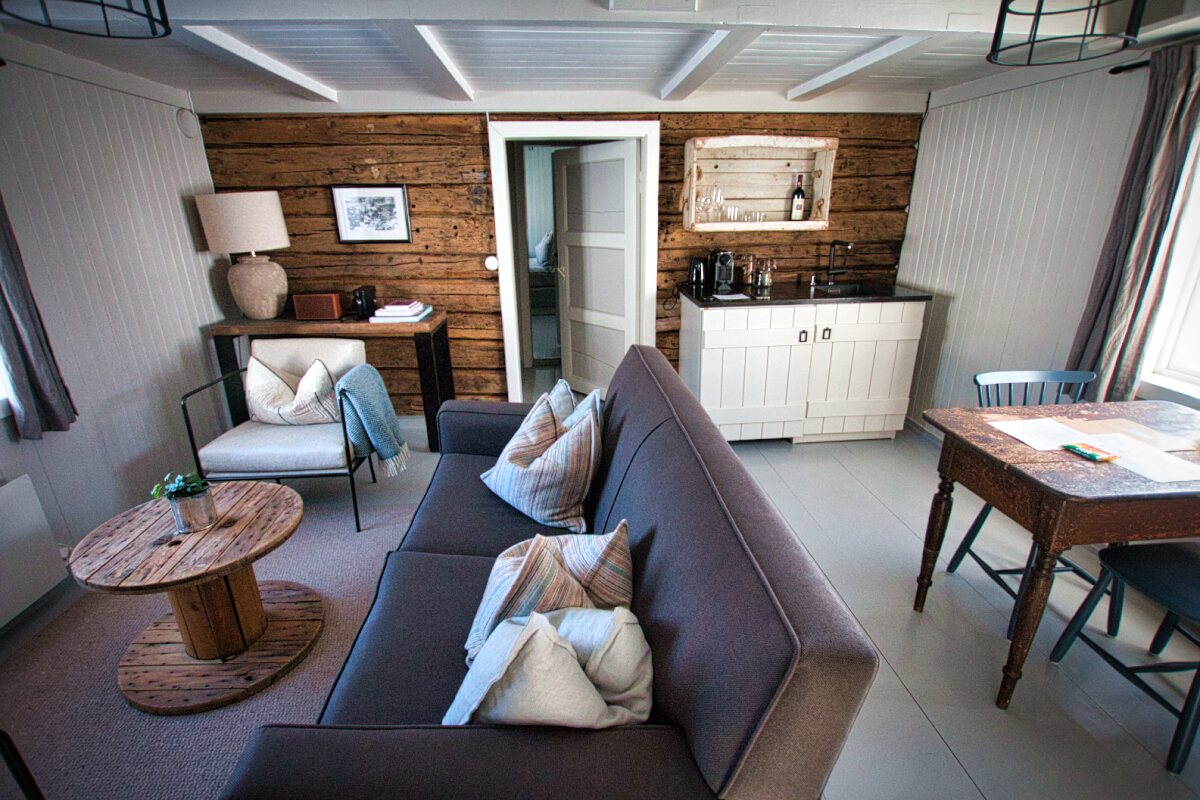 The Best Rorbuer in Lofoten
This comparative table is sorted by location. Starting from the North East to the most Southern point (It's inspired from our road trip) you can reach by following the E10, Lofoten National Road.
Svinøya Rorbuer (Svolvær)
Situated in Svolvær, Svinøya Rorbuer offers many different accommodations options for its guests. Including modern appartements that are ideal if you are traveling with a larger group.
But the real deal are of course the rorbuer in the bay. The cabins maintained their rustic charm, the wooden walls and dark interiors will give you an idea of how living in those cabins in the past centuries was like. Of course unlike the past, Svinøya Rorbuer are equipped with all the amenities: a kitchen, a bath and comfortable beds.
Note: when booking at Svinøya Rorbuer during the high season (February to March and June to August) you won't be able to book a one night stay only. In case you want to spend one night only in Svolvær you can either look into Lofoten Rorbuer, or consider visiting Svolvaer during the day and going to sleep into neighboring Henningsvær.
Check out prices/book your stay at Svinøya Rorbuer.
Henningsvær Rorbuer (Henningsvær)
Henningsvær Rorbuer is situated, as you can guess by its name, in the iconic city of Henningsvær, Norway's miniature Venice. The rorbuer are simpler compared to other rorbuer but that contribute to an authentic feeling.
The rorbuer are situated at the end of the main road that cross Henningsvær and even though on a map it may look very close to the iconic stadium, it will take you a 10 minutes walk to get there.
When booking I highly recommend paying a little more to take a rorbu with the view on the ocean. Waking up to the view makes a difference, especially if you have a view on the canal on the other side.
Check out prices/book your stay at Henningsvær Rorbuer.
Solsiden Brygge Rorbuer (Ballstad)
Translated from Norwegian the Sunny Pier, Solsiden Brygge has some lovely and recently renewed rooms that are situated in one of the typical red fishing buildings.
Note: the accommodations in Solsiden Brygge aren't the small cabins we have seen until now. The wooden buildings are more like giant size rorbuer with a beautiful view on the surrounding mountains. Another interesting solution are also the suites in the newly built wooden house in front of the reception.
The icing on the cake? The free sauna very close to the cabins!
Check out prices/book your stay at Solsiden Brygge Rorbuer.
Nusfjord Arctic Resort (Nusfjord)
If I could book only one rorbu of this list, Nusfjord Arctic Resort would probably be my go to. Lofoten have in my opinion some of the most beautiful natural landscapes in the world. And even if Nusfjord natural landscapes can't compete with some other locations like Hamnøy and Reine (to mention two), the historical beauty of Nusfjord fishing village is undeniable and one of my personal highlights in Lofoten.
So why Nusfjord Arctic Resort? Because you become a villager yourself as the luxurious cabins of the resort are inside the ancient part. This is quite unique by the way, I don't know many other resorts that are inside UNESCO World Heritage Sites!
Back to our cabins: the interiors are well equipped, full kitchen, living room, etc… The suite isn't inside a red rorbu, but it's a larger wooden home, the interiors are still beautiful but if you want a traditional fisherman rorbu, book the cabins instead.
Check out prices/book your stay at Nusfjord Arctic Resort.
Eliassen Rorbuer (Hamnøy)
Eliassen Rorbuer are probably among the most photographed "hotel rooms" in the world! In fact you've probably already seen them while preparing your Lofoten trip in one of the advertising photos.
These rorbuer are situated on the rocks in front of the Hamnøy bridge that connects the village to the small Sakrisøy island and Reine. The view is probably one of the most famous in Norway, photographers particularly loves it as you have an aerial view without the use of a drone.
Besides the breathtaking view that certainly contributes to the fame of Eliassen Rorbuer, the cabins are very cozy inside and super comfortable. The decor is minimalist but the light and clean wooden walls give a very nice and modern vibe.
The room views from the rorbuer are probably the best in Lofoten!
Check out prices/book your stay at Eliassen Rorbuer.
Sakrisøy Rorbuer (Sakrisøy)
Rorbuer in Lofoten are mostly red. Except in Sakrisøy. You will instantly recognize the small islet, that is home to one of the most famous restaurant's in Lofoten, Anita's seafood, for it's yellow rorbuer and houses.
Apart from being yellow, Sakrisøy Rorbuer are pretty much like the other robuer. Cozy, woody, and comfortable, the rorbuer are situated in a strategic position close to both Hamnøy and Reine. Besides Anita's seafood you will find also a grocery store close nearby.
When staying in Sakrisøy Rorbuer or even if you are simply passing by, don't forget to have a stop at the iconic yellow house that has inspired one of the locations of the Accidentally Wes Anderson book.
Check out prices/book your stay at Sakrisøy Rorbuer.
Reine Rorbuer by Classic Hotels Norway (Reine)
Reine is fairly considered one of the most beautiful villages in Norway. And if you are staying in one of Reine Rorbuer you will easily see why. Even though the fishing village has evolved with time, the modern houses have preserved their charm, and of course the natural scenery surrounding it is one of the most beautiful in the archipelago.
Reine Rorbuer are situated in a strategic position where you can benefit both of views over Festhelltinden (Hamnøy's mountain), Reinebringen, and Olstind (the iconic peak in front of Sakrisøy). One of the loveliest things about Reine Rorbuer is the fact that you will feel like you are in a small village made of rorbuer only.
The interiors are comfortable and very welcoming, with a living space which is of a nice size, especially in 4 guests cabins.
The rorbuer are very close to Reine lighthouse, a must-see because of the amazing views of the bay and its peaks. It's also an amazing spot to photograph the Northern Lights if you are visiting during Winter.
Check out prices/book your stay at Reine Rorbuer by Classic Hotels Norway.
Å Rorbuer by Classic Norway Hotels (Å)
Similarly to Nusfjord, Å is a fishing village that preserved many of its ancient houses and structures. The single room cabins are quite small but still comfortable.
I'd recommend Å Rorbuer especially if you are traveling with a larger group, their deluxe cabins is very spacious. The complex has an on site restaurant but if you are traveling in winter check their schedule as it may be closed.
When visiting Å don't miss the opportunity to stroll among the buildings of the open air museum, which features typical objects and buildings.
Check out prices/book your stay at Å Rorbuer by Classic Norway Hotels.
Pro and cons of staying in a Rorbuer, What's it like?
Pros
Authenticity. If with one word I had to describe the small red houses that would be it. Of course ancient rorbuer weren't equipped with all the amenities we have today. Several people lived inside the cabins without electricity and tap water. But staying inside the cabins that sometimes have narrow spaces will give you an idea of how the life of these fishermen looked like.
This isn't true all the time, but usually rorbuer are equipped with a kitchen. And when traveling to the very expensive Lofoten, that's a great money saving solution as you can comfortably cook from your cabin instead of going to a restaurant for every meal.
Cons
If you are traveling during the Summer to enjoy the Midnight Sun, you may have some troubles finding your sleep because of the illumination. Despite being dark during Winter days, some rorbuer don't have proper barriers against the external light during the Summer. An easy fix? Bring a sleep mask, you won't be bothered by the light.
During Summer one of the thing which may surprise visitors is the smell of stock fish drying nearby the rorbuer. As they anciently served as cabins for fishermen, rorbuer are obviously built nearby harbors. And that's also where the wooden racks to dry stockfish are.
This is common also to other types of accommodations in Lofoten: depending on the time of your check in you might have little to no reception. This can be uncomfortable especially if you would like to have more infos about activities to do and locations to visit. When booking or when you confirm your check in hour you should also be informed if the reception will be close at the time of your arrival. In that case contact them earlier for any special requests or information you will need.
Overall sleeping in a rorbuer is an amazing experience that you should try at least once!
Frequently Asked Questions
What is a Rorbu?
The etymology of rorbu is ror (row, fishing) and bu (small house).
A rorbu, the plural is rorbuer, is a fishermen cabin that was used by fishermen who went North to fish cod. In the 12th century King Øyvind had built several rorbuer in Lofoten for fishermen who went there fishing during the Winter (cod is a cold water fish).
Besides rorbuer being used as seasonal homes along all Northern Norway, nowadays they are mainly associated to Lofoten, also due to their wide presence on Instagram and other social platforms.
Which is the Best Village/Town to Stay in a Rorbu?
I'm repeating myself, but if you have the budget go for Nusfjord Arctic Resort or Lofoten Cottages if you are looking for a more budget-friendly solution. Otherwise I'd highly recommend also Hamnøy or Sakrisøy and Reine. Southern Lofoten are undoubtedly the most beautiful part to explore.
Are Rorbuer Expensive?
Yes, rorbuer are expensive, but spoiler alert, Lofoten are expensive. Don't deprive yourself of an amazing experience, if you decide to invest in a Lofoten trip, it should also include at least a one night stay in a rorbu.
One last word about the best rorbuer in Lofoten
By now I guess you will have an idea on which are the rorbuer you will be staying at! But in case you lack of inspiration don't forget to check out our Lofoten itinerary adaptable for Summer and Winter, and our Norway page for more ideas and inspirations.
Have you liked this post? Sharing is caring!