Congratulations! You are about to realize one of your bucket list dreams and fly on a hot air balloon in Cappadocia fairy tale land. But which is the best company to book your flight? How can you establish your budget? Don't worry! I've got you covered. With this helpful guide, you can compare all the pros and cons and decide which option is the best for your once in a lifetime experience. Without no further ado let's find you the perfect ride!
Disclosure: anitabeyondthesea.com is reader-supported. When you make a reservation through links on my site, I may earn an affiliate commission, at no extra cost for you. That will help me keep the blog up and running. Thank you!
Table of Contents
Don't have the time for the whole post? Pick our choices!
I highly recommend going through the guide as it explain what you should look for when booking. But if you don't have enough time here are our top picks for a budget-friendly experience or a luxury ride.
Budget-friendly: Cappadocia Discovery Balloons have among the best prices and offer a very good service. They have experienced pilots almost all are English speakers.
Luxury ride: Royal Balloon – King flight. It's as they say, Royal Balloons is one of the best companies that fly in Cappadocia. If you are willing to spend a little more, that would be my go-to option. Their King flight is an 8-places max basket that allows you to admire unobstructed views for 75 minutes. You also have an open buffet instead of the basic breakfast.
Cappadocia Hot Air Balloon Tours, the different companies
The following table resumes the main characteristics you should be aware of before booking your flight. Know that even if we work to keep this data up to date and accurate, there still may be some discrepancies with your final experience. That's why before booking your activity you shouldn't hesitate to contact the company and ask them every question that may be relevant to you.
Be aware that flights may be canceled at any moment if Civil Aviation won't give the authorization because of the weather conditions. In case that happens the company will propose you another slot the following day/days depending on their availability. If you can't delay your ride you will be automatically refunded. You can always ask for confirmation when you book your flight but that's the norm.
The comparison table is sorted by the basket capacity.
*LS Price and HS price means low season vs high season.
When is the best time to book your Cappadocia hot air balloon tour?
Now! People come from all around the world to visit the incredible Cappadocia region with its natural beauty. Sometimes, especially during the high season, flights get completed months before. Based also on my experience, where I ended up flying in the second slot instead of the first, I would recommend booking the activity just after you make your hotel reservation.
Hot air balloon ride duration
The duration is indicative, most companies write 60 minutes minimum but unfortunately, that also depends on the weather conditions. It may be more around 45 minutes or 70 minutes. If for any reason your tour lasts too short, you can try to negotiate for a refund or free activity compensation.
Number of passengers
Each basket has a different capacity but even with fewer people you will not be free to move around. The baskets are divided into smaller sections, each one of them containing 4 or 5 people max.
Of course the smaller the basket the better for the views but don't stress over the basket size too much. Between 20 and 28 capacity baskets, there isn't a huge difference. The hot air balloons turn multiple times letting you admire every side of the landscape.
Otherwise, you can book a VIP experience, a private flight where you have the basket for you and your group.
Take off location
The take-off location is probably the most important thing you should look out for when booking your hot air balloon ride. Most companies take off nearby Goreme and fly over the valleys and the fairy chimneys.
In the list, two companies take-off from two different points. Of course, the prices are more interesting, but be aware that you won't see the same things as the companies that fly from Goreme.
Soganli Valley is 45 minutes away from Goreme. The landscape is still nice but less spectacular. You will be flying with 2-6 more balloons.
Çat Valley is a long valley of 7 km with small conic fairy chimneys that are very cute to see. Unlike Soganli you may see the hot air balloons flying over Goreme in the distance. But you will not see the Love Valley, Rose Valley, Goreme, etc… Take this into account so that you will not be disappointed.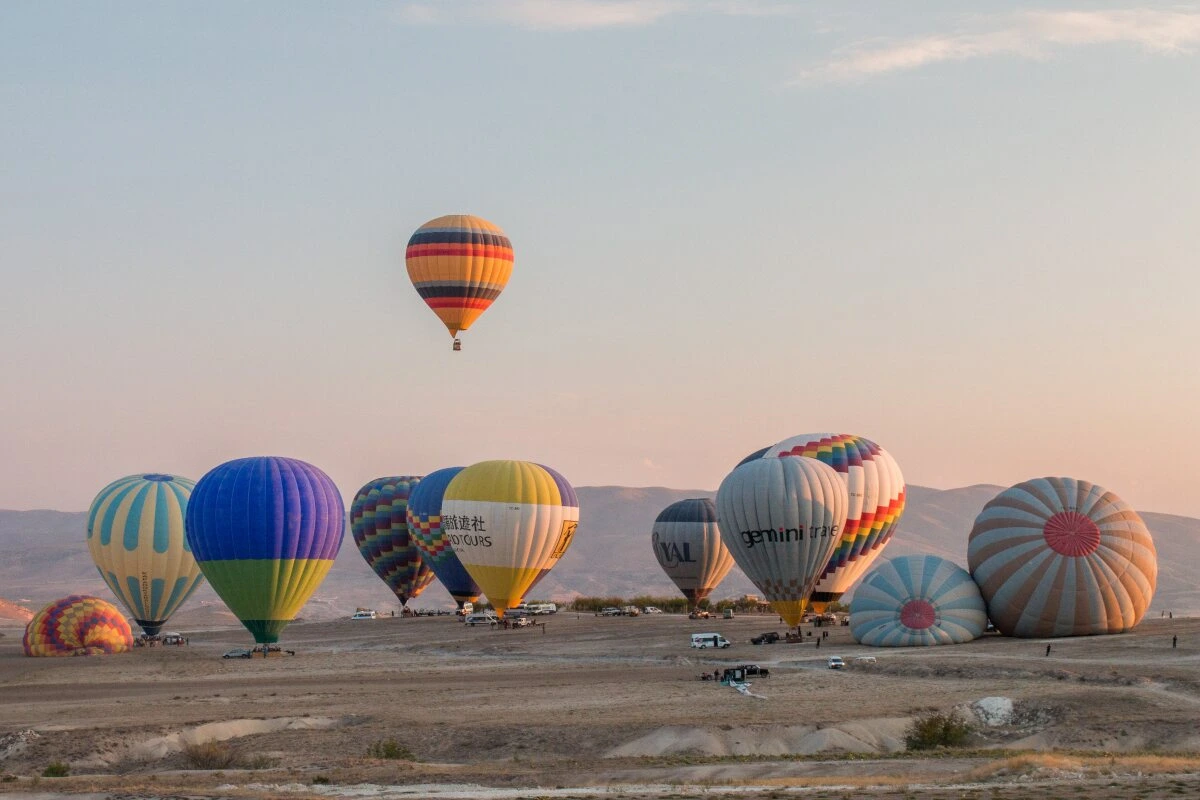 Breakfast
Unlike many other hot air balloon rides around the world, breakfast is served before flying. Unless you will choose an expensive option the breakfast is very light and you shouldn't be afraid of airsickness.
Most companies offer tea, coffee, juice, and biscuits. A few give also fruits to their guests. Either way don't expect a large buffet unless you book deluxe experiences, like the King flight formula from Royal Balloons.
Low Season vs High Season
Due to the risk of report and cancellation in the Winter months, there is a huge gap between low season and high season prices. Usually, low season runs from November to March, while high season is from April to October.
Temperatures are also better in general to hike and explore. For these reasons from mid-spring to mid-autumn your experience will be more enjoyable. But if you want to take your chance and fly in Winter, Cappadocia's valleys covered in snow are absolutely magical!
One more thing to be aware of: prices change from LS to HS in a day. The 31 March you may pay half or 2/3 of the price if you fly on 1st April. And no, that's not an April's Fool in case you are wondering!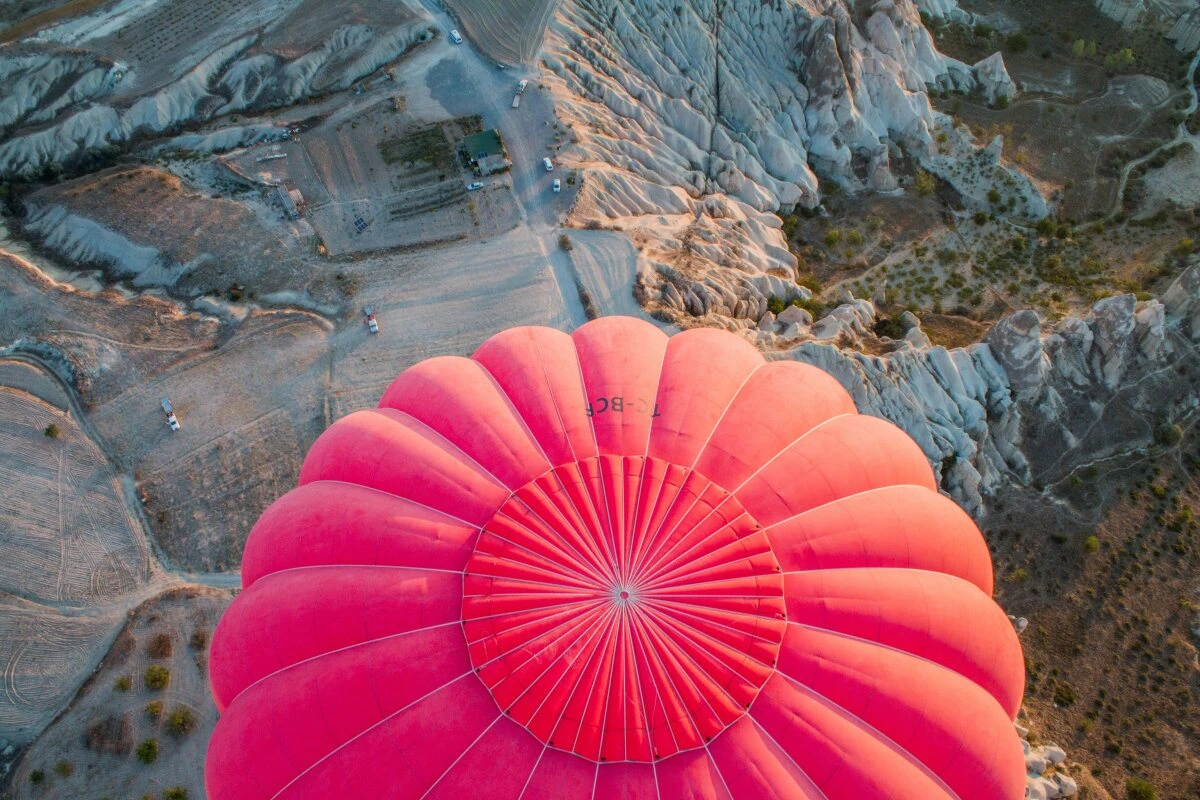 What's included with ALL flights?
No matter which company you book for your Cappadocia hot air balloon ride, the following options are always included:
Hotel pickup and drop-off
All the companies have shuttles taking you from your hotel to the take-off site without you having to bother to find your destination. But there is one thing you should bother: double-check with your driver that you are on the right bus. I know this may sound weird, but it's not that unusual for people to jump on the wrong shuttle.
To avoid this you may simply check with your tour supplier if they have branded shuttles, many do. In case they don't, just make sure about the pickup time and ask the driver.
If you are not based in Goreme's region a supplement must apply. As soon as you got your hotel booked make sure to send it to the company you are flying with so that they can confirm it's included.
Champagne toast after landing
How to celebrate a lifetime experience? With champagne! Once you are safely on the ground and still happy about the experience it's time to pop the champagne and thank the crew for the amazing experience. If you don't drink alcohol you have fresh juices or non-alcoholic options.
Flight certificate
The flight certificate is a very nice souvenir to remember your experience. Printed on an A4 piece of paper, make sure to store it somewhere safe, ideally on the bottom of your suitcase without making corners.
Some extra questions to ask your flight company
Pilots experience
Don't ask generic questions like "is your pilot skilled?", as of course they will answer yes. Because I mean, what's the point otherwise? Instead ask how many years they have been flying and how many pilots they have. In that case, when they answer, you may also ask if it's possible to book their most experienced pilot's ride.
If you are a curious passenger also remember to ask if you can fly with an English-speaking pilot. Not all pilots have English notions, so if that's an important point to you don't forget to ask that.
Altitude changes
Normally if you book an experienced/skilled pilot he will make many altitude variations and he will also get very low among the fairy chimneys. Most companies fly low in the middle of the Love Valley. But that's only if their pilot is confident and experienced enough.
Also, an inexperienced pilot will not "turn" the balloon often and some people may complain about their sights as they may have a less interesting view. This is especially for balloons that have 20 and more capacity.
Take off slot
A few people know this before flying, but there are two different slots for the balloons. To avoid accidents, Civil Aviation limits the number of flying balloons to 100, yes there are so many each morning!
The first slot is before sunrise, and you will get to see the sun picking from behind the large rock formation that shadows Goreme. Contrary to the first slot when you will take off with the second slot the sun will be already enlightening the sky.
The experience is just as amazing, however, you can try to ask your company to save a spot for you in the slot you prefer. If you ask them early, they should be able to arrange you with the time you prefer.
Hot air balloon inflating process
Even if seeing the hot air balloon inflating process was a must for me (you also get to take some amazing photos!), it has its pros and cons. Among the cons, you will be freezing for longer, as the temperatures outside are really cold, even in Summer! And to some people, the process may seem long. Nevertheless, I personally found it was an interesting moment to witness, and as a passionate photographer, I also enjoyed taking pictures.
With this in mind, not all companies bring their passengers at the beginning of the process, some prefer to let their passengers wait while having a short breakfast, and bring them once the balloon is almost ready. One more thing to ask your provider.
Who cannot ride a hot air balloon in Cappadocia?
Unfortunately, Cappadocia hot air balloons are not accessible to everyone yet. Due to their climb-in climb-out system people in wheelchairs are not able yet to participate in the rides. I'm really hoping that will change soon as accessible hot air balloons are already available in multiple tourist sites.
As for children, they can't ride if they are under 7 years old. But above all, you should consider their height, under 1,40 meters they will not be able to see over the basket's edges.
Last on our list, pregnant women are discouraged/prohibited from flying at any stage of their pregnancy because of the landings. In almost all cases the landing will not be dangerous, as the pilots are experienced, but you won't want to take risks.
In conclusion, is it worth booking a Cappadocia hot air balloon flight?
Yes, a 100%! Of course, it's expensive but it's a once in a lifetime experience you will not regret. If you would like to know more about what to expect, you can read our guide about what to expect from this incredible bucket list experience. Are you planning a trip to Turkey? Check out the Turkey section for guides and ideas. And if you want to know more about Cappadocia tours, read our guide about the best ones.
Have you liked this post? Sharing is caring!