It's the most wonderful time of the year! A whirl of leaves in a dance of red, orange, yellow, and brown, Autumn is here. Grab your cozy blanket, a pumpkin latte, a good book, and you are all set to a good me-time while admiring the nature cloak changing its colors. And if you want to share the moment on your socials with a #fallingleaves you are in the right place 'cause I have a whole selection of falling leaves puns, quotes, and songs that will be perfect captions for you! Let's see.
Disclosure: anitabeyondthesea.com is reader-supported. When you make a reservation through links on my site, I may earn an affiliate commission, at no extra cost for you. That will help me keep the blog up and running. Thank you!
In This Article
Simple Falling Leaves Captions
Autumn's confetti.
Dancing leaves in the breeze.
Nature's artistry in motion.
My favorite color is October.
The ground is a canvas, and leaves are the paint.
Nature's graceful ballet.
Autumn's beauty falling all around.
Catch a falling leaf, make a wish.
Autumn leaves, a quilt of colors.
Leaf by leaf, nature's masterpiece unfolds.
Autumn's farewell in hues of gold and red.
Leaves falling like golden raindrops.
Funny Falling Leaves Captions
Enjoying Fall one leaf at a time.
Today's forecast: Fall foliage.
You're never too old to jump in a pile of leaves.
Peace, love, and leaves.
Orange is the new black.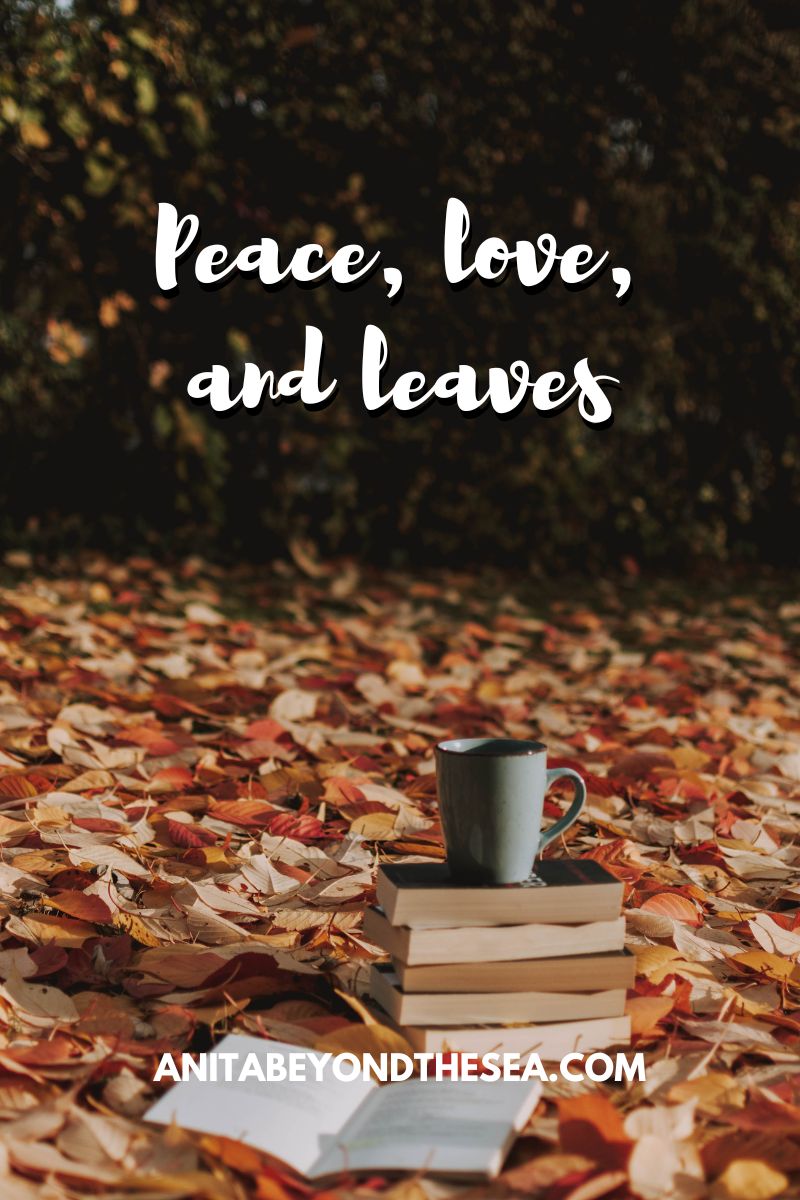 Leaves puns perfect for Fall Season
Leaf me alone, I'm trying to enjoy autumn!
Orange you glad Fall is here?
Leaf-ing a trail of laughter wherever I go.
Autumn is the season of the most tree-mendous stories!
Here for the pumpkin spice and leafy punchlines.
Looking for pumpkin captions? I've got you covered!
I'm unbe-leaf-ably excited for fall!
Leafing summer behind.
Autumn leaves me with great memories.
Inspiring Falling Leaves Quotes
"Then the trees, after their long silence, began to talk again, in yellow and red." – Mirrlees, Hope
"When the leaves start to fall, our heart beat starts to rise." – B.K. Sweeting
"Be like autumn leaves which follow exactly the rhythm of the wind!" – Mehmet Murat ildan
"There is a subtle magic in the falling of old leaves." – Avijeet Das
"The leaves are changing, I feel poetry in the air." – Laura Jaworski
Songs about Falling Leaves
"When autumn leaves start to fall." – Nat King Cole, Autumn Leaves
"Float down, like autumn leaves, hush now, close your eyes before the sleep." – Ed Sheeran, Autumn Leaves
"Through autumn's golden gown we used to kick our way." – Jeff Wayne, Forever Autumn
"Autumn leaves falling down like pieces into place." – Taylor Swift, All Too Well
"As I pause to recall the leaves seem to fall like tears." – John Coltrane & Johnny Hartman, Autumn Serenade
"In this autumn town where the leaves can fall on either side of the garden wall." – Iron & Wine, Autumn Town Leaves
"Oh the leaves are turning gold." – Lorrie Morgan, Autumn's Not That Cold
"Sidewalk painted color red leaves are taking final breaths." The Tuesday Crew, Just Like Autumn
"Through the spring and summer he loved me and his love died with autumn leaves." – Dolly Parton, Walls Of My Mind
"Breeze blows leaves of a musty-coloured yellow." – The Kinks, Autumn Almanac
It's a wrap of the best falling leaves puns you will find!
You got an idea of how you can play with the words leaf and leaves. Now it's your turn to mix and match the fall puns you have found here to perfectly fit your photos. And why not use a good quote from a book or song too? The choice is yours. For more seasonal and travel captions, check out our Travel Inspiration section for more themed captions and puns.
Have you liked this post? Sharing is caring!