Going on a girls' trip is one of the most exciting experiences in life. It's a time to bond with your girlfriends, create unforgettable memories, and let loose from everyday responsibilities. Whether you're planning a weekend getaway or a week-long adventure, girls' trips are all about fun, relaxation, and friendship. And what better way to capture those moments than with some inspiring girls trip captions and quotes? Cherish your memories while also inspiring to keep traveling and exploring the world with your besties.
Disclosure: anitabeyondthesea.com is reader-supported. When you make a reservation through links on my site, I may earn an affiliate commission, at no extra cost for you. That will help me keep the blog up and running. Thank you!
Table of Contents
Short captions for your trips with your besties
In squad we trust.
My kind of therapy.
Wanderlust and girl power.
Adventure awaits, and so do we.
Taking over the world one vacation at a time.
Exploring the world with my favorite girls.
Life is short, travel with the girls.
Traveling with my squad, living my best life.
Let's go girls!
When in doubt, take a girls' trip!
Squad goals achieved.
Bad**s girls trip captions
Good girls go to Heaven, bad girls go everywhere!
What happens on a girls trip stays on a girls trip.
I can't keep calm I'm going on a girls trip!
Danger: girls trip in progress.
Passports and cocktails, that's all we need.
Wine not? Girls trip edition.
The world is our playground and we're not holding back.
Funny girls trip Instagram captions
Pack your bags, we're outta here!
Girls don't wait for the prince anymore, they pack and travel the world.
You can pack for every occasion, but nothing is better to bring than a good friend.
We don't get drunk, we get awesome!
Leave nothing but footprints, take nothing but memories and lots of selfies.
Let's wander where the Wi-Fi is weak and the cocktails are strong.
Traveling with my besties: it's cheaper than therapy.
Ready for takeoff and a whole lot of fun.
Inspiring girls trip captions
Good friends and great adventures make for the perfect girls' trip.
Travel far, travel wide, travel with your girlfriends.
Adventure awaits, go find it with your girlfriends.
The best friendships are built on adventures shared.
Life was meant for good friends and great adventures.
Traveling with your besties is like having your own personal cheerleading squad.
A girls' trip is not just a vacation, it's an investment in lifelong friendships.
There's no better feeling than being surrounded by your favorite people in a new place.
The best part of a girls' trip is the laughter and memories that come with it.
Life is short, but the memories made on a girls' trip last forever.
Traveling with your besties is the ultimate way to create memories that last a lifetime.
Wanna learn about the world? Go experience it with your friends!
There's no better feeling than experiencing new things with your best friends by your side.
There is a whole world out there. Pack your backpack, your best friend and go.
A good friend listen to your adventures, your best friend makes them with you.
A girls' trip is a chance to make memories that you'll still be laughing about 50 years from now.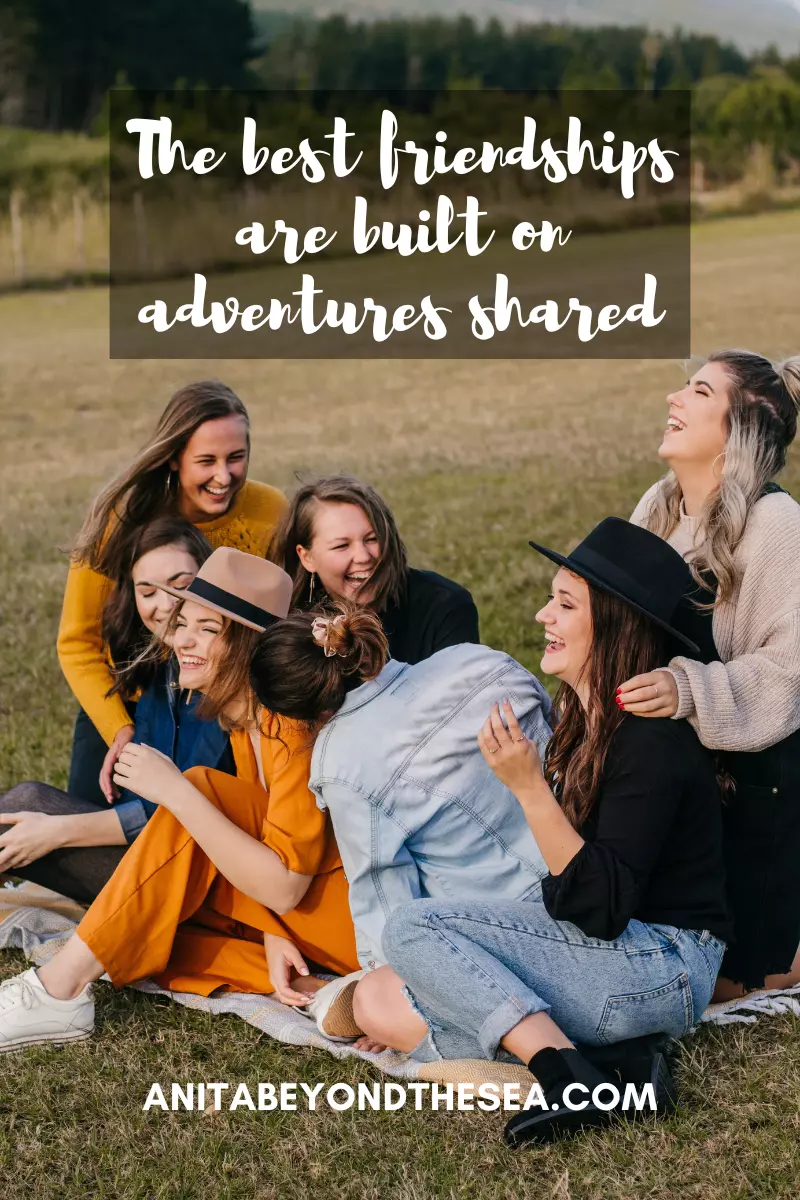 Sun and beach with your girls captions
Sipping on sunshine with my favorite ladies.
Girls just wanna have sun.
Bringing the sun wherever we go.
Life's a beach and we're just here for the good vibes.
Tropical state of mind with my beach squad.
Good friends, great views, and endless beach days.
Salty hair, don't care. Just having fun with my friends.
Nothing beats a day at the beach with my favorite people.
Friends, sun, sand, and sea. Life is better at the beach.
Sand between our toes and laughter in the air.
The beach is calling and we must go… with our besties!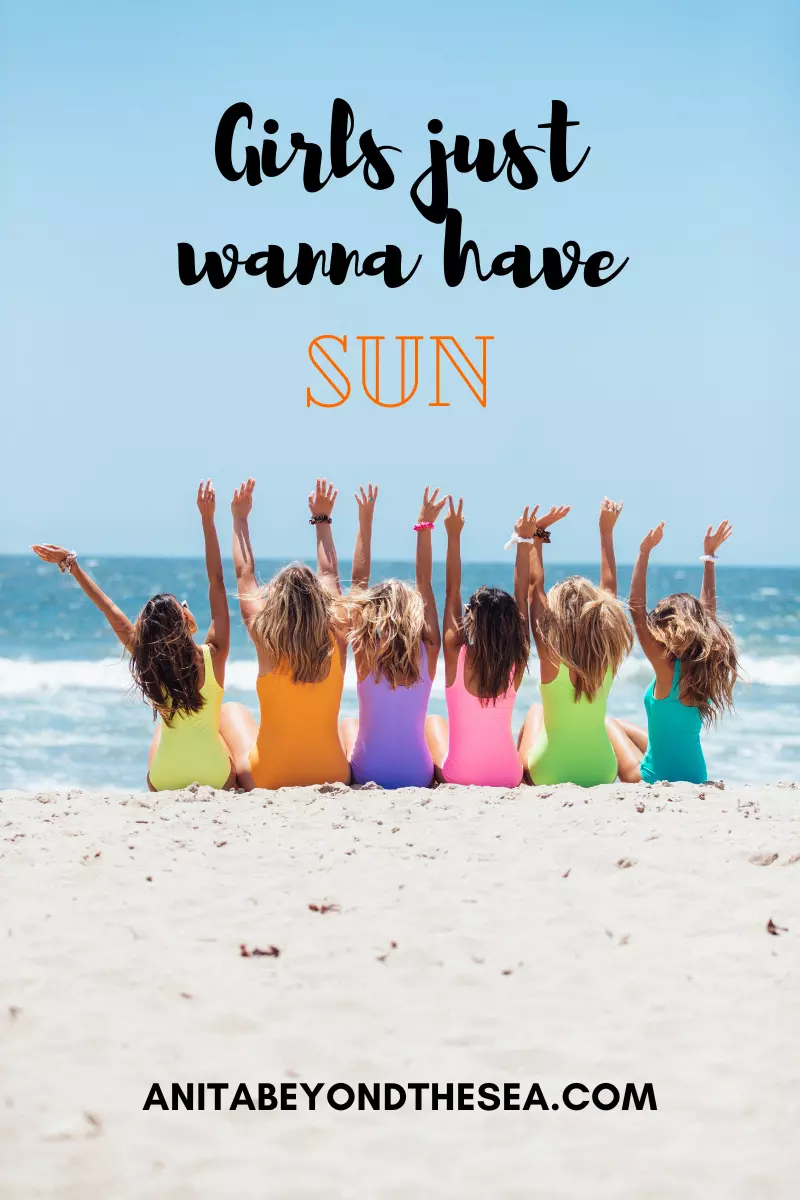 Famous quotes about friendship
"Happy girls are the prettiest girls" – Audrey Hepburn
"Friendship is the only cement that will ever hold the world together." – Woodrow Wilson
"Exploring the world with your girlfriends is the best way to discover yourself." – Oprah Winfrey
"Traveling in the company of those we love is home in motion." – Leigh Hunt
"A journey is best measured in friends, rather than miles." – Tim Cahill
"There is an unspoken bond you create with the friends you travel with." – Kristen Sarah
"Good company in a journey makes the way seem shorter." – Izaak Walton
We solemnly swear that we are up to no good.
From J.K. Rowling original quote "I solemnly swear that I am up to no good."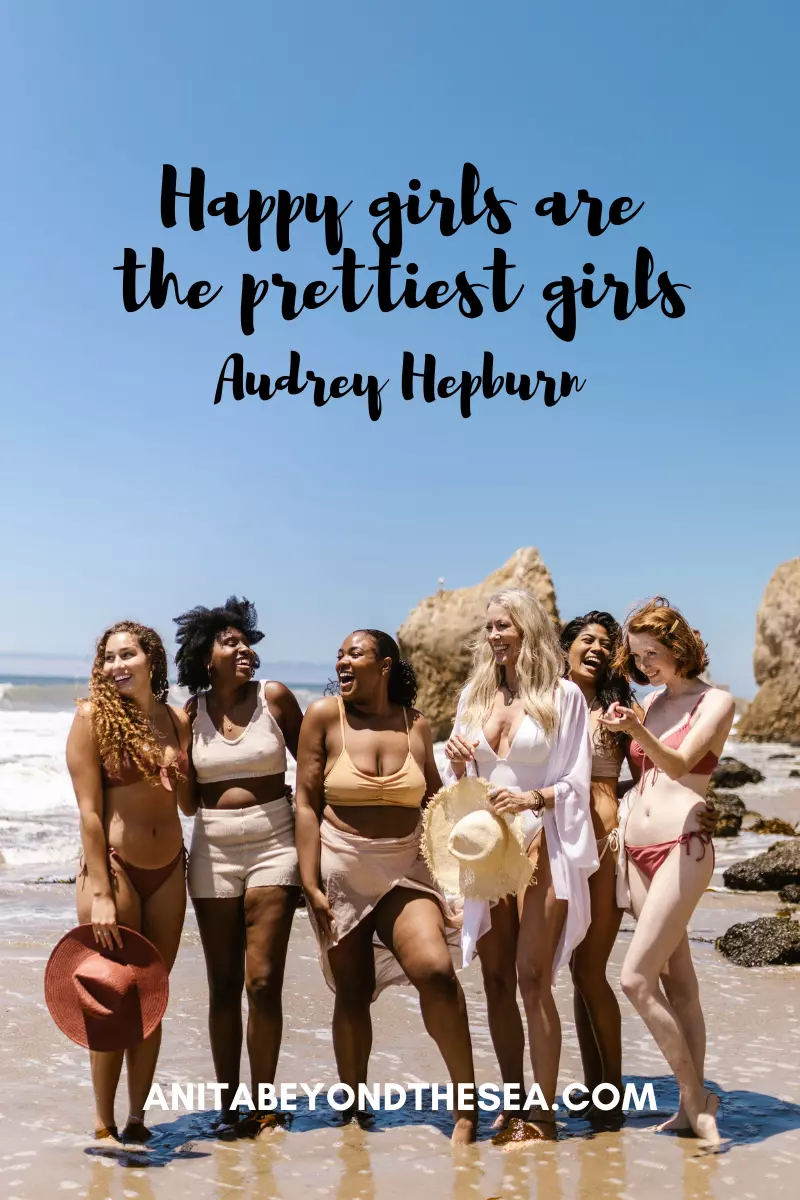 Grab your girlfriends and go!
Girls' trips are all about creating unforgettable memories with your best friends. Whether you're exploring a new city, relaxing on the beach, or trying new foods, the experiences you share with your squad will stay with you forever. So grab your girlfriends, plan your next adventure, and let these inspiring girls trip captions and quotes be your guide to creating the ultimate getaway.
Do you like inspiring quotes and Instagram captions? At anitabeyondthesea we love them too! In our Travel Inspiration page you will find many more. And if you would like to be inspired to travel to new destinations, check out the regions and countries we write about.
Have you liked this post? Sharing is caring!