Are you looking to visit something unusual and modern in Tuscany? Peccioli and Ghizzano are the perfect destinations If you are nearby Pisa. Nestled in the famous and spectacular Tuscany hills, the two villages look like a medieval fairy tale from afar. But don't be fooled! Once you are in their narrow streets you'll find modern murals and sculptures everywhere around the corner.
Disclosure: anitabeyondthesea.com is reader-supported. When you make a reservation through links on my site, I may earn an affiliate commission, at no extra cost for you. That will help me keep the blog up and running. Thank you!
Table of Content
Peccioli and Ghizzano: How to arrive
Peccioli is a small village on top of a hill situated in a so-called Green Triangle. If you're coming from Pisa, via the regional street 439, take the exit "Capannoli" towards Peccioli. If you're planning to visit the Prehistoric Park, you can start your visit from there. Otherwise, follow the indications to Fonte Mazzola Amphitheatre. You can park your car there and visit the town afterward.
Follow the map below for all the addresses.
Visit of Peccioli and Fonte Mazzola Amphitheatre
Once a medieval town, Peccioli recently went through a restyling process. In fact, it has been invaded by contemporary art. There are many beautiful spots, graffiti, and sculptures. Among them, you shouldn't miss the Endless Summer pedestrian bridge, the work of the Italian artist Patrick Tuttofuoco. The bridge is wrapped up in a spiral, that represents all the colors of the sunset. Completes the beautiful scenery the Timeless Palace with its panoramic terrace over the valley.
Before leaving don't forget to pass by Fonte Mazzola Amphitheater. Although it has been built in 2007, its structure reminds that of the ancient Greek and Roman theatres.
Furthermore, in front of the amphitheatre you'll see the giant sculpture created by Naturaliter. It's made out of recycled polystyrene and polyurethane and covered with concrete. Peccioli administration board is very attentive to ecology and in particular to the recycling process. In fact, the sculpture is a symbol of the second life waste can have. The green concept has been declined in three more sculptures that are disseminated in Peccioli's Green Triangle.
Peccioli Prehistoric Park
If you are traveling with kids you shouldn't skip a visit to Peccioli Prehistoric Park.
The park was founded by the former circus artist Erardo Ghironi. After ending his itinerant career, he established nearby Peccioli and acquired a terrain to build his house. Surprisingly while building the foundations Erardo discovered prehistoric fossils and shells. His passion for art and contact with the public inspired him to transform his terrain into a park accessible to everyone.
The idea was there but what he could do to make it more attractive? Dinosaurs! With that vision in mind, he made the first 5 mock-ups of the species that he knew. It was 1976. Jurassic Park, the book was written only in 1990, and Spielberg's blockbuster exited in theatres in 1993. Erardo's work was absolutely innovative. Until today his Brachiosaurus is the biggest dinosaur's mock-up in Europe.
The Park visit lasts about 2 hours. You'll discover 22 Dino mock-ups and a beautiful view of Peccioli. And inside the park, there's a nice picnic area where you can eat. Find more information on the Peccioli Prehistoric Park website.
Ghizzano and its colored houses
Once an unknown village, Ghizzano has captured the attention of many travelers since it has been completely renewed. Now it has become one of the most colored towns in Tuscany. Let's see what you shouldn't miss:
Before starting you should know that Ghizzano is a VERY small village of 350 inhabitants. I know that some people were quite disappointed by its size. With that said, for me, it was still absolutely worth visiting because of its sophisticated beauty. And if you love photography the colored street is a MUST for you!
One of the most instagrammable places in Tuscany is without a doubt Ghizzano's Middle Road. This pedestrian street that crosses the village, has been completely recolored by the British artist David Tremlett. Darker shades of color highlights the windows creating interesting optical effects.
If you would like to see more, my father, a talented awarding winning photographer, has made a series of pictures about Ghizzano you should check on his website. Some of them illustrates also this blog post.
In addition to the beauty of the Middle Road, you will find sculptures at almost every corner of Ghizzano. Such as Solid Sky by Polish-German artist Alicja Kwade, which decorates the entrance of the Ghizzano's church. Or Elevatio Corpus by Patrick Tuttofuoco, a set of three statues that represents parts of the human body.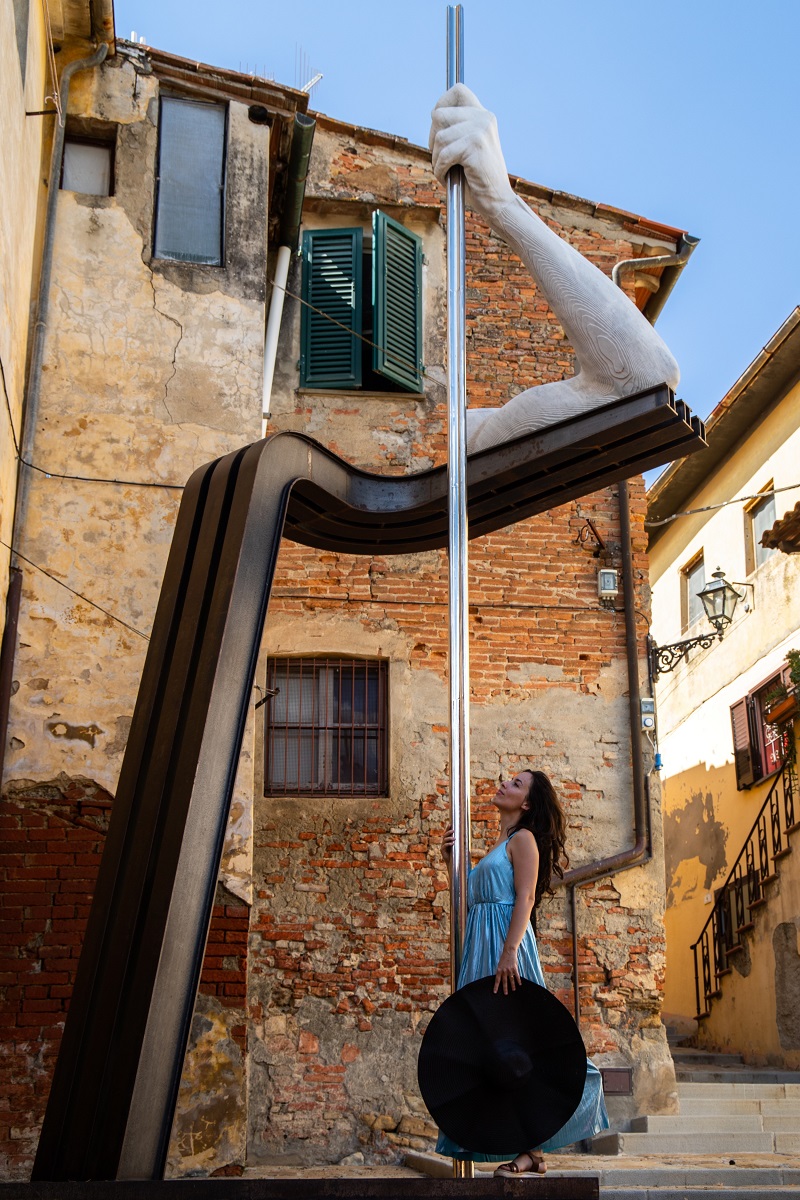 Come discover Peccioli and Ghizzano
The whole area surrounding Pisa has many hidden gems, and Peccioli and Ghizzano are among the most colored. You should absolutely add them to your Tuscan trip.
Are you planning to visit Tuscany soon? You may be interested in taking photos in the most beautiful spots in Val d'Orcia. If you are looking for something more adventurous instead, you will love to visit Henraus, a spectacular abandoned marble quarry. Otherwise, you can find day trips inspirations in our Italy dedicated section on the blog.
Have you liked this post? Sharing is caring!