If I say Tuscany, probably the first image popping into your head is an endless expanse of golden hills and cypresses avenues. You are picturing the idyllic landscape of Val d'Orcia. One of the most beautiful places in Italy (and I'm not saying that as a Tuscany native 😉 ). Whether you are planning a weekend getaway or simply passing by, in this guide I'll introduce you to 7 incredible spots. You will admire the most beautiful landscapes in Val d'Orcia and take your photography to the next level.
Disclosure: anitabeyondthesea.com is reader-supported. When you make a reservation through links on my site, I may earn an affiliate commission, at no extra cost for you. That will help me keep the blog up and running. Thank you!
At the end of the blog post you will find a map which locates all the mentioned spots.
Table of Content
The most beautiful Val d'Orcia photo spots for Insta-perfect shots
1. Biancane di Leonina
Darker with the humidity, these dunes made of clay, turn white when the sun dries them during the day. They are also known as Accona desert, even though they are sprinkled with bushes and small trees. It's a nice destination for hikers, as several paths cross the area.
You can observe Biancane di Leonina from the panoramic point I've highlighted on the map below or park your car and wander in this incredible landscape.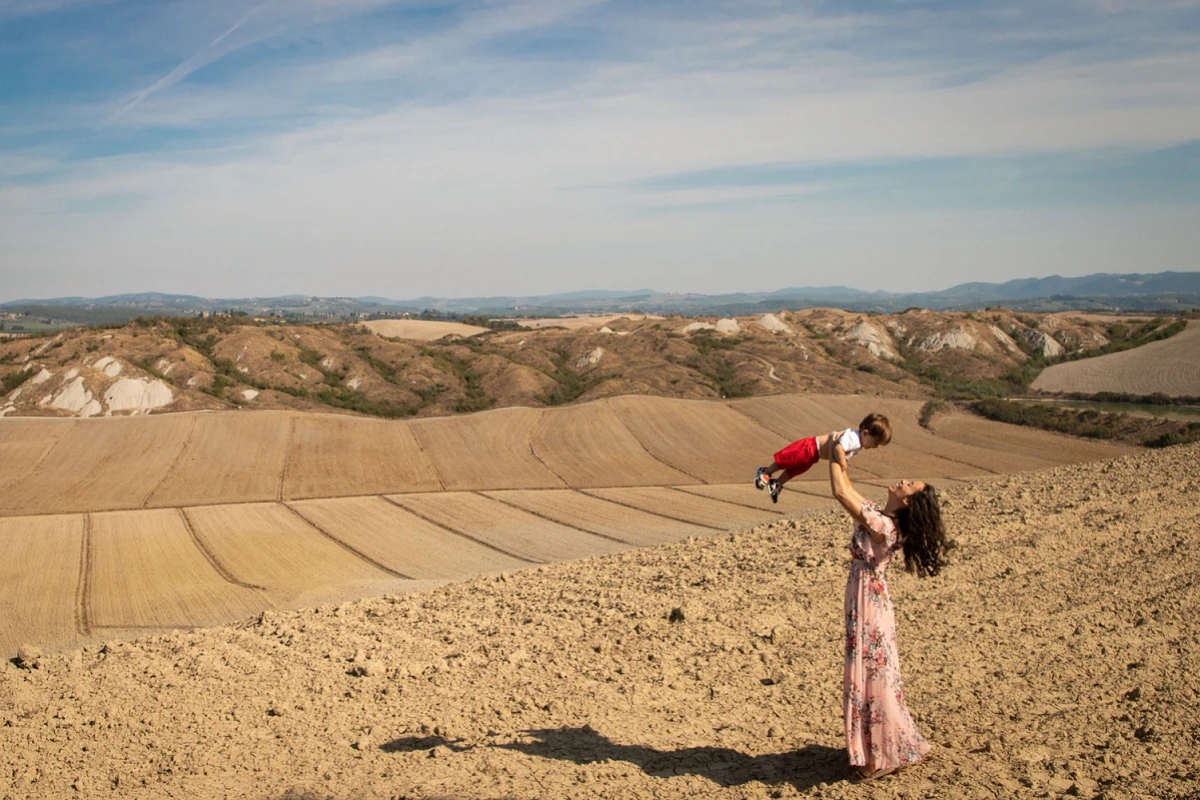 2. Crete Senesi nearby Asciano
Crete Senesi (Clays of Siena) identifies a typical area in the South of Siena. The soil, bare and grey, and the rounded hills remind of the sand dunes in the desert.
There are many different spots where you can observe the Crete Senesi. Above all, my two favorites are in Asciano (the second point from the top on the map), and the panoramic view nearby Agriturismo Baccoleno (our next stop).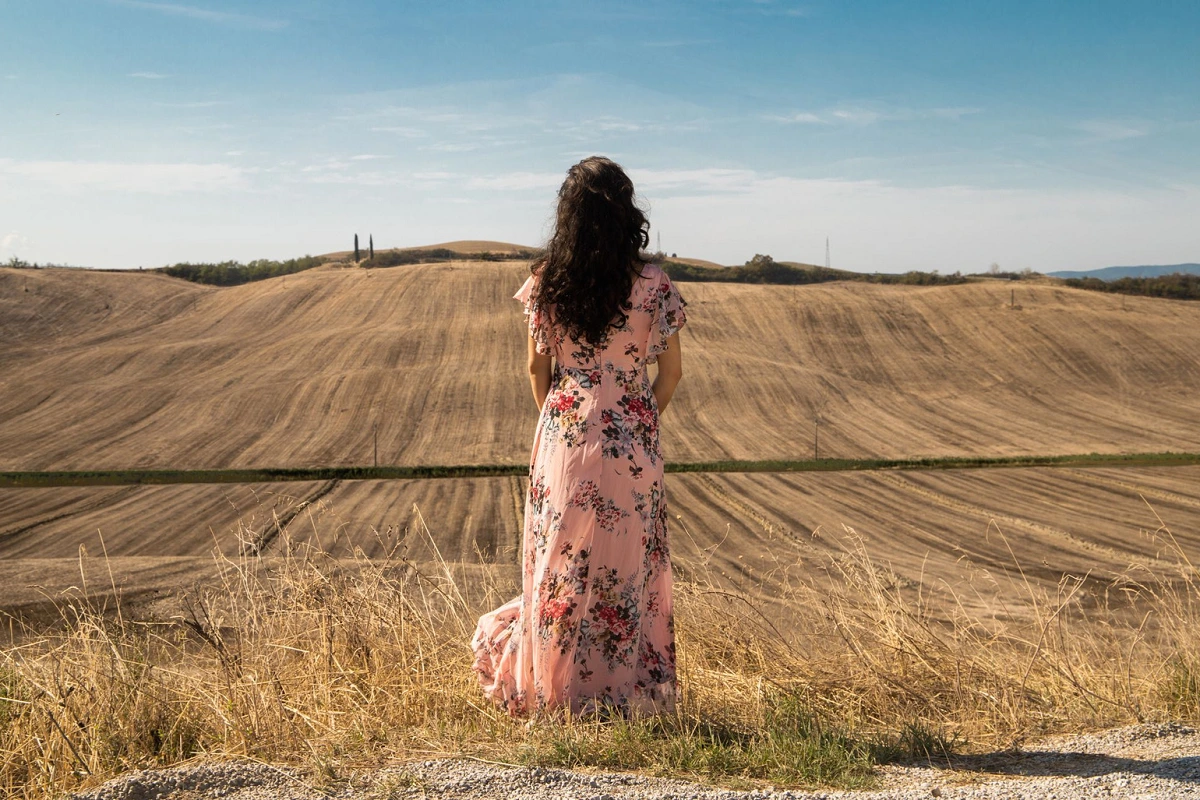 3. Agriturismo Baccoleno
Agriturismo Baccoleno is well known for its serpentine road that introduces its guests to the estate. The best spot to admire this view is from the surrounding hills. You can park your car a few meters from the entrance when you are coming from the North.
Drone restrictions apply as it's private property.
Agriturismo Baccoleno is also an excellent place to stay. If you are planning a night in Val d'Orcia, consider staying there.
4. Bosco di Cipressi, Cypresses of San Quirico d'Orcia
Cypresses are well known for decorating the sides of long avenues in the Tuscany campaigns. That's why it's quite rare to see a group of cypresses. While visiting San Quirico d'Orcia, you can see the cypress grove. A group of cypresses that has grown without following a particular line, in the middle of the bare hills.
Do you want more cypresses?
Just a few meters up on the hill, a group of cypresses is lined in a circle. This is also a very popular spot to take pictures. Note: Both spots offer very nice photos, especially If they are shoot from afar or with a drone.
5. Elysian Fields
Remember the last scene from the Gladiator? In 2000, Massimo Decimo Meridio aka the Gladiator aka Russel Crowe, enters the Elysium after an epic battle against power and slavery. The rest is history, but, if you ever asked yourself where the Roman's Paradise is, Ridley Scott decided it's in Val d'Orcia a few kilometers outside Pienza.
These beautiful golden fields are a must-see, if you are passionate about the movie or simply are looking for a beautiful photo spot.
6. Bagno Vignoni
Another movie set, have you ever seen Andrei Tarkovski's masterpiece Nostalghia? Then you will probably remember the scene of the protagonist crossing a huge pool in a small village. That's Bagno Vignoni. This small town has become famous for its thermal treatments. However, the most characteristic thing about Bagno Vignoni is the central square, which hosts a large pool.
During our wanderings in Val d'Orcia this picturesque village seemed the perfect location to have lunch. Around the central square, there are many tasty restaurants and artisan's shops. My menu recommendations? Pici alla Gricia (similar to spaghetti alla carbonara) or everything with truffles.
Val d'Orcia and the zones between Florence and Siena are some of the major producers of white truffles in the world. Although, If you have never tasted truffle, be prepared for the very strong taste.
7. Agriturismo Poggio Covili, Cypress Avenue
Where is the most straight cypress line you will ever see?
The answer is easy: at Poggio Covili. The perspective of this avenue is a dream for every photographer or artist. It's indeed one of the most photographed spots in Val d'Orcia. If you stop for taking pictures, don't forget to park your car so that you don't bother the staff and clients that may enter the property.
Just like Agriturismo Baccoleno, Poggio Covili is also an excellent option if you consider a night out in Val d'Orcia.
How to get to Val d'Orcia and how to move around
The best way to move around in Tuscany is with a rental car. Especially in the south of Tuscany, where you will want to stop at EVERY corner you see (speaking from experience). Wherever you are traveling I always recommend Discover Cars. They always have the best prices and many options.
If you are coming from Florence, take the Autostrada A1 towards Chiusi and Chianciano, and exit at Montesavino. Find all my favorite photo spots on the map below. Consider about 4 to 5 hours to see them all, including the stop at Bagno Vignoni for lunch.
When it's the best time to visit?
The best time to visit is from mid-April to August.
From April to May, is when the fields are covered by red poppies, and the campaign gets greener after Winter. It's indeed a magical period to explore this beautiful valley.
Personally, I prefer Summer. It's the time when the wheat fields turn to gold, and the hay bales roll in the fields. June and July are also when sunflowers bloom, offering another beautiful photographic subject.
In conclusion, is Val d'Orcia worth for photographers?
Indeed! And what's great about it is that every season and every moment of the day has its particular charm. That's why you should consider spending at least a night in the area. Are you looking for more inspiration for planning the perfect Tuscany getaway? I have more hidden gems for you! The photos from this blog post were taken by my awesome dad and award winning photographer, Claudio Sericano.
Have you liked this post? Sharing is caring!