French Guiana is a land of contradictions. 98% of its surface is covered by the lush Amazonian rainforest. And yet one-quarter of the remaining 4% hosts Europe's Spaceport: the Guiana Space Centre. Since 1968, the site has been active for over 50 years and launched more than 300 rockets.
10 Reasons why you should visit the Guiana Space Centre:
1. Dream of launching a rocket at Jupiter's Control Centre
The hearth and brain of CNES technicians during the final countdown is Jupiter Control Centre. The place has a theatre feeling. Red carpet and large comfortable seats, placed like in an amphitheater, face a huge glass wall. Beyond that? The Control Centre. Empty during public visits, it gets crowded on launch day. The operation's director (DDO) and his assistants monitor the parameters and execute the final procedures until the rocket take-off.
By the way, have you dreamed of assisting to a launch? It's a magical experience! If you're interested don't forget to check the guide to attend a rocket launch, and the Facebook page of the Centre Spatial Guyanais to be updated on upcoming launches and reserve your place.
2. Admire a real Ariane 5 EPC from Orchidée Belvedere
But first, what is an EPC?
Short for Etage Principal Cryotéchnique (Cryotechnic Main Stage), the EPC is Ariane 5 "body", to which the two boosters are attached. It's filled with liquid oxygen and hydrogen and has a Vulcain engine. When the EPC ends its mission, it re-enters the atmosphere and falls into the ocean.
This EPC was recovered for studies on the mechanical parts and components. It now lies at the entrance of the ELA (Ariane and Vega launch complexes), like a silent guardian. In recent years, to honor Webb telescope mission in December 2021, an artist collective painted a space-themed mural. A stair next to the parking allows you to sneak peek at the interior.
3. Stand on an active launchpad on ELA 3
One of the things I love the most when I'm visiting historical places is to relive in my mind what happened there. Now can you imagine how grandiose an Ariane 5 take-off must be? Since 1996 more than 110 rockets took off from this launchpad, making it one of the most important spots to visit for space geeks… and kids!
The insider tip? Before going on the visit, watch a past Ariane 5 launch. That way you will be able to picture that special moment even more.
4. Learn everything about Italian launcher VEGA from its launchpad
The newcomer at Guiana Space Centre is the Italian-made rocket VEGA. From Tangara observation point.
Did you know? Observation points at the Guiana Space Centre are named after birds from the region: Ibis, Tangara, Toucan, Kikiwi, Colibri, and Agami.
This observation site has an excellent view of VEGA's mobile gantry but also of Ariane 5 launchpad. You should note that when there is a VEGA assembly campaign in progress the site is closed to the public. Stay informed about ongoing campaigns on the CSG Facebook page.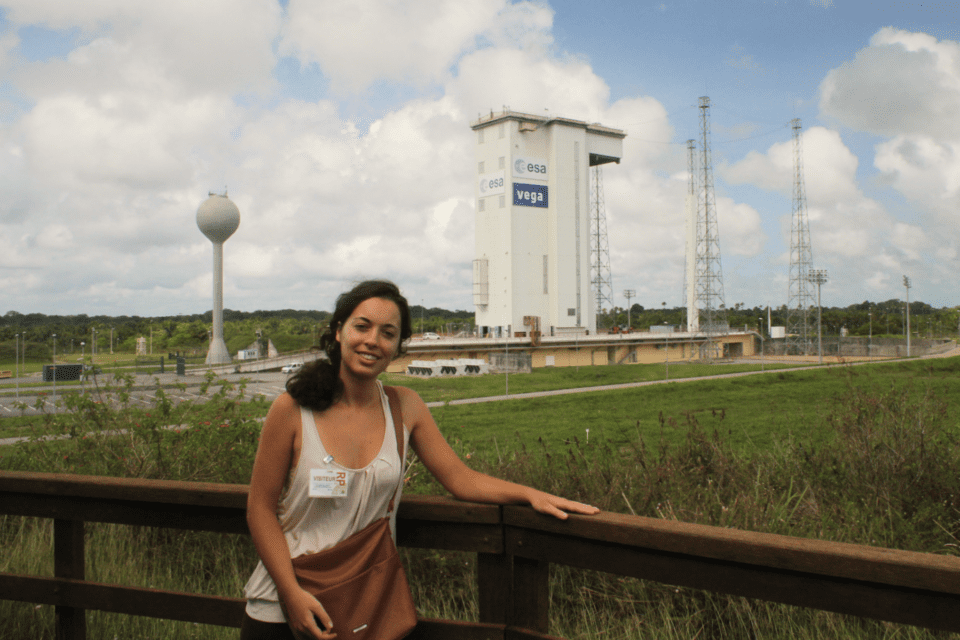 5. Meet Ariane 6 on ELA 4
Ariane 6 maiden flight will be in 2023-2024. But while waiting, we still can see the rocket shipyard from the outside. The bus stops externally to the area, but there are still many buildings you can spot. The most impressive of all is the huge 90-metre-high mobile gantry. Yeah, you've read it right, this giant has wheels that can move it back to 100 meters during Ariane 6 take-off. Its metallic frame is heavier than the one of the Eiffel Tower, 8200 tonnes against 7300.
Another building that will capture your attention is the BAL (Bâtiment Assemblage Lanceur). Not very tall but quite long, this structure is used to stock and assembly parts of the rocket during a launch campaign. Together with the gantry, they are the main buildings of the Ariane 6 launch complex.
6. Take a selfie with Ariane 5 mock-up
How cool would it be to take a selfie with a rocket? Although it's only a mock-up, the 1:1 model of Ariane 5 launcher is the landmark of the Guiana Space Centre. And besides being a showstopper, the mock-up shows you the way to the Space Museum entry.
Did you know? There are two Ariane 5 mock-ups. In addition to the one of the Guiana Space Centre, a second mock-up is at the entry of the Cité de l'éspace de Toulouse (Toulouse Space City). There is a project to add a second mock-up of VEGA rocket in front of Ariane 5.
+ A little extra
If you are lucky enough, you also may spot the inhabitants of the Guiana Space Centre natural reserve. Sloths, capybaras, tortoises, and macaws are only a few of the animals that live inside the 700 square kilometers of the CSG area. The easier to spot are tortoises and capybaras crossing the road in search of greener pastures. Very few (lucky!) tourists have also seen jaguars, deer or giant anteaters.
You can also test your chance of seeing wild animals and insects, during the Visite des Savanes (CSG Natural Reserve Tour). Ask your guide when the next one will be and If you can save your spot.
How to reserve your visit
The visit is completely FREE. All the registrations are accepted If they are made at least 48 hours (working days) before the visit otherwise you will be refused. When reserving your spot, you must provide your first and last name, and your date and country of birth for foreign visitors, or city and region for French people. In order to reserve you can call or send an email to the Visitors Centre:
The visits take place from Monday to Saturday in two different slots:
Morning: From 8 to 11.30 AM
Afternoon: From 1 to 4.30 PM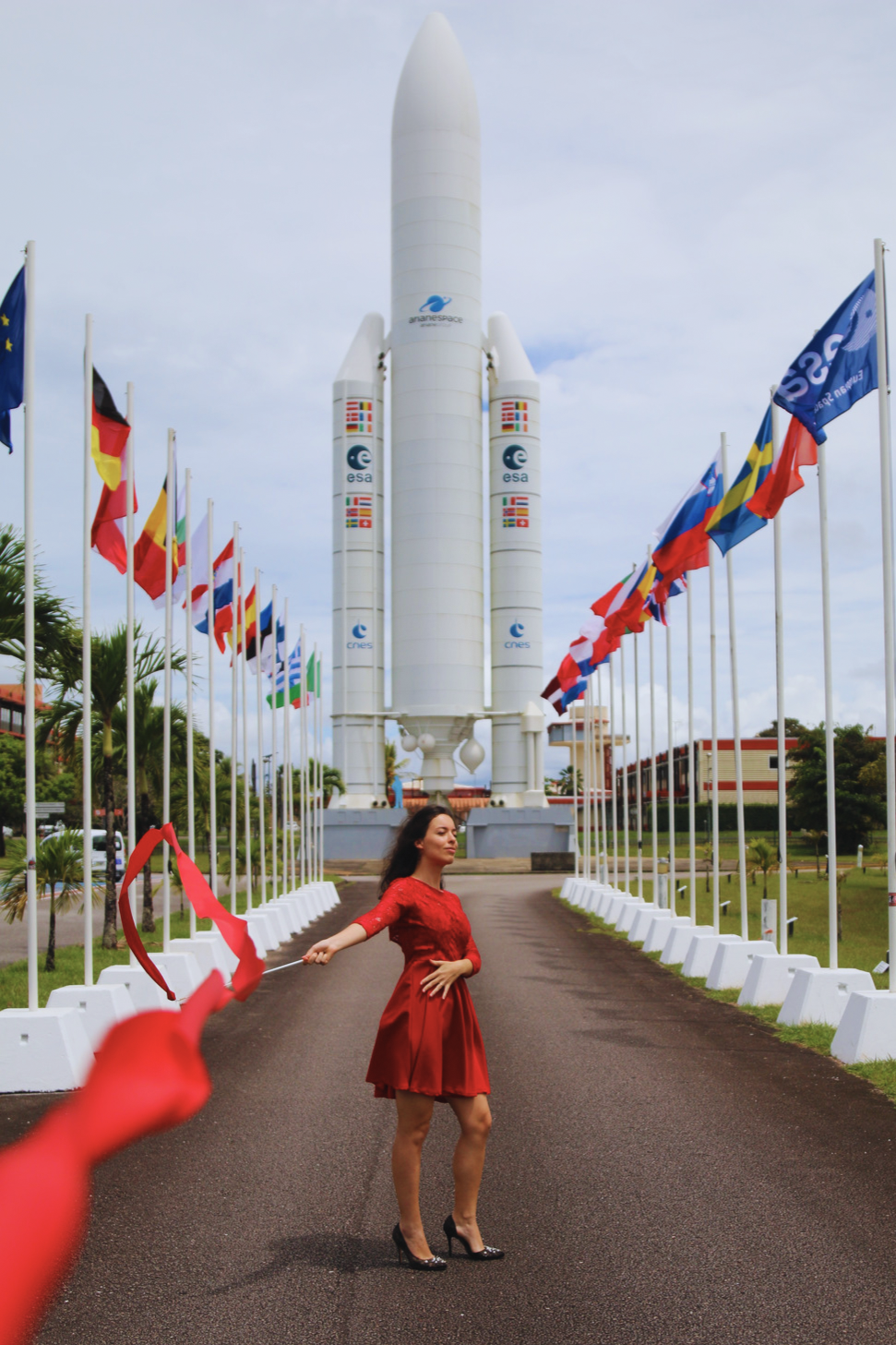 Keep always in mind that no visitors are allowed from D-1 to D+1 when there is a launch. Furthermore, since you are visiting an active launch base, the itineraries may vary depending on the satellites or rocket operations. Kids under 8 years old cannot visit the base for safety reasons, instead, they can discover the Space Museum.
Updated: due to the current works in progress, the Space Museum is actually closed. Its doors will reopen in the second semester of 2023.
Looking for more inspiration from French Guiana?
The Guiana Space Center is one of the best things to do when visiting French Guiana. But if you are looking for more reasons to visit, this is why you should add this destination to your bucket list. And for more French Guiana information, tips, and guides check out our French Guiana page.
Have you liked this post? Sharing is caring!