You may think you have landed on Mars when first stepping into the Wadi Rum desert. The red sea of sand, iceberg-crossed by black mountains of granite rocks, reminds the red planet as seen in many thematic movies. Since 1962, when the Lawrence of Arabia movie came out, tourism became more popular in this remote region of Jordan. Nowadays this fascinating area attracts almost the same number of visitors as neighbor Petra, one of the New Seven Wonders of the world.
Disclosure: anitabeyondthesea.com is reader-supported. When you make a reservation through links on my site, I may earn an affiliate commission, at no extra cost for you. That will help me keep the blog up and running. Thank you!
"Vast, echoing, and God-like"

Lawrence of Arabia, about the Wadi Rum desert in Seven pillars of wisdom.
Table of Content
Best Time to visit
It may come as a surprise, but the area gets very cold during the winter months. Sometimes the temperatures drop to zero. Furthermore, the Wadi Rum reserve is closed at this time. If you want to visit the best time is between April / May and September / October.
During the past few years, Jordan has become a very popular destination. Petra has over 9.000 entries a day during high season. So, if you want to enjoy Wadi Rum without mass tourism consider from June to the first days of September. We chose the latter option (from the 1st of September to the 8th), and it wasn't very crowded yet.
Spring: MAR to MAY
Summer: JUN to AUG
Autumn: SEP to NOV
Winter: DEC to FEB
How to get to Wadi Rum?
Wadi Rum from Amman
When you are visiting Wadi Rum, the best option is to rent a car or hire a driver from Amman (your arrival airport will be Queen Alia International Airport). The distance from Amman to Wadi Rum is 320 kilometers, and it will take you about 4 hours to travel. In my experience, the road to get there is one of the most beautiful and fascinating I have ever crossed. In addition to the majestic desert landscapes and infinite highways, there are 3 stops you cannot miss: Mount Nebo, the King's Road, and Kerak castle.
If you want to know more read the 2nd day of my Jordan Road Trip.
Taxi: 100 – 120 JD for a one-way trip.
Rental Car: 30 – 40 JD per day + fuel.
Wadi Rum from Petra
Petra city and archaeological site are 113 kilometers from Wadi Rum. The ride across beautiful desert landscapes and mountains, takes about 2 hours.
Taxi: 40 – 50 JD for a one-way trip.
Rental Car: 30 – 40 JD per day + fuel.
Bus: 10 JD for a one-way trip.
Wadi Rum from Aqaba
The typical Jordan itinerary starts from Amman and descent till Aqaba, after having stopped in Petra and Wadi Rum. However, Aqaba has its airport, King Hussein International Airport. If you are willing to reach Wadi Rum from Aqaba, consider 45 minutes, it's 72 kilometers.
Taxi: 25 – 30 JD for a one-way trip.
Rental Car: 30 – 40 JD per day + fuel.
Bus: 12 JD for a one-way trip.
What to do in Wadi Rum
4WD Tour in the desert
Without a doubt touring among Wadi Rum's dunes is one of the most exciting activities you can do! The Jeep tours are available in three different formulas:
2 hours tour (5 to 7 PM) for 35 JD
4 hours tour (3 to 7 PM) for 65 JD
6 hours tour (1 to 7 PM) for 80 JD
All the tours end at 7 PM which is sunset time. At this time drivers gather at the most beautiful panoramic points in the valley.
Depending on the length of your tour, there are different activities you can try and sightseeing to explore, let's see them:
Lawrence Spring
Known in Arabic as Ain Ash Shallaleh, is a small spring that bathes a narrow canyon, creating a lovely oasis. The Bedouins have created a small camp where you can stop for coffee or tea.
The Natural Arches
These rock formations are well known for the spectacular views they offer of the desert. The highest and most beautiful is Burdah Rock Bridge. Equally worth a visit are Little bridge, very easy to climb, and Umm Frouth rock bridge, one of the most well-known photographic spots in Wadi Rum.
The Anfisheyyeh and Alamaleh inscriptions
Not only these petroglyphs are some of the oldest in the whole region (almost 3000 years old). But also, they are an important witness of more than 10.000 years of life in the desert.
Along with these well-known spots, you can try sandboarding if you booked one of the longer tours. Although my favorite moment of all? Dune rolling! This fun activity consists in climbing on one of the sand dunes (not easy at all!), and simply rolling down from the top. The only not-fun part? Removing sand from the hairs took me two days of showers. Completely worth it!
Upon request, some jeep tours offer a movie set tour. Starting from Lawrence of Arabia, the Moon Valley has become a very popular place for Martian-based movies and also Sci-fi movies. Just to mention a few from the latest years: The Martian, Dune, and Star Wars. If you book a movie tour, you will see some of the key spots that were the set of the most famous scenes.
Note: If there is a particular activity you want to try or a spot you absolutely want to see, don't forget to ask your driver.
Camel Ride at Dawn
Crossing the desert on a camel is a magical moment, especially at dawn. The early wake-up call is soon forgotten in front of the wonder of the moment. The ride starts very early when there is almost no light.
Finally, when the first rays start to enlighten the desert, the Bedouin will stop his camels. It's tea time! After having prepared a small fire, the water in the teapot starts boiling rapidly. At this time the dried aromas are added to the water. A unique smell of mint and similar herbs starts fluctuating in the air. Bedouins tea is delightful and very refreshing. Once the tea stop is over, it's time to head back to the Bedouin's camp.
Undoubtedly this was one of the most unforgettable moments of our whole trip.
Some camps propose also day-long rides. Unless you are staying three days or more, my advice is to book a 1 or 2 hours tour. The best way to explore the desert is through jeep tours, due to the size of the area. The average cost of a camel ride is 15 JD per person per hour.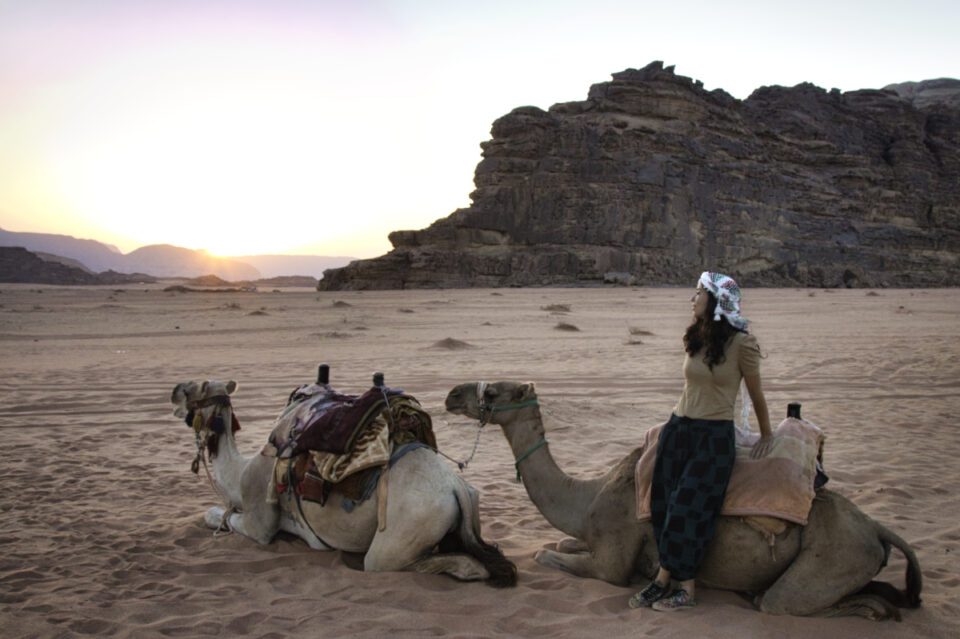 Stargazing the milky way, a night in Wadi Rum
Spending the night in the desert is an amazing experience! The sky is one of the clearest on the mainland, and you can observe many stars and planets. Some Bedouin camps provide telescopes for their guests to observe the sky, in addition, they also have expert astronomers to help you identify the different constellations and planets.
If you love photography this may be a unique experience for you. Wadi Rum sky is a paradise for long-exposed pictures. Just don't forget to check the lunar calendar If this is an activity you absolutely want to do. The Moon may be a very huge source of light pollution in your perfect night sky photos.
Hiking in the desert
As soon as I stepped in the desert, I felt the need to get lost among the dunes. Metaphorically of course. The desert doesn't forget unprepared wanderers and if you want to go on a hike, you should consider a few things:
Don't go too far from your camp if you are hiking without a guide.
Bring water and cover your head. Obviously.
Consider hiking only in the early hours starting from 6 AM until 9 AM max, after that the temperatures are too high, and you will risk having sunstroke. If you hike in the afternoon, be careful to nightfall, as previously stated nights are pretty dark in the desert.
Rock climbing is very funny but can also be dangerous. The sandstone is very friable, always double-check if the rock can support your weight before climbing on it.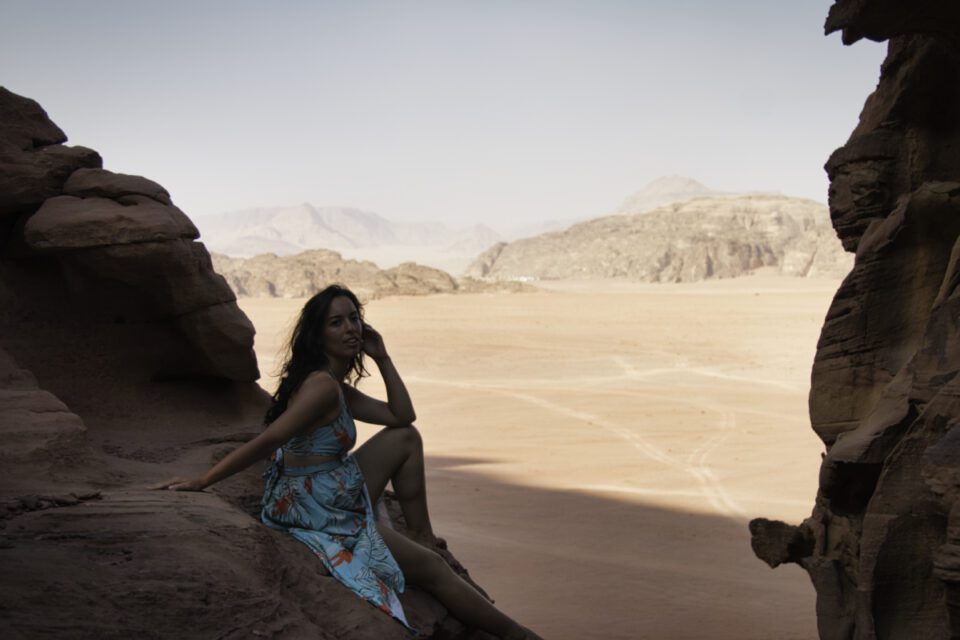 Enjoy some relaxing/meditation time
The absolute silence and quietude, inspire some relaxation and meditation time. What I loved the most about our camp was the fact that they have a sort of private terrace, shadowed by a huge rock, which has a view of a very large valley. Being the only two guests, we enjoyed our alone time there and spent some quality time, talking, reading, and just observing the magnificent desert in front of us.
Only I know how much I need that after 2 intensive hiking days in Petra!
Taste the delicious Bedouins food
Arabic food is a joy for your mouth. Starting with Mansaf. The traditional Bedouins dish is made of lamb and served with an excellent yogurt sauce (you can drink it at the end). But also, the grill mix, a quite spectacular dish of meat cooked inside a hole in the sand by the sun's heath.
Fresh or grilled vegetables accompany the main course, together with an excellent hummus served with freshly baked pita bread.
Jump onboard of an original steam train
Before arriving at the Wadi Rum visitors center you can stop by Al Hijaz. This ancient train station has been built between 1900 and 1908 to create an easy passage for the pilgrims who wanted to attain the main Muslim religious sites. During the Arab Revolt in 1917, the Arab tribes led by Lawrence of Arabia attacked the railroad multiple times and destroyed some locomotives.
Today there is a re-enactment of these events at least once a week. If you are interested to assist, just ask at the tourists center at what time the re-enactment will take place, often around 3 PM. Otherwise, you can freely visit the original steam train at the Al Hijaz station, together with 3 more modern full-scale reproductions.
If a Bedouin guide is available, don't hesitate to let him show you the different trains and tell you the story of each locomotive. You can tip him a few JD.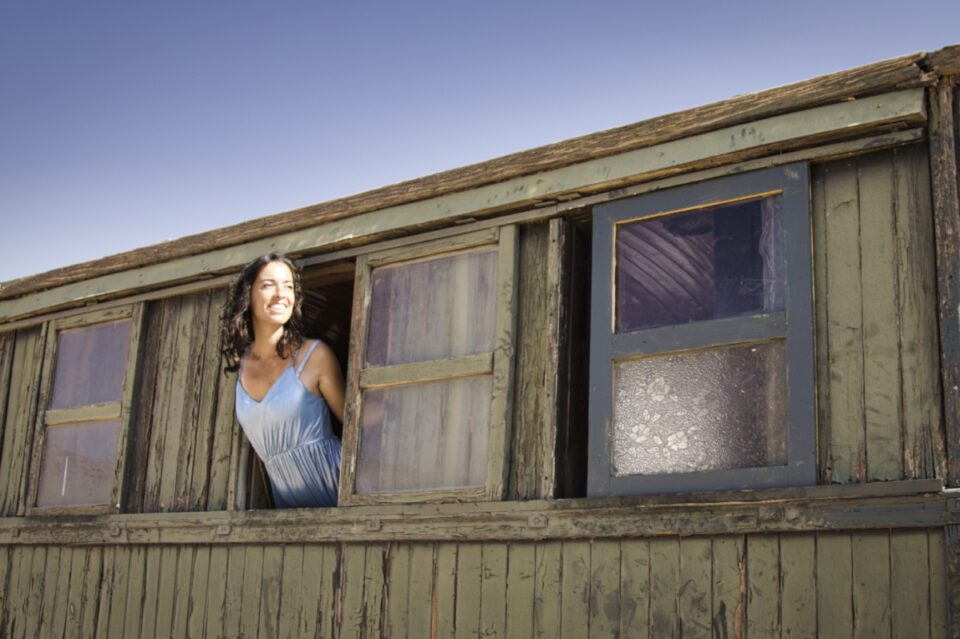 In conclusion, why you should visit the Martian desert
Without a doubt Wadi Rum, is one of the natural landscapes that marked me the most. I have seen other deserts, but only the Moon Valley has left me with the inexplicable feeling of being on another planet. If you haven't visited Jordan yet, this is your sign you should go! By the way, need some inspiration on where to go in Wadi Rum? Check out the best camps and bubbles for every budget!
If you need more reasons to visit Jordan, check out my 7 Day itinerary to Jordan or the complete Petra Travel Guide. And to caption your photos and selfies from Wadi Rum check out our 100+ Desert puns, quotes and captions for Instagram.
Have you liked this post? Pin it. Thank you for every share!