Are you looking for the most inspiring London quotes for Instagram? You are in the right place! Collecting more than 100 famous quotes about the Swinging City, in this blog post you will find for sure the perfect one for you. Enjoy the read.
Table of Content
The best unique London quotes
Are you looking for the most unique and powerful London quotes? Down below you will find the most inspiring short London quotes to surprise your readers in a few lines.
"It's London Baby!" – Joey, Friends
"There's only one London. That's it." – Craig Taylor
"If you're curious, London is an amazing place." – David Bailey
"London isn't a place at all. It's a million little places." – Bill Bryson
"You know what they say, if you're tired of London, you're tired of life." – Warren Ellis
"By seeing London, I have seen as much of life as the world can show." – Samuel Johnson
"I've been walking about London for the last 30 years, and I find something fresh in it every day." – Walter Besant
"When a man is tired of London, he is tired of life, for there is in London all that life can afford." – Samuel Johnson
"There's nowhere else like London. Not at all, anywhere." Vivienne Westwood
"London is on the whole the most possible form of life." – Henry James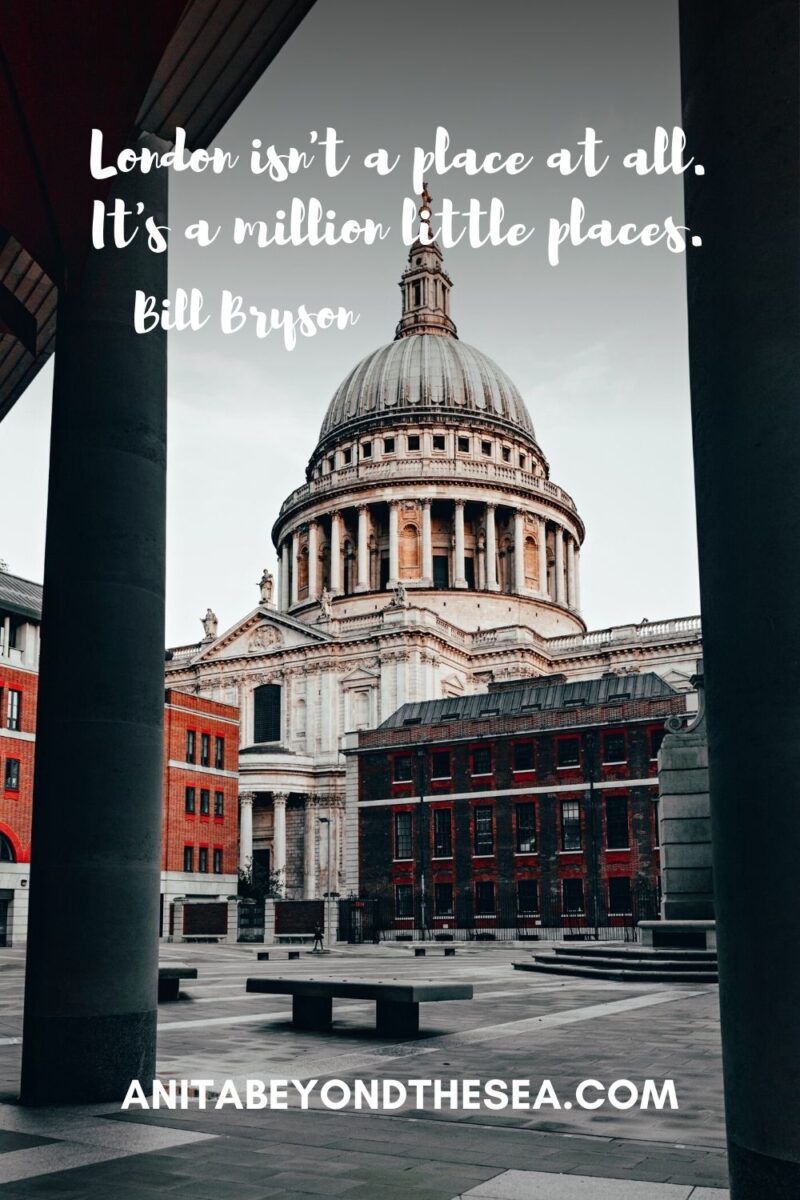 Short and dreamy London quotes
This city has the incredible capacity to inspire deep and meaningful reflections. Down below you will find some of the most beautiful introspective quotes.
"London is like a cold, dark dream sometimes." – Jean Rhys
"To walk alone in London is the greatest rest." – Virginia Woolf
"London is a bad habit one hates to lose." – William Sansom
"Italy and London are the only places where I don't feel to exist on sufferance." – E.M. Forster
"I like the spirit of this great London, which I feel all around me." – Charlotte Bronte
"Oh, London is a man's town, there's power in the air." – Henry Van Dyke
"There are little pockets of old time in London, where things and places stay the same, like bubbles in amber – Neil Gaiman
"The streets of London have their map, but our passions are uncharted. What are you going to meet if you turn this corner?" – Virginia Woolf
"London was one of the worst places to have a bad day and one of the best places to have a good day" – Mhairi McFarlane
"I feel homesick for this London I left behind." – Jennifer Niven, All the Bright Places
Long quotes about London
If you prefer longer captions you should definitely check the ones below. I'm sure you will find the right one for you!
"The vibe of London as a city is captivating. It's both fast-paced and extremely rushed but still has the calmness that would attract any big-city person." – Ali Fazal
"It is difficult to speak adequately or justly of London. It is not a pleasant place; it is not agreeable, or cheerful, or easy, or exempt from reproach. It is only magnificent." – Henry James
"London opens to you like a novel itself. It is divided into chapters, the chapters into scenes, the scenes into sentences; it opens to you like a series of rooms, door, passage, door. Mayfair to Piccadilly to Soho to the Strand." – Anna Quindlen
"It's brilliant, you can't ever get bored of London cos even if you live here for like a hundred and fifty years you still won't ever know everything about it. There's always something new." – Richard Rider, No Beginning, No End
"I was in London, a city of stone and rain and magic. I understood, for instance, why they liked red so much. The red buses, telephone booths, and post-boxes were a violent shock against the greys of the sky and stone. Red was blood and beating hearts." – Maureen Johnson, The Madness Underneath
"London goes beyond any boundary or convention. It contains every wish or word ever spoken, every action or gesture ever made, every harsh or noble statement ever expressed. It is illimitable. It is Infinite London." – Peter Ackroyd
London could swallow you up, in a good way. There were times when I'd been broken and being subsumed into a city had made me feel part of a whole again." – Emma Jane Unsworth, Animals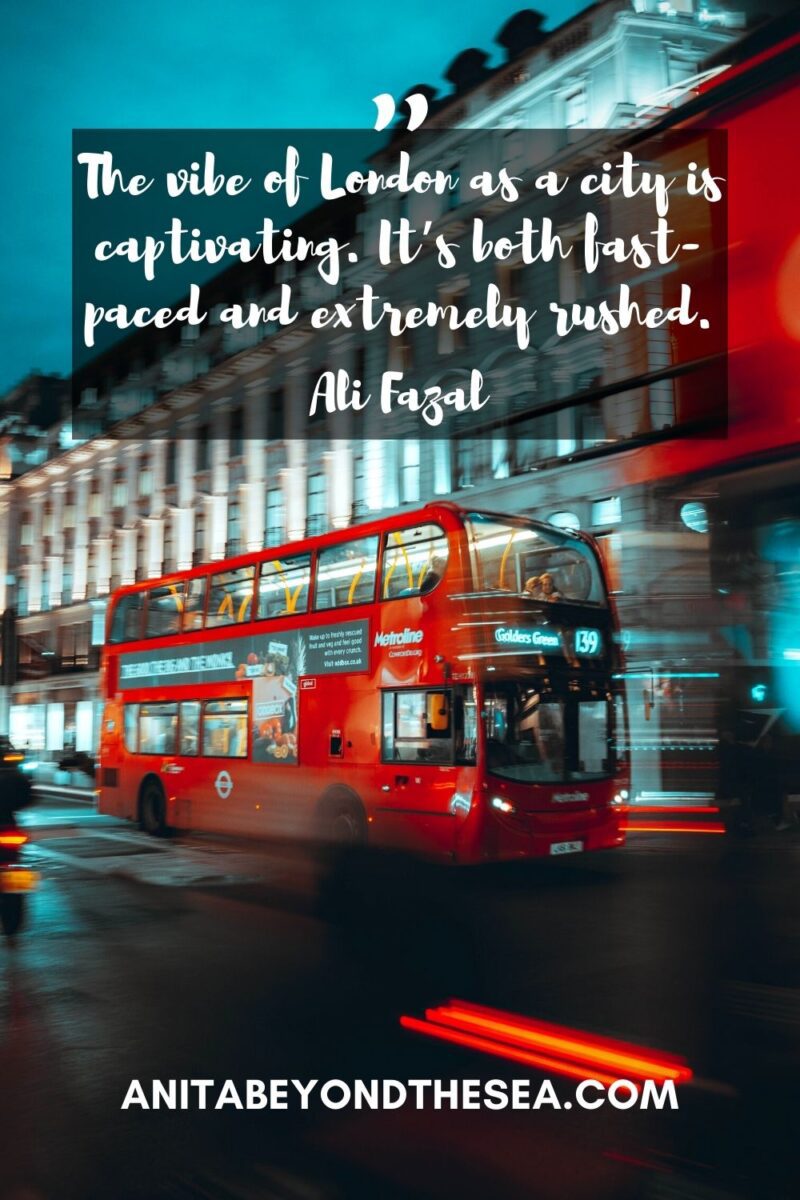 The best book quotes about London
London is the set of MANY books and poems. We shouldn't be surprised that some of the most beautiful quotes about London come from these same novels. Be transported in The City thanks to fictional characters and situations.
"Good evening, London." – Alan Moore, V for Vendetta
"He dreamed of London and of a life that mattered." – J.K. Rowling, The Casual Vacancy
"No, doctor, I'm going to London. If things happen anywhere, they happen in London." – Agatha Christie, The Man in the Brown Suit
"London is yours. If you want it." – Jacquelyn Middleton, London Belongs to Me
"Richard had originally imagined London as a grey city, and he was surprised to find it filled with color. It was a city of red brick and white stone, red buses and large black taxis, bright red mailboxes and green grassy parks and cemeteries." Neil Gaiman, Neverwhere
"There's more to life than just London," said Nightingale. "People keep saying that," I said. "But I've never actually seen any proof." – Ben Aaronovitch, Moon Over Soho
"All my life I've wanted to see London. I wanted to see London the way old people want to see home before they die." – Helene Hanff, The Duchess of Bloomsbury Street
"Despite the fairy-tale snowstorm out there, this isn't Narnia. This is London, real life, where hearts get kicked and bruised and broken, but somehow they still keep beating." – Josie Silver, One Day in December
"Every building, street, common and square, has had different uses, that everything was once something else, that the present, was once the past amended" – Maggie O'Farrell, My Lover's Lover
"London – beautiful, immortal London – has never been a 'city' in the simplest sense of the word. It was, and is, a living, breathing thing, a stone leviathan that harbors secrets underneath its scales." – Samantha Shannon, The Mime Order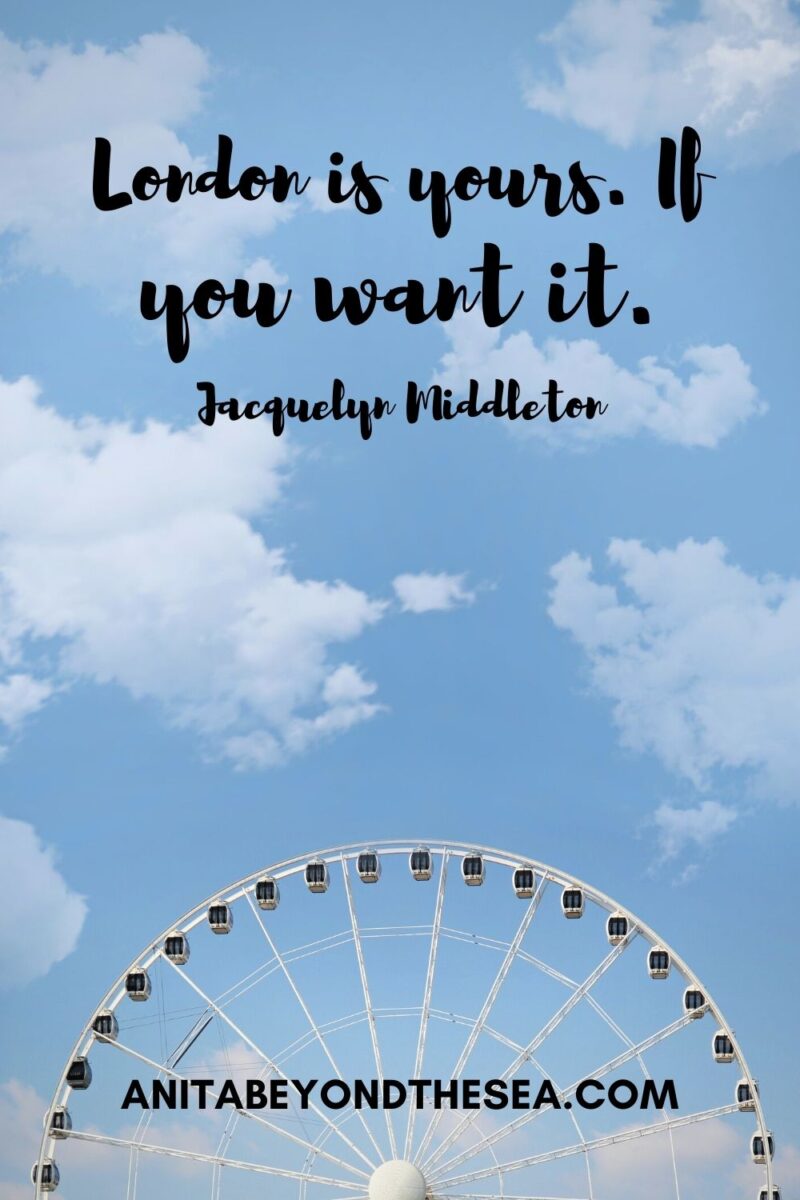 Songs about London
Not only books but songs as well! You would be surprised by the number of songs about London. Down below I have selected the ones which have the best quotes. If you want to listen to them, just click on the title for the clip on youtube.
"Let me take you by the hand, And lead you through the streets of London" – Ralph McTell, Streets of London
"London calling to the faraway towns." – The Clash, London Calling
"On a rainy night in Soho, The wind was whistling all its charms." – The Pogues, A Rainy Night In Soho
"London, London, London town. You can toughen up or get thrown around." – Kano, London Town
"No town does it quite like my home, So take me back to London" – Ed Sheeran, Take me back to London
"You might laugh, you might frown, Walkin' round London town." – Lily Allen, LDN
"Close our eyes, Breathe out slowly, Today London Loves us only." – Saint Etienne, London belongs to me
"I like it in the city when the air is so thick and opaque. I love it to see everybody in short skirts, shorts and shades. I like it in the city when two worlds collide. You get the people and the government, everybody taking different sides" – Adele, Hometown Glory
"The world is at your fingertips. It doesn't get better than this. What else could be better than this?" – Florence + the Machine, South London Forever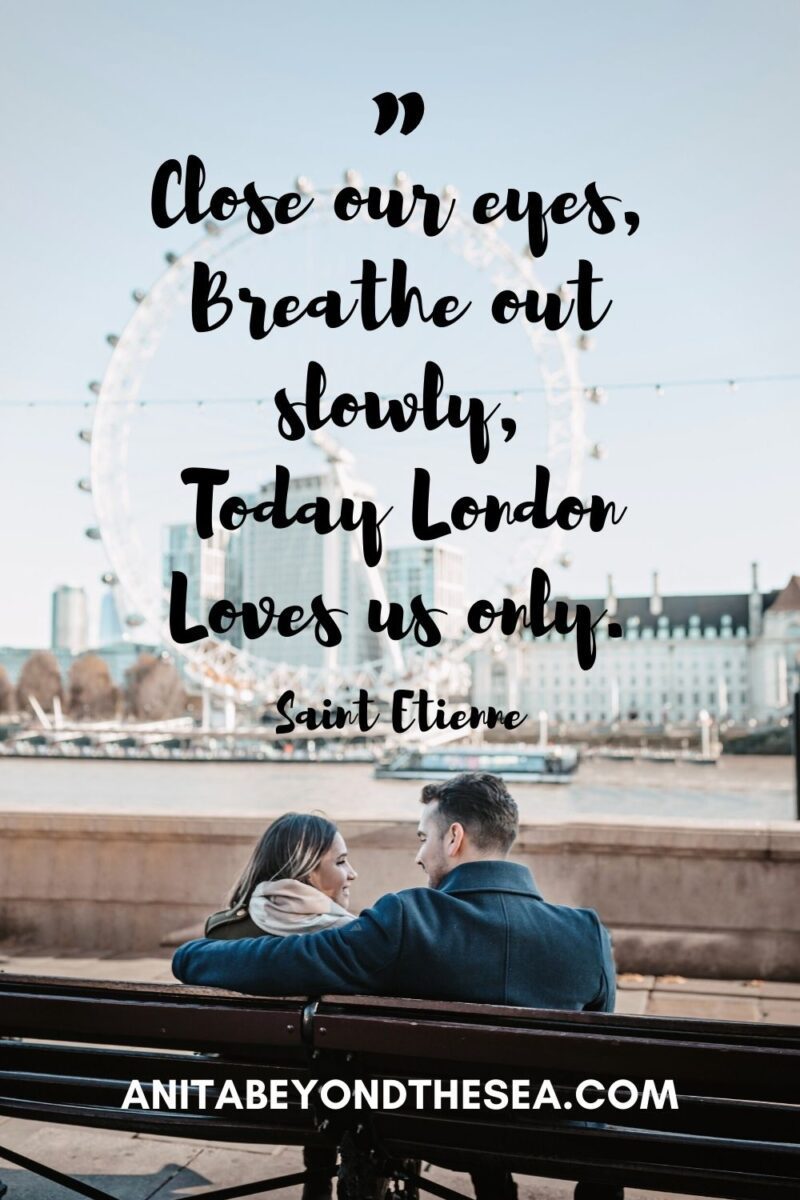 Funny London Quotes
Are you looking for some funny London quotes and captions? Here are some of the best!
"In London, love and scandals are considered the best tea sweeteners." – John Osborne
"The man who can dominate a London dinner table can dominate the world." – Oscar Wilde
"There are two places in the world where men can most effectively disappear — the city of London and the South Seas." – Herman Melville
"Nothing in London is certain but expense." – William Shenstone
"A person who is tired of London is not necessarily tired of life; it might be that he just can't find a parking place." – Paul Theroux
"Oh, I love London Society! It is entirely composed now of beautiful idiots and brilliant lunatics. Just what Society should be." – Oscar Wilde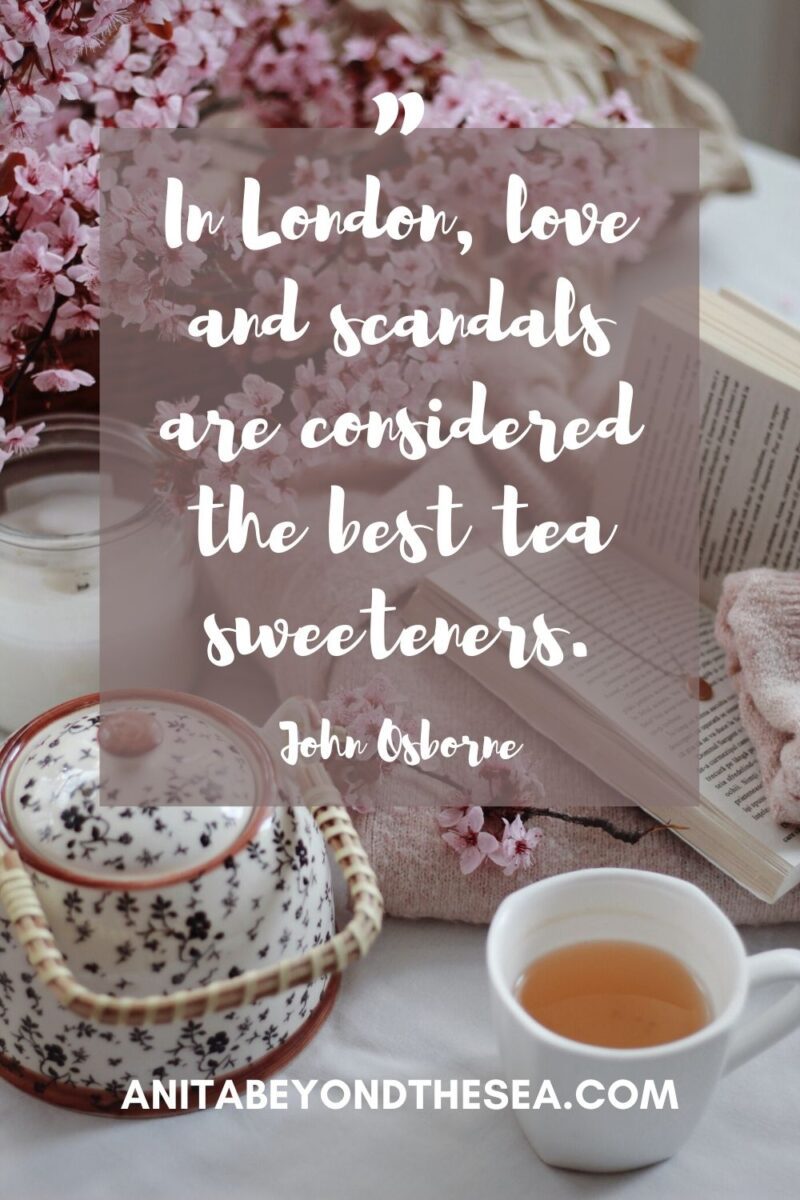 Quotes about London weather and seasons
Ah London's weather! That's something to talk about, right? Almost everyone who visited got caught in the famous London rain or experienced the heavy fog. Unsurprisingly it inspired some of the most famous artists and personalities to write the following lines.
"London and Fog! When these two come together, it is time to be a writer!" – Mehmet Murat ildan
"Before Turner there was no fog in London." – Oscar Wilde
"Wet weather in London, but when was it anything else?" – Cassandra Clare, Queen of Air and Darkness
"One thing about London is that when you step out into the night, it swallows you." – Sebastian Faulks
"In London November isn't a month, it's a state of mind." – Antal Szerb, Journey by Moonlight
"What she loved: life, London, this moment of June." – Virginia Woolf, Mrs. Dalloway
"I landed in London on a wintry autumn evening. It was dark and raining, and I saw more fog and mud in a minute than I had seen in a year. – Charles Dickens, David Copperfield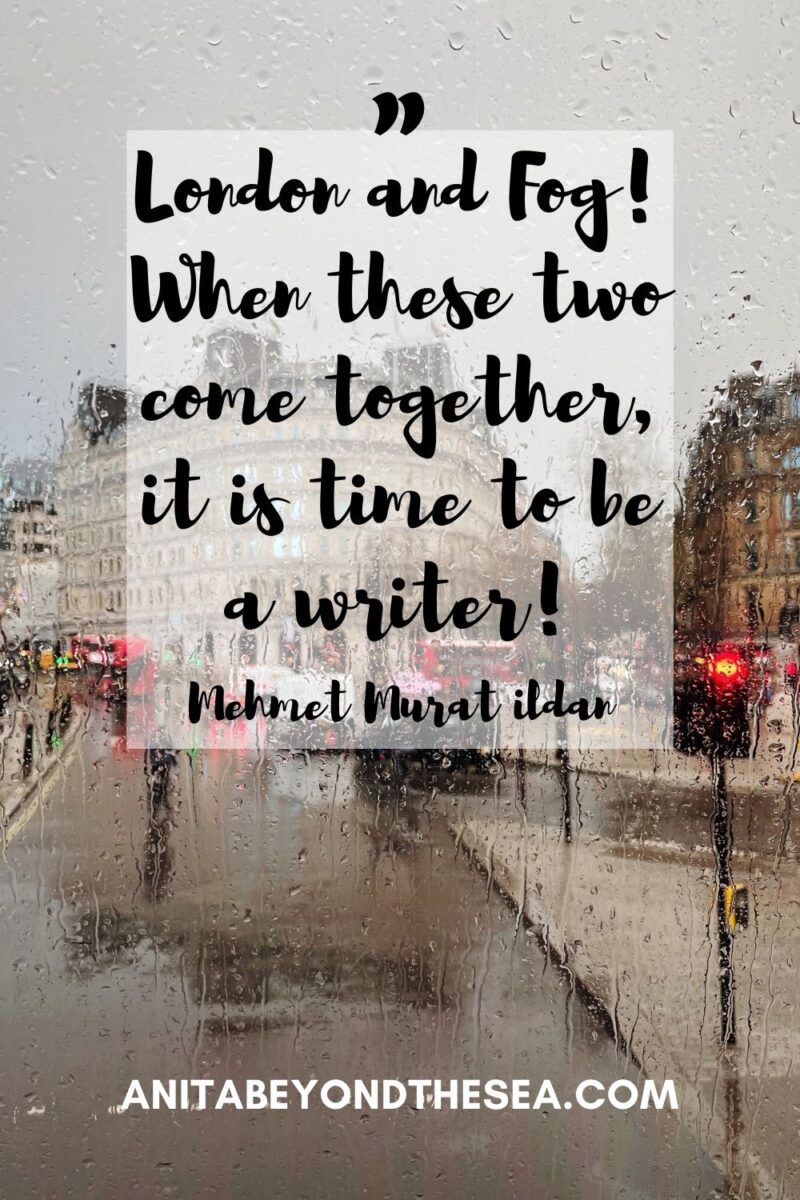 London vs the world
We like making comparisons, and just like any other city in the world, London can be easily compared to other capitals or locations. Here are the most interesting parallels between London and the rest of the world.
"I travel continuously, and I see many cities, but there is nowhere like London." – Norman Foster
"Paris is a woman but London is an independent man puffing his pipe in a pub." – Jack Kerouac
"New York has a great energy, but London is better." – Jaime Winstone
"London is a riddle. Paris is an explanation." – G.K. Chesterton
"When it's three o clock in New York, it's still 1938 in London." – Bette Midler
"London on your own actually seems more exotic than Egypt on a tour." – Laura Fraser, An Italian Affair
"London always reminds me of a brain. It is similarly convoluted and circuitous. A lot of cities, especially American ones like New York and Chicago, are laid out in straight lines. Like the circuits on computer chips, there are a lot of right angles in cities like this. But London is a glorious mess." – James Geary
"I can never understand why Londoners fail to see that they live in the most wonderful city in the world. It is, if you ask me, far more beautiful and interesting than Paris. It has more history, finer parks, a livelier and more varied press, better theaters, more numerous orchestras and museums, leafier squares, safer streets, and more courteous inhabitants than any other large city in the world." – Bill Bryson, Notes from a Small Island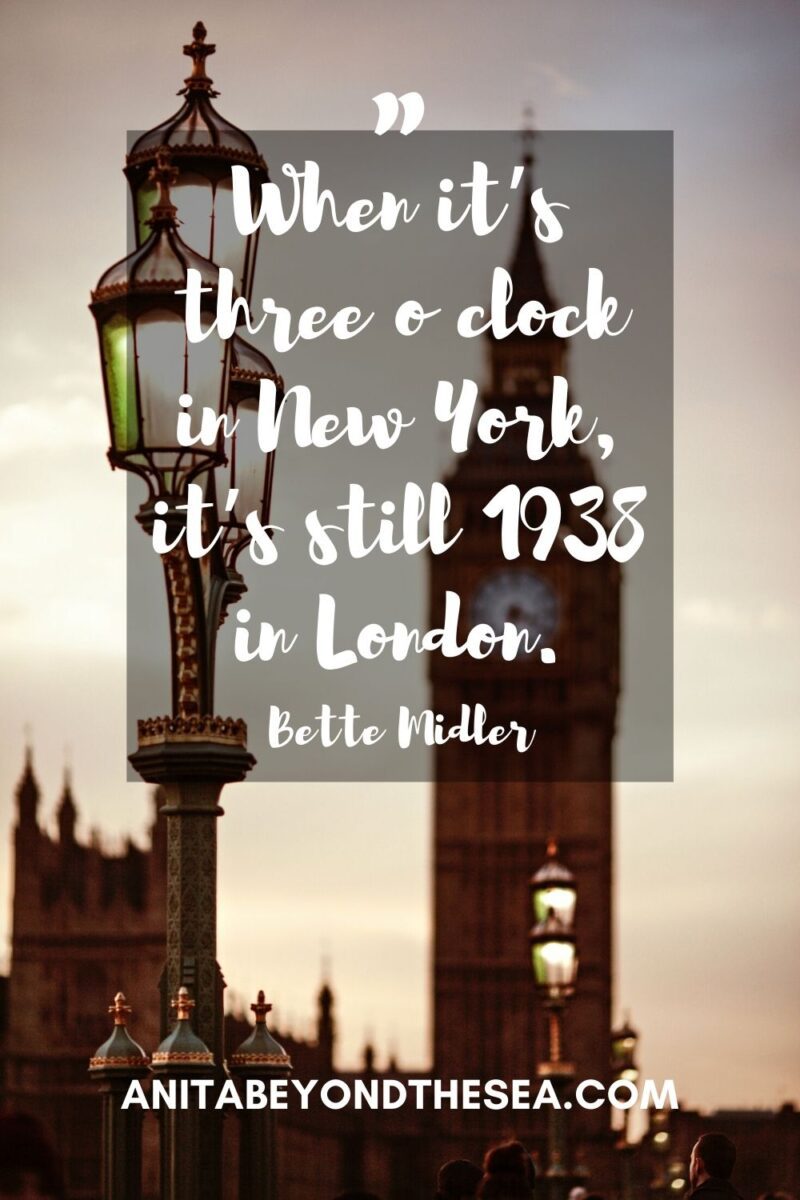 Quotes about London history and culture
There is no doubt that London is one of the capitals of culture and history. Here is what they say.
"History, as they say, is alive and well and living in London." – Helene Hanff
"The English language is like London: proudly barbaric yet deeply civilised, too, common yet royal, vulgar yet processional, sacred yet profane." – Stephen Fry
"To a lover of books the shops and sales in London present irresistible temptations." – Edward Gibbon
"I went to London because, for me, it was the home of literature. I went there because of Dickens and Shakespeare." – Ben Okri
"London is a chaotic patchwork of history, architecture, style, as disorganised as any dream, and like any dream possessing an underlying logic, but one that we can't quite make sense of, though we know it's there." – China Miéville
"Behind every door in London there are stories, behind every one ghosts. The greatest writers in the history of the written word have given them substance, given them life. And so we readers walk, and dream, and imagine, in the city where imagination found its great home." – Anna Quindlen
"London is not a city, London is a person. Tower Bridge talks to you; National Gallery reads a poem for you; Hyde Park dances with you; Palace of Westminster plays the piano; Big Ben and St Paul's Cathedral sing an opera! London is not a city; it is a talented artist who is ready to contact with you directly!" – Mehmet Murat Ildan
"Aesthetically, London is just beautiful; it's a gorgeous city. The architecture, monuments, the parks, the small streets – it's an incredible place to be." – Sara Bareilles
"When exploring London, you will come across lots of excitement by change, so try to take everything in rather than just rushing around to all of the major tourist haunts." – Richard Branson
What do they say about Londoners?
Londoners are a mosaic of cultures and nationalities. There are so many fun and interesting things about being a Londoner. Down below you will find some of the most inspired quotes about LDN habitants.
"London is sexy because it's full of eccentrics." – Rachel Weisz
"The more people one knows, the easier it becomes to replace them. It's one of the curses of London. I quite expect to end my life caring most for a place." – E.M. Forster
"It is not the walls that make the city, but the people who live within them. The walls of London may be battered, but the spirit of the Londoner stands resolute and undismayed." – George VI
"One of the things I most liked about the city – apart from all its obvious attractions, the theatre, the galleries, the exhilarating walks by the river – was that so few people ever asked you personal questions." – Julia Gregson
and what do they say about diversity?
"London is a modern Babylon." – Benjamin Disraeli
"In London, everyone is different, and that means everyone can fit in." – Paddington Bear
"It was a rule of London life that anybody could be anybody" – John Lanchester
"In this city 300 languages are spoken and the people that speak them live side by side in harmony. This city typifies what I believe is the future of the human race and a future where we grow together and we share and we learn from each other." – Ken Livingstone
"London's greatest strength is our diversity, and it's wonderful to see Londoners celebrating our capital's different traditions, determined to stand up to division." – Sadiq Khan
"London is on the whole the most possible form of life. It is the biggest aggregation of human life – the most complete compendium of the world."
– Henry James
"The best bribe which London offers to-day to the imagination, is, that, in such a vast variety of people and conditions, one can believe there is room for persons of romantic character to exist, and that the poet, the mystic, and the hero may hope to confront their counterparts." – Ralph Waldo Emerson
Have you picked your favorite London quotes?
Let's wrap this up. Whether you are looking for long or short quotes, funny or deep captions about London by now you probably have chosen your favorite London quote for Instagram or (why not?) to frame on your office/room wall. If you would like simple captions that aren't famous quotes, stay tuned. A new blog post to help you step up your Instagram game about London quotes will be out soon! 😉
If you are still planning your London vacation, check out my blog posts about the United Kingdom. I'm sure you will love our London captions and puns! And for more inspiring quotes don't forget to check the Inspiration page.
Have you liked this post? Pin it for later!