Are you ready to step up your social game with some incredible captions? In this blog post you will find all the ideas you need to craft the perfect Instagram captions. Are you looking to impress your readers with Italian phrases and proverbs? Or do you prefer fun puns? I've got you covered! And to easily navigate through the best Italy Instagram captions and puns guide check out the table of contents.
If you are looking for inspiring quotes about Italy. You will love the best 125 quotes I collected for you in this blog post!
Table of Content
Short and simple captions
Do you want to make a statement about your Italian trip in a few words? Here are the best short captions to keep it simple and clear. From booking your plane ticket, to once you are back home, you will find the right caption for your photos here.
They told me to follow my heart. So, I went to the airport for a trip to Italy!
They say "do what makes you happy" so I bought a ticket to Italy.
Money can't buy happiness, but it can buy a trip to Italy and that is kind of the same thing.
When all else fails, take a vacation to Italy.
Great things come to those who book a flight to Italy.
Keep calm and go to Italy.
I followed my heart and it led me to Italy.
Just arrived in Italy and I can tell you history books -> Real life
Oh Italy, you have me under your spell.
Italy, I think I love you.
Kisses from Italy.
Waking up in Italy…
We will always have Italy.
Bring your broken hearts to Italy. She'll make them fall in love again.
Italy is like a box of chocolate liqueurs, you never know what you're going to get!
Greetings from Italy. I live here now.
Meanwhile in Italy…
Might just stay in Italy indefinitely.
I'd rather be in Italy.
Italian captions to sound like a local
Io parlo Italiano e tu? Sound like a local while using these short Italian phrases to impress your friends and followers. The translation is under each phrase.
Ciao Italia!
Translation: Hello Italy!
Buongiorno Italia!
Translation: Good morning Italy!
Italia ti amo!
Translation: Italy I love you!
Il dolce far niente.
Translation: the sweetness of doing nothing.
Living la dolce vita in Italy.
Translation: living the sweet life in Italy.
Dall'Italia con amore.
Translation: from Italy with love.
Veni, vidi, amavi.
Translation from latin: We came, we saw, we loved.
Postcard from il bel paese.
Translation: postcard from the beautiful country.
The best Italian proverbs
In Italy proverbs are very common to put an emphasis or accentuate sentences and intentions. So why don't you steal one of these saying to create a catchy caption? Under the saying you will find its translation, so that you can choose to use the Italian or English version.
L'amore vince sempre.
Translation: Love conquers everything.
Vedi Napoli e poi muori.
Translation: See Naples and die.
Anche l'occhio vuole la sua parte.
Translation: What the eyes see is also important.
Non è bello ciò che è bello ma è bello ciò che piace.
Translation: It's not beautiful what it's beautiful, it's beautiful what people like.
Vivi e lascia vivere.
Translation: Live and let live.
Mangia bene, ridi spesso, ama molto.
Translation: Eat well, laugh often, love much.
Una cena senza vino è come un giorno senza sole.
Translation: A meal without wine is a day without sunshine.
Anni e bicchieri di vino non si contano mai.
Translation: You should never count the age and glasses of wine.
Meglio soli che male accompagnati.
Translation: It's better to be alone than in bad company.
Puns to spice up your posts
Amuse your readers with these witty puns, that are both fun and educative. Note: The puns about food are in another section below.
What a rem-arc-able country!
There's so much to do that it's impossible to get Borgia-d in Italy.
Italy has Agrippa on my heart.
Dante me not to leave.
Those street performers sing out of Neptune.
It would take a Herculanium effort to drag me out of bed this morning.
There are scooters everywhere. Italians love their Vestas!
You don't have to be a Genius to want to visit Italy.
Feeling a bit Gracchi after partying all night last night.
Did Juno that there's no better place to be than in Italy?
The Roman Empire was cut in half with a pair of Caesars.
Toga-ther we can rule the world.
Trying to speak Italian really tryptich-s me up!
Before I got to Italy, I was on the Vergil of a nervous breakdown.
Isn't it Ovid-ious how beautiful this country is?
I'm going to need a Diocletian to help me lose all this vacation weight!
I'm not Alfredo tell you that I'm in love with Italy!
Tellus, what's your favorite thing about being on vacation?
Have you Ceres-ously never been to Italy?
You haven't been to Italy? That's simply Apollo-ing!
The heat here is getting on my last Minerva-s.
You'd have to be a bit Gothic not to love Italy.
Home sweet dome.
When in Italy, go campanile-ing!
I chianti-ven believe I have to leave Italy soon.
What do you call an Italian with a rubber toe? Roberto.
Perfect Italy Instagram Captions about Food
There are no doubts. One of the best things about traveling in Italy is FOOD! And don't try to say otherwise to Italians they may not take it well. Just joking, or am I? 😉
Eat, pasta, love.
Arrived in the land of pizza and pasta.
Travel is not about finding yourself. It is about finding pizza in Italy.
Keep calm and eat Italian.
Italian food is a culture, not just a cuisine.
Eating my way across Italy!
Eat pasta, live longer.
Life is good. Pasta is better.
The Carbonara Effect.
Live. Laugh. Linguine.
Seriously, wine is cheaper than water here.
When in Italy, carbs are no longer a sin.
Italian coffee, now that's amore!
Gelato a day keeps the doctor away!
If you liked these, you will love our 60 pizza captions, quotes and puns for food lovers.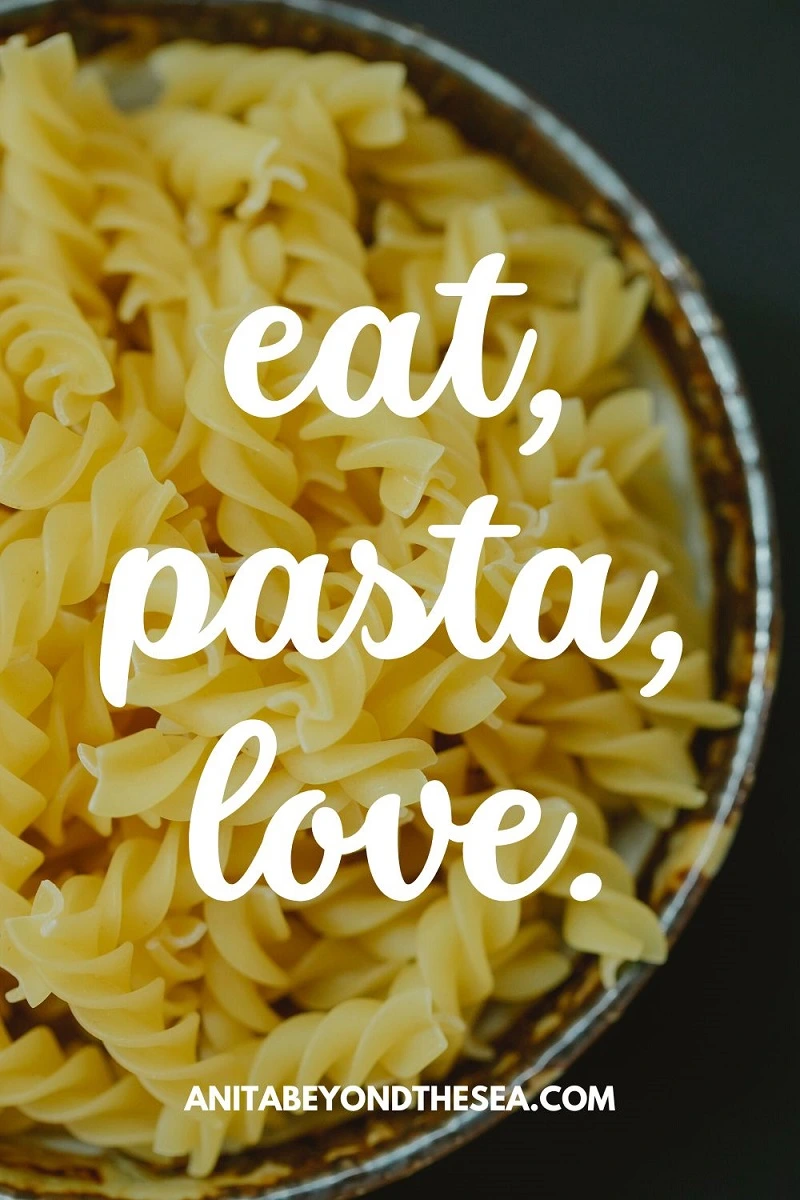 Italian food puns
What's better than puns? Puns about food! Make your readers laugh while sharing photos of your gastronomic Italian tour.
Italy? More like Eataly!
Leaving a pizza my heart in Italy.
Leaving Italy today and I will be leaving a pizza my heart behind.
Here today, gone tomato.
I love you from my head tomatoes.
Are you upsetti? Then eat a spaghetti!
I don't gnocchi how I'm ever gonna leave this place.
Maybe we should ask him to join us? He looks cannelloni.
If you tell me a secret, I'll never tagliatelle a soul.
Penne for your thoughts?
I'm pasta-tive that we will be back in Italy soon!
Swing ciabatta, ciabatta swing.
What do you call a fake noodle? An impasta.
All noodles outside of Italy are just im-pastas.
We're so sad that we've run out of thyme here in Italy.
You cannoli do so much on one.
Italy, I know when I leave I'm going tiramisu terribly!
Italy has turned me into a gelat-ho.
My favorite instrument is the lemoncello.
Italy is prosecco-nd to none!
Wine not?
Italians whine a lot, but they're still grape!
Italians are so good at making coffee because they are good at espresso themselves.
Oh Italian coffee, words cannot espresso how much you mean to me!
Italy Instagram captions by city/region
Are you traveling to a specific location? This is where you will find captions and puns specific to every city or region that you are visiting. If you are looking for more Rome puns and Instagram captions check out this blog post where I collect more than 60 Insta ready captions!
Rome
Home, sweet Rome
Rome is always a good idea.
When in Rome…
Rome more, worry less.
All roads lead to Rome.
Rome, are you shining just for me?
Rome has turned me into a gelat-ho.
Caught in a bad Rome-ance.
Just Roman around.
Came to Rome for the sights stayed for the gelato.
Arch you glad you're in Rome?
The city of Roma is my favorite aroma.
We built this city on rock and Rome.
I'm having Trevi saying 'goodbye' to Rome.
Colosseum is such a Rome-antique place!
It's impossible to ruin the view of the Colosseum.
Dress warm at the Vatican, it's a bit gold.
My favorite movie is Sistine candles.
Venice
The floating city has my heart.
Gondola ride anyone?!
I'm having a Venice time.
St. Mark's the Spot.
Canal Italian cities be as pretty as Venice?
The views in Venice are not to be mist!
Here today, gondola tomorrow!
Aqua alta? More like aqua alta-ly amazing!
Feline just fine in Venice.
Looking for more Venice-themed captions and puns? Check out these!
Tuscany: Pisa, Florence and more
You want a Pisa me?
Where do foodie Italians go on vacation? The Leaning Tower of Pizza.
Taking a Pisa Italy back with me.
What a Pisa cake!
Bring a jacket to Florence in winter. It's Firenze-ing out here!
I love sightseeing near Florence, but the Fiesole-s of my feet are in pain!
We Giotta get to Florence soon!
It's such a Pitti we can't stay here longer!
Now Uffizi, now you don't!
There Arno prettier views than here in Tuscany.
Lucca over there!
Have you ever Siena prettier city?
The North: Milan, Turin, and Ravenna
Enjoying one Last Supper in Milan!
In Milan, we're in the Da Vinci mode.
Duomo arigato, Mr. Roboto.
Keep calm and love Milan.
When I'm living Italy I think I'll be a little Milan-choly.
Enjoying our day trip to Lake Como wade too much!
Turin around, bright eyes.
People are just Ravenna-ing about Italy!
The South: Amalfi, Naples, and Puglia
Amalfi glad to be here!
We shore do love our time here on the Amalfi Coast!
The Amalfi Coast is Positano-ly lovely!
Do you like my Nuovo hat? I bought it just for my trip to Naples.
Just catacomb-ing around Naples.
We lava-d our trip to Mount Vesuvius.
Ash me how my day was at Pompeii. #toosoon
Italy has a Puglia on my heart.
Let's wrap it up!
That's all for the best Italy Instagram captions and puns. I hope you have found the perfect one for you! By the way, if you like Instagram captions you will find many more in our Travel Inspiration page!
Are you still in the early phases of planning your Italian vacation? Then you should absolutely check my Italian trips and travel guides.
And don't forget to save this on your Pinterest to find it more easily when you lack inspiration for your next posts.