How not to love il Bel Paese?! Since the dawn of time, it has inspired poets, writers, musicians, and artists to write or create some of the most inspiring verses and poems. Whether you need to inspire your travel companion or be inspired, these quotes about Italy will make you want to jump on a plane right now! Or why not, they will be the perfect caption for the latest Italian photo you posted.
As this blog post is quite long you may want to jump directly to a specific section, don't hesitate to check the table of contents. Although I recommend you read the "Beautiful generic quotes about Italy". Enjoy!
Table of Content
Beautiful generic quotes about Italy
These quotes from philosophers, writers and poets will lure you to Italy, and its undeniable beauty.
"We are all pilgrims who seek Italy." – Johann Wolfgang von Goethe
"A man who has not been in Italy is always conscious of an inferiority." – Samuel Johnson
"…is there anywhere in the world as full of beauty as Italy?" – Natalia Sanmartín Fenollera
"Italy is a geographical expression." – Klemens von Metternich
"For sure, in Italy, the sun always shines." – Aleksandar Mitrovic
"Nothing except time is wasted in Italy." – Thomas Bailey Aldrich
"The name of Italy has magic in its very syllables." – Mary Shelley
"In America, one must be something, but in Italy one can simply be." – Pietros Maneos
Sentimental quotes
Have you left your heart in Italy? You are in good company! Read these declarations of love from artists and celebrities.
"Italy's siren call lures us more and more." – Frances Mayes
"I gasp for air if I don't get to breathe Italian air once a year." – Danny Meyer
"Even now I miss Italy dearly, I dream about it every night." – Eila Hiltunen
"Italy is my destiny; it calls to me to return home." – Melissa Muldoon
"Open my heart and you will see Graved inside of it, 'Italy.'" – Robert Browning
"Italy is a dream that keeps returning for the rest of your life." – Anna Akhmatova
"When life gives you twists and turns, Chique Yourself Up in Italy!" – Barbara Conelli
"One of the great joys of traveling through Italy is discovering firsthand that it is, indeed, a dream destination." – Debra Levinson
"Italy and the spring and the first love all together should suffice to make the gloomiest person happy." – Bertrand Russell
"How beautiful is sunset when the glow Of Heaven descends upon a land like thee, Thou Paradise of exiles, Italy!" – Percy Bysshe Shelley
"Italy was where the soul went to find calm and love, and I wanted to hold the best of it in the palm of my hand." – Lisa Brennan-Jobs
Italy quotes about art
Art is without a doubt omnipresent in Italy. In general, this country has been home to some of the most famous and talented artists in history. What do critics think of Italian art? Find out below.
"The Creator made Italy from designs by Michaelangelo." – Mark Twain
"The most stylish country in the world is Italy." – Nick Rhodes
"Not much was really invented during the Renaissance, if you don't count modern civilization." – P. J. O'Rourke
"Everything in Italy that is particularly elegant and grand borders upon insanity and absurdity or at least is reminiscent of childhood." – Alexander Herzen
"Traveling is the ruin of all happiness! There's no looking at a building after seeing Italy." – Fanny Burney
"In Italy for 30 years under the Borgias they had warfare, terror, murder and bloodshed, but they produced Michelangelo, Leonardo da Vinci and the Renaissance. In Switzerland, they had brotherly love – they had 500 years of democracy and peace, and what did that produce? The cuckoo clock." – Orson Welles
Quotes about the Italian lifestyle
Italian lifestyle is a philosophy. From the dolce far niente to the Italian attitude, here you will find the right quote for you.
"I love the way Italy makes me feel like I'm home." – Ilene Modica, Our Italian Journey
"One doesn't come to Italy for niceness," was the retort; "one comes for life. Buon giorno! Buon giorno!" – E.M. Forster, A Room with a View
"I'm a pretty calm person. That came from living in Italy for a long time. Nothing works, nothing is on time. You have to learn to deal with it." – Tom Ford
"No matter where I've been overseas, the greatest joy was moving into Italy. Italy has changed me, for the better." – Efrat Cybulkiewicz
"Italy – I love the late-night culture, hanging around the square at midnight with everyone, catching up, and having a drink." – Gemma Chan
"Italian style is a natural attitude. It is about a life of good taste. It doesn't have to be expensive. Simple but with good taste. Luxury is possible to buy. Good taste is not." – Diego Della Valle
"Il bel far niente means 'the beauty of doing nothing', it has always been a cherished Italian ideal. The beauty of doing nothing is the goal of all your work, the final accomplishment for which you are most highly congratulated. The more exquisitely and delightfully you can do nothing, the higher your life's achievement. You don't necessarily need to be rich in order to experience this, either." – Elizabeth Gilbert
"Italian culture is so deeply soaked in an appreciation of the good things in life." – Mariska Hargitay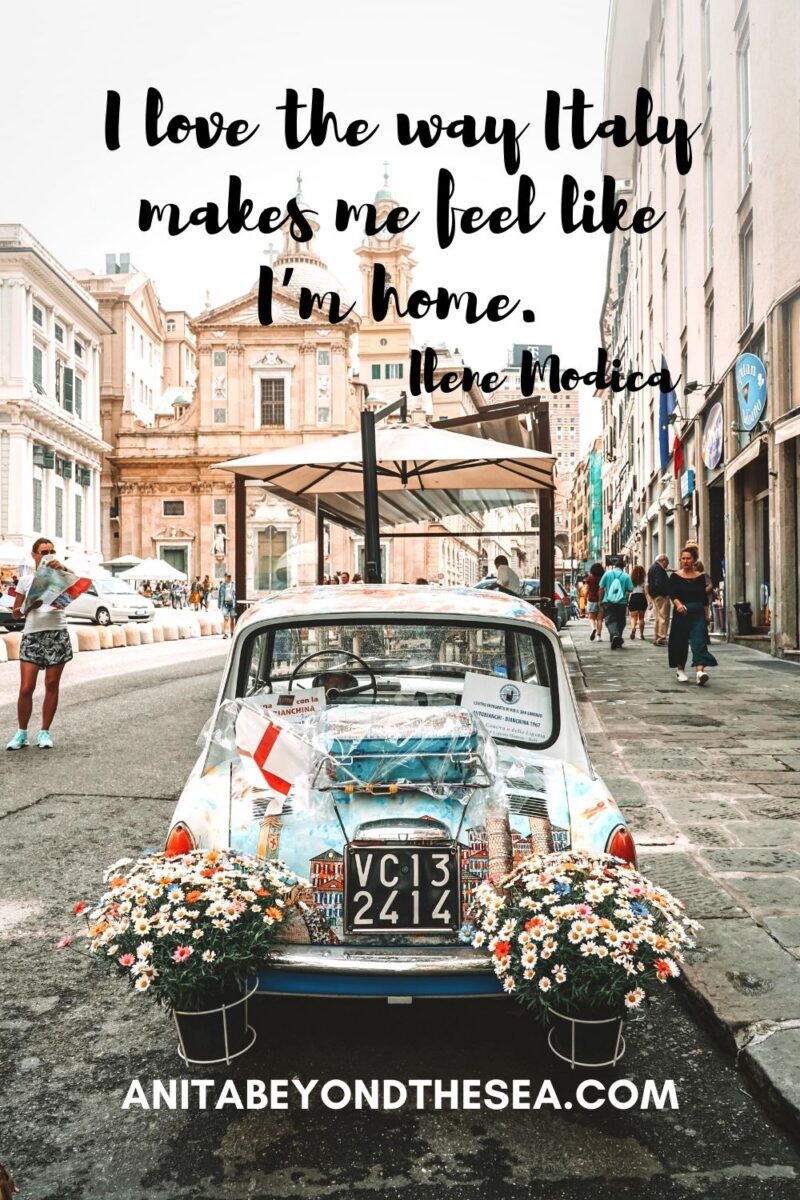 And quotes about Italians!
"Italy is the last country where people savor the joy of living. It makes us believe it even when Italy herself has ceased to believe." – Roger Peyrefitte
"I love places that have an incredible history. I love the Italian way of life. I love the food. I love the people. I love the attitudes of Italians." – Elton John
"The Italians have long known what makes a liveable town or city." – Norman Foster
"I spent five years in Italy, and the Italians have a slightly different lifestyle. Everything is a bit slower and more easy-going. You can feel that when you live there; you become a little more relaxed about typically 'German' things like accuracy and punctuality." – Miroslav Klose
"As soon as I crossed the Italian border, my health and life seemed to be magically restored. There was the sun and there were the smiling Italians." – Tennessee Williams, Memoirs
"And don't, let me beg you, go with that awful tourist idea that Italy's only a museum of antiquities and art. Love and understand the Italians, for the people are more marvellous than the land" – E.M. Forster Where Angels Fear to Tread Illustrated
Italians talking about their country
What do Italians say about themselves? From the most famous artists to politicians, discover what Italians think of their country.
"You may have the universe if I may have Italy." – Giuseppe Verdi
"I was offered a free villa in Hollywood, but I said no thank you, I prefer to live in Italy." – Ennio Morricone
"Italy will never be a normal country. Because Italy is Italy. If we were a normal country, we wouldn't have Rome. We wouldn't have Florence. We wouldn't have the marvel that is Venice." – Matteo Renzi
"All of my youth growing up in my Italian family was focused around the table. That's where I learned about love." – Leo Buscaglia
"Italy is a hot country. Wherever you feel heat, your excitement and passion come out. We're hot-blooded, and where there's passion there's love, but also anger, hunger, excitement." – Gino D'Acampo
"There is in the DNA of the Italians a bit of madness, which in the overwhelming majority of cases is positive. It is genius. It is talent. It's the masterpieces of art. It's the food, fashion, everything that makes Italy great in the world." – Matteo Renzi
"First of all, let's get one thing straight. Your Italy and our Italia are not the same thing. Italy is a soft drug peddled in predictable packages, such as hills in the sunset, olive groves, lemon trees, white wine, and raven-haired girls. Italia, on the other hand, is a maze. It's alluring, but complicated. It's the kind of place that can have you fuming and then purring in the space of a hundred meters, or in the course of ten minutes. Italy is the only workshop in the world that can turn out both Botticellis and Berlusconis." – Beppe Severgnini, La Bella Figura
Food culture, what do they say about Italian food?
Welcome to the land of pizza and pasta. And don't try to say otherwise because in Italy food is second almost to nothing in terms of importance.
"Italy will always have the best food." – Diane von Furstenberg
"In Italy, food is an expression of love, it is how you show those around you that you care for them. Having a love for food means you also have a love for those you are preparing it for and for yourself." – Joe Bastianich
"There's nothing more romantic than Italian food." – Elisha Cuthbert
"Italian food really reflects the people. It reflects like a prism that fragments into regions." – Lidia Bastianich
"I think people in Italy live their lives better than we do. It's an older country, and they've learned to celebrate dinner and lunch, whereas we sort of eat as quickly as we can to get through it." – George Clooney
"Italian food is seasonal. It is simple. It is nutritionally sound. It is flavorful. It is colorful. It's all the things that make for a good eating experience, and it's good for you." – Lidia Bastianich
"Polenta is to northern Italy what bread is to Tuscany, what pasta is to Emilia-Romagna and what rice is to the Veneto: easy to make, hungry to absorb other flavors, and hugely versatile." – Yotam Ottolenghi
"I love the simplicity, the ingredients, the culture, the history and the seasonality of Italian cuisine. In Italy people do not travel. They cook the way grandma did, using fresh ingredients and what is available in season." – Anne Burrell
"Italian cuisine is the most famous and beloved cuisine in the world for a reason. Accessible, comforting, seemingly simple but endlessly delicious, it never disappoints, just as it seems to never change." – Matt Goulding, Pasta, Pane, Vino
and fun quotes about Italian food!
"Life is a combination of magic and pasta" – Federico Fellini
"In Italy, they add work and life on to food and wine." – Robin Leach
"Everything you see I owe to pasta" – Sophia Loren
"I spent a college semester in a small town in Italy – and that is where I truly tasted food for the first time." – Alton Brown
"The trouble with eating Italian food is that five or six days later you're hungry again." – George Miller
"You know, people come to Italy for all sorts of reasons, but when they sat, it's for the same two things." "What?" "Love and gelato."" – Jenna Evans Welch, Love & Gelato
"So… Italian gelato. Take the deliciousness of a regular ice-cream cone, times it by a million, then sprinkle it with crushed-up unicorn horns." – Jenna Evans Welch, Love & Gelato
"Once I arrived in Italy, I planned to spend my first few hours there baking in the sun like a loaf of ciabatta bread." – Jenna Evans Welch, Love & Luck
"When the world seems to shine like you've had too much wine…" – Rebecca Serle, One Italian Summer
Movie quotes about Italy
Quotes from your favorite movies are here to inspire you to watch them again or book once and for all that plane ticket!
"I love the way Italy makes me feel like I'm home." – Our Italian Journey
"Rome. I will cherish my visit here in memory as long as I live." – Roman Holiday
"Let's go Rome." – Only You
"Buongiorno Principessa!" – Life is Beautiful
"Marcus Aurelius: What is Rome, Maximus? Maximus: I've seen much of the rest of the world. It is brutal and cruel and dark, Rome is the light." – Gladiator
"I've seen much of the rest of the world. It is brutal and cruel and dark, Rome is the light." – Gladiator
"See Venice and die," Is what they say? Or is it Rome?" – The Talented Mr. Ripley
"It's just the greatest thing that humans ever made, the Vespa!" – Luca
Are you traveling to a specific city?
If you are traveling to a specific city, you will find all the quotes you need here organized by city or region/geographical area. Note a very few Rome quotes are in the section movies above.
Rome short quotes
"I found Rome a city of bricks and left it a city of marble." – Augustus
"Rome lifts you up but won't let you settle down – it turns you into a bird without a nest." – Glenn Haybittle, Scorched Earth
"Celebrating Valentine's Day is like falling in love with Rome all over again." – Anthony T. Hincks
"Rome was the pulsing heart of the world." – Marion Zimmer Bradley, The Forest House
"To Rome, for everything." – Miguel de Cervantes
"Italy has changed. But Rome is Rome." – Robert De Niro
"Rome was a poem pressed into service as a city." – Anatole Broyard
"In Rome, one had simply to sit still and feel." – E.M. Forster, Where Angels Fear to Tread
"A fool is one who admires other cities without visiting Rome." – Francesco Petrarca
"Rome is the city of echoes, the city of illusions, and the city of yearning." – Giotto di Bondone
"Methinks I will not die quite happy without having seen something of that Rome." – Sir Walter Scott
"Rome will exist as long as the Colosseum does. When the Colosseum falls, so will Rome; when Rome falls, so will the world." – Bede
"Living in Rome is either a one or a two, or a nine or ten. Not much in between. And some days it's both." – Judith Works, City of Illusions
"Rome is not like any other city. It's a majestic museum, a living room to tiptoe through." – Alberto Sordi
and long Rome quotes
"Yes, I have finally arrived to this Capital of the World! I now see all the dreams of my youth coming to life… Only in Rome is it possible to understand Rome." – J.W. von Goethe
"Rome, the city of visible history, where the past of a whole hemisphere seems moving in funeral procession with strange ancestral images and trophies gathered from afar." – George Eliot
"If we could be reborn wherever we chose, how crowded Rome would be, populated by souls who had spent their previous lives longing to inhabit a villa on the Janiculum Hill." – Francine Prose
"Rome, the capital of Italy, the cradle of Western civilization, a city that has been reinventing itself for three millennia- since, as legend has it, Romulus murdered his brother Remus and built the foundations of Rome atop the Palatine Hill." – Matt Goulding
"The student has his Rome, his whole glowing Italy, within the four walls of his library. He has in his books the ruins of an antique world and the glories of a modern one." – Henry Wadsworth Longfellow, Hyperion
Venice short quotes
"If I could rename love, I'd call it Venezia." – Conny Cernik
"Venice is like eating an entire box of chocolate liquers in one go." – Truman Capote
"A realist, in Venice, would become a romantic by mere faithfulness to what he saw before him." – Arthur Symons
"Venice, its temples and palaces did seem like fabrics of enchantment piled to heaven." – Percy Bysshe Shelley
"It is the city of mirrors, the city of mirages, at once solid and liquid, at once air and stone." – Erica Jon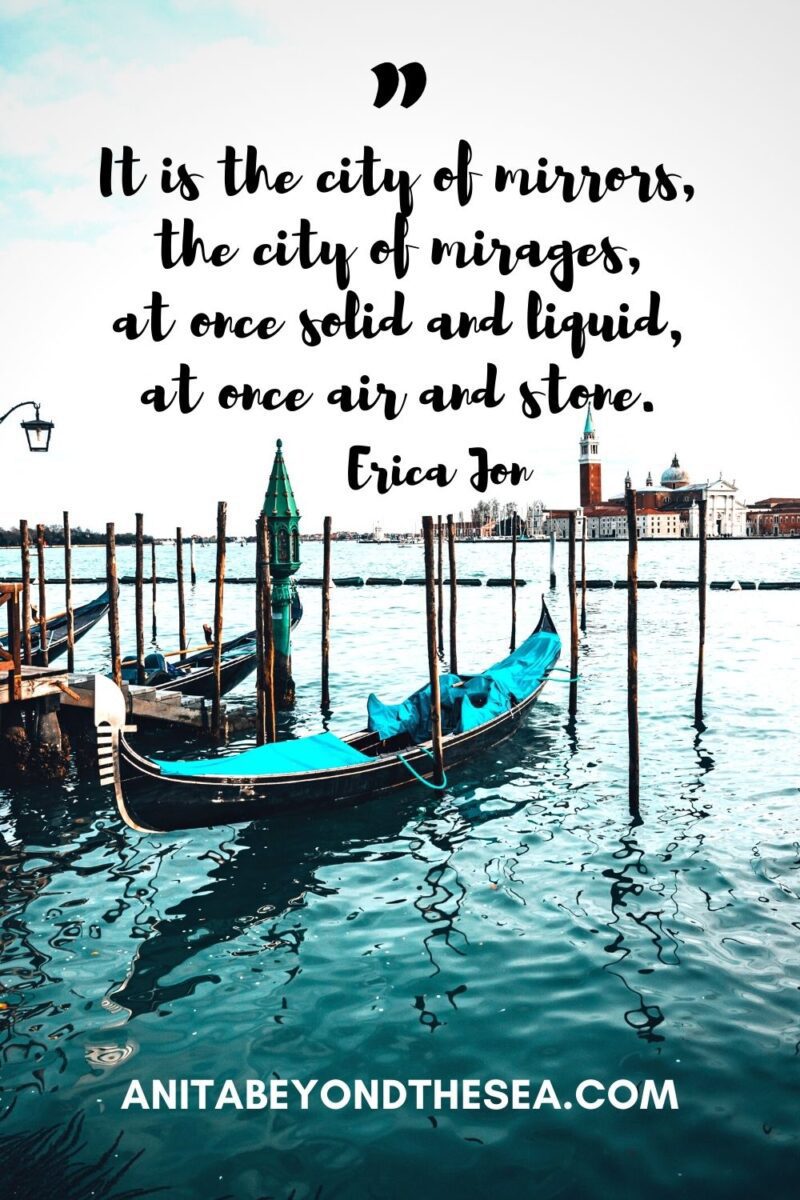 and long ones
"Venice is a Dorian Gray city. Somewhere up there in the world's attic, there's another place with the haggard, poxed and ravaged face of unspeakable evil. And I suspect it's Cardiff." – A.A. Gill, Table Talk
"This was Venice, the flattering and suspect beauty this city, half fairy tale and half tourist trap, in whose insalubrious air the arts once rankly and voluptuously blossomed, where composers have been inspired to lulling tones of somniferous eroticism." – Thomas Mann
"To build a city where it is impossible to build a city is madness in itself, but to build there one of the most elegant and grandest of cities is the madness of genius." – Alexander Herzen
"The surface of Venice is constantly metamorphosing, and painting Venice is almost like being a restorer, peeling off the layers to find the picture after picture underneath." – Arbit Blatas
"I stood in Venice, on the Bridge of Sighs. A palace and a prison on each hand; I saw from out the wave of her structure's rise As from the stroke of the enchanter's wand: A thousand years their cloudy wings expand Around me, and a dying Glory smiles O'er the far times, when many a subject land Look'd to the winged Lion's marble piles, Where Venice sate in state, throned on her hundred isles." – Lord Byron
"And off in the far distance, the gold on the wings of the angel atop the bell tower of San Marco flashed in the sun, bathing the entire city in its glistening benediction." – Donna Leon, Death in a Strange Country
Inspirational quotes about Milan, the North, and Florence
"When you write the story of two happy lovers, let the story be set on the banks of Lake Como." – Franz Liszt
"Milan is beautiful in fog, like a woman with a veil." – Ornella Vanoni
"My favorite thing about Milan is that you see these guys, and it's as if a spaceship came out of the most attractive planet invented and just dropped them off all across the city." – Brad Goreski
"Delicious Verona! With its beautiful old buildings and the lovely countryside. With its quite Roman bridges. With marble churches, towers, rich architecture that overlooks the ancient and quiet streets where resound the cries of the Montecchi and Capulets." – Charles Dickens
"I know Verona as I do my own body." – Lois Leveen
"Verona is a very beautiful city, but Siena just never ceases to fascinate me." – Anne Fortier
"Bologna is the best city in Italy for food and has the least number of tourists. With its medieval beauty, it has it all." – Mario Batali
"For many, the gastronomic heart of Italy is the Emilia-Romagna region. Its capital is Bologna, which is often overlooked by tourists but has a beautiful historic center and a lively yet chilled-out atmosphere." – Gino D'Acampo
"Imagine a pair of woman's lips," Mogor whispered, "puckering for a kiss. That is the city of Florence, narrow at the edges, swelling at the center, with the Arno flowing through between, parting the two lips, the upper and the lower. The city is an enchantress. When it kisses you, you are lost, whether you be commoner or king." – Salman Rushdie, The Enchantress of Florence
"Visiting Florence was like attending a surprise party every day." – Jennifer Coburn, We'll Always Have Paris: A Mother/Daughter Memoir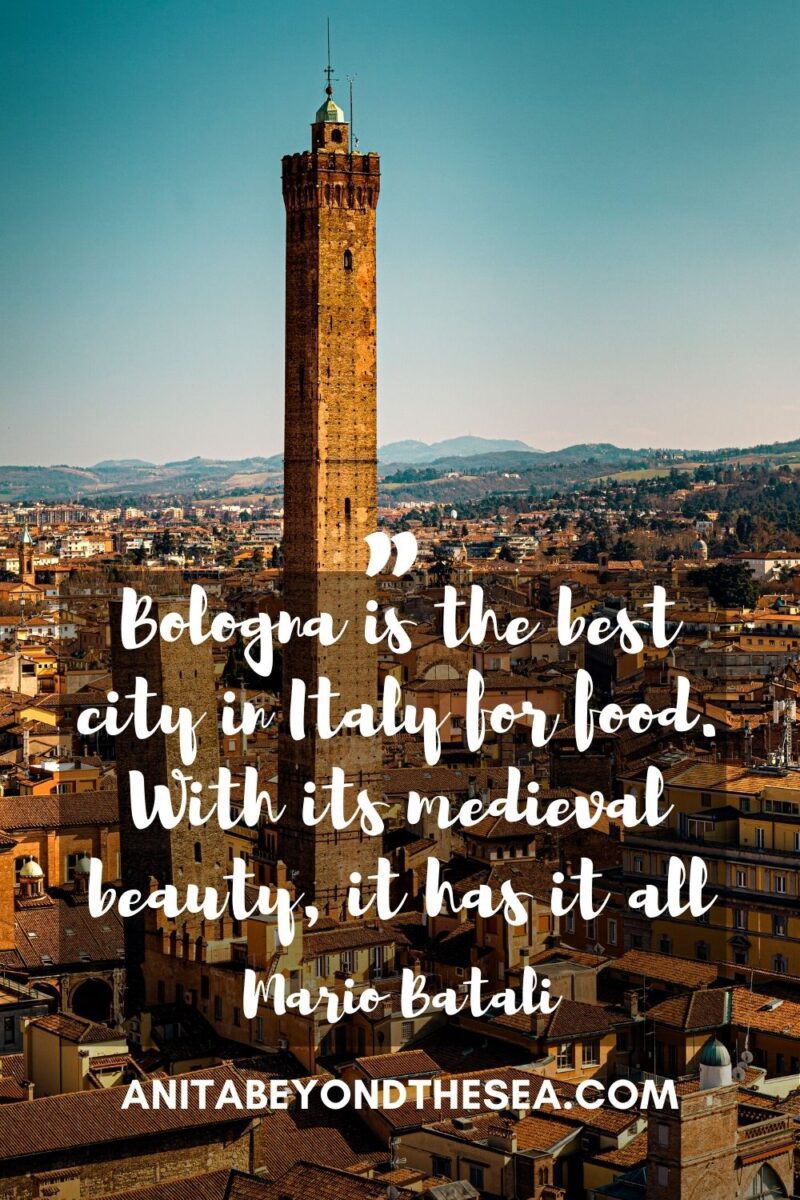 The South, Amalfi, and Naples
"Here we are at last. The Italian proverb says "See Naples and die" but I say, see Naples and live; for there seems a great deal worth living for." – Arthur John Strutt, Un viaggio a piedi in Calabria
"Capri on the Amalfi Coast in Italy is my ultimate holiday destination." – Vidal Sassoon
"Positano bites deep. It is a dream place that isn't quite real when you are there and becomes beckoningly real after you have gone." – John Steinbeck
"There was a magical timelessness to Capri, a special atmosphere, and a sense of history." – Kitty Pilgrim, Summer of Fire
"They say that when Judgement Day comes, the people of Amalfi will have no change in life, for they are already living in paradise." – Melissa Hill
"If bliss could be a color, today would be Amalfi Blue." – Lisa Fantino
"Naples is curiously chaotic and, if I'm honest, a bit dilapidated. It certainly has a 'lived-in' look. It's alive, it's vibrant, it's a little bit dirty, it's busy, and I loved it. I felt like this was how Rome would probably have been 2,000 years ago. There's a real bustle, and it's down and dirty." – Paul Hollywood
Italian islands: Sardinia and Sicily
"The best place to go in Italy for a summer holiday is the island of Sardinia." – Gino D'Acampo
"I'm definitely looking forward to the day when I stop working – if I ever stop working. I like the idea of keeling over in my tomato vines in Sardinia or northern Italy." – Anthony Bourdain
"There is not in Italy what there is in Sardinia, nor in Sardinia, what there is in Italy." – Francesco Cetti
"To have seen Italy without having seen Sicily is not to have seen Italy at all, for Sicily is the clue to everything." – Johann Wolfgang Von Goethe
"Italy without Sicily leaves no image in the spirit. It is in Sicily that is the key to everything." – Johann Wolfgang von Goethe
"Sicily is a blessed land. First, because of its geographic position in the Mediterranean. Second, for its history and all the different peoples who have settled there: Arabs, Greeks, Normans, the Swedes. That has made us different from others. We exaggerate, we overdo. We love Greek tragedy. We cry, we fight, sometimes for nothing." – Marcello Giordani
One last word about the most inspiring quotes about Italy
To summarise I really hope you have found the perfect quote to inspire your next Italian trip or of course to accompany your social posts. By the way, if you are looking for Insta-ready captions I have more than 150 to help you entertain your followers! And if you are still in the organizing phases of your Italian vacation you should definitely check out my day trips and travel guides to travel like a local.
Have you liked this post? Pin it for later!