"Hey Anita, I'm planning to come to visit you. Can you tell me when it's the best time to visit French Guiana?" If I had a cent for all the times I heard this question! Disclaimer: I'd still be poor, as not many friends have come to visit me since my expatriation… But, hey if you are here it means you want to know more about French Guiana's climate! So, in this blog post, I'm breaking down all the things you should consider for booking your tickets to French Guiana.
Disclosure: anitabeyondthesea.com is reader-supported. When you make a reservation through links on my site, I may earn an affiliate commission, at no extra cost for you. That will help me keep the blog up and running. Thank you!
Is there a best time to visit French Guiana?
Spoiler alert. There isn't a "right answer" to that. But if you want a very fast answer you should book your flight from July to September. But if you stick with me until the end I am going to show you everything you should consider to plan your perfect vacation. Starting from the basis:
How do seasons work in French Guiana?
French Guiana is in the Intertropical Convergence Zone. The ITCZ is where the trade winds converge in the equatorial area. Due to this condition, the area is known for its windless weather, that's also one of the main reasons why the Guiana Space Center (a FREE must-visit attraction) was established there. The ITCZ influence also rainfall, as a result, the weather is divided into the rain and dry seasons. You can learn more about ITCZ on Wikipedia.
In French Guiana, the ITCZ dictates the dry season from July to November and the rainy season from December to June. And that's where the majority of French Guiana's travel guides will stop, by saying the best time to visit French Guiana is during the driest months to avoid the torrential rains. Except it's not as simple as that!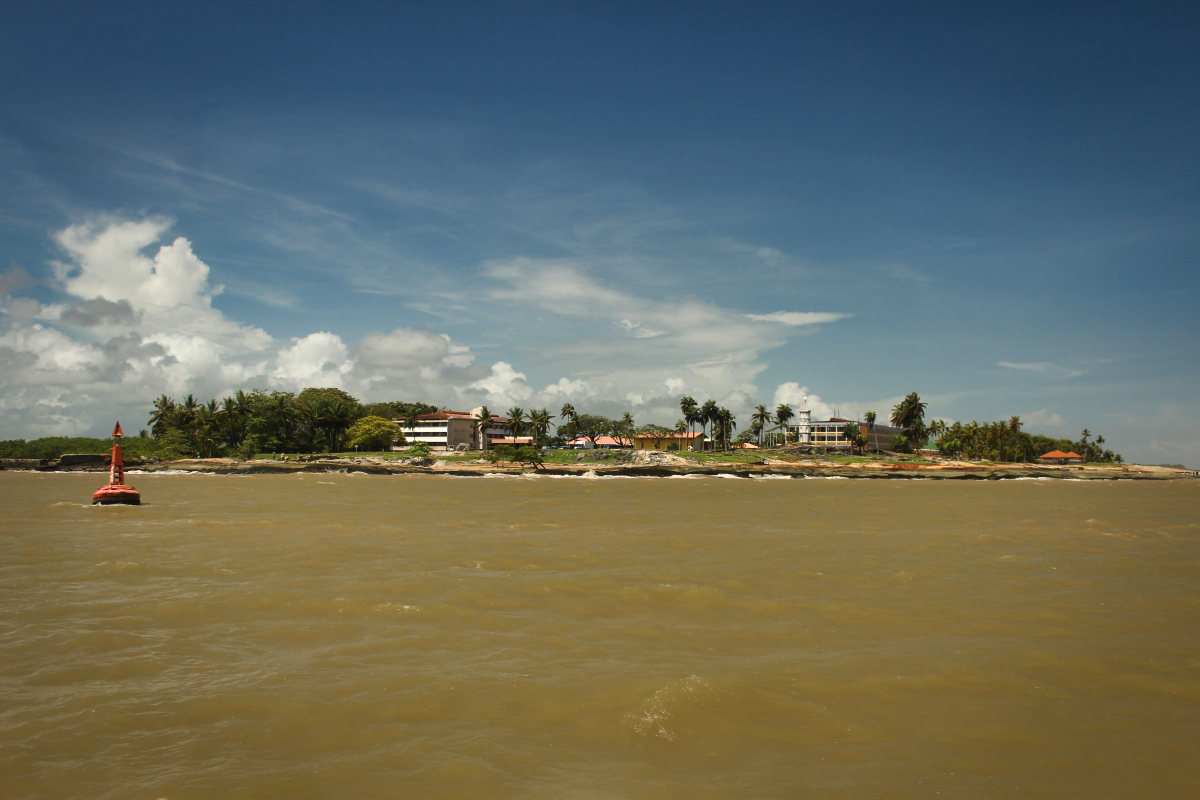 Rainfalls in French Guiana
French Guiana is one of the wettest regions in the world. Its precipitation rate fluctuates between 2.000 and 4.000 millimeters per year. Cayenne, French Guiana's most important city has an annual precipitation rate of 2816 millimeters (source meteofrance.gf). Although rains are usually more frequent a few kilometers from the coastline. And the wettest area is French Guiana's east, especially between Roura and Kaw.
In addition to the rain and dry seasons, French Guiana also has the "Petite été de Mars" (March's little summer). During two-three weeks in Mars, the sun enlightens the region. Note: in the last few years, with the exception of 2020, March has been a very rainy month. Even though the causes are unknown, it is safe to say that if you are traveling in Mars you still may find rain.
With that said, forget about the cold rains you are used to. The humidity of this geographical area makes the rains more bearable and on the contrary often welcomed, as it lowers the hot temperatures. The only inconvenience is the ground gets covered with mud. Forest explorations are dirtier. And after a week of rains, you may be obliged to give up visiting some trails, (like the Rorota Trail, which is dangerous for landslides after many rainy days).
Below you will see the report of French Guiana's rainfalls for 2022 by meteofrance.gf
| Month | Jan | Feb | Mar | Apr | May | Jun | Jul | Aug | Sep | Oct | Nov | Dec | Year |
| --- | --- | --- | --- | --- | --- | --- | --- | --- | --- | --- | --- | --- | --- |
| Average rainfall mm | 350 | 500 | 580 | 500 | 470 | 320 | 260 | 170 | 40 | 110 | 120 | 340 | 3.760 |
Temperatures
Together with the rainfalls, temperatures also fluctuate during the year due to the season changing. August, September, and October are the warmest months due to the almost absence of rainy days. During these months you can count the days with precipitations on your hand, but that doesn't mean the air gets drier. Humidity in French Guiana is high all year long. For this reason, the climate may be suffocating. If you are particularly sensitive to hot temperatures or you have low blood pressure you should simply avoid visiting in this period of the year.
Below you will see the report of French Guiana's temperature by meteofrance.gf
| Month | Jan | Feb | Mar | Apr | May | Jun | Jul | Aug | Sep | Oct | Nov | Dec | Year |
| --- | --- | --- | --- | --- | --- | --- | --- | --- | --- | --- | --- | --- | --- |
| Average temperature (°C) | 26,4 | 26,4 | 26,8 | 26,9 | 26,8 | 26,8 | 26,8 | 27,2 | 27,4 | 27,4 | 27,2 | 26,7 | 26,8 |
So how do I choose my ideal month?
It's not only about the rain and temperature. Of course, when planning a vacation you will tend to look for rainless seasons. But in French Guiana, if you come equipped (a waterproof backpack and a good rain poncho, this model from amazon is great!) you should not fear the rain. In any case, tourists come here more for nature and adventure than sunbathing on the beach.
The landscape changes through the seasons
I know, you may laugh at this one as season-changing in French Guiana is not as evident as in other latitudes. But the landscape changes as well. Especially in the savannas. During the dry season, the grass turns to gold, and some Poirier Sauvages, look dead by hiding their sprouts under the bark to protect them from the heat. Also, the colors are different at this time of the year, less "contrasted". By far the greens of the rainy season add more depth and beauty to the views.
In the Amazonian Forest that will be less visible. Although, during the dry season the few flowers of the forest bloom. While if you collect seeds, from February to April is when you should find them easily.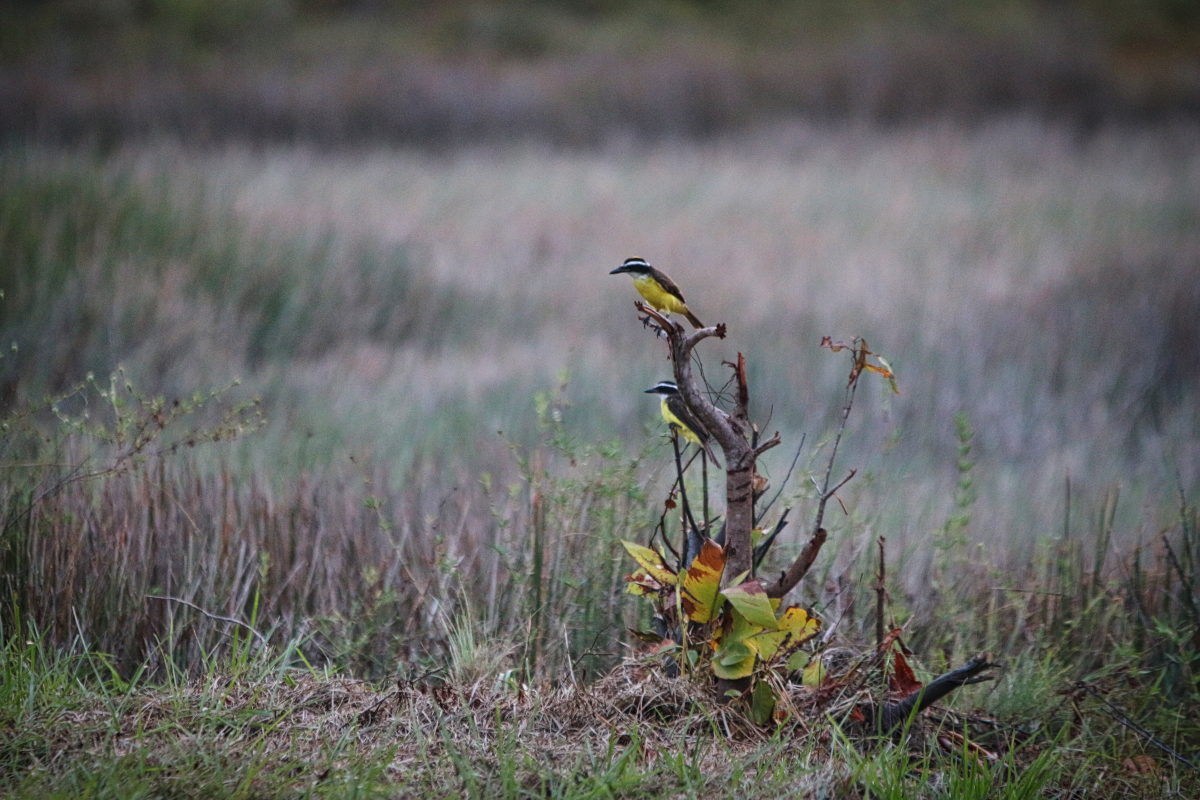 Know the sea turtles season
Among all the animals you can encounter, sea turtles and especially leatherback sea turtles are the most beautiful and impressive to see. When coming to French Guiana meeting one of these giants is indeed a bucket list activity. And for me one of the many reasons to come to French Guiana. If you are interested in seeing the sea turtles, down below you will find the different periods depending on the species:
| | | |
| --- | --- | --- |
| | Egg-laying | Turtle hatching |
| Leatherback Turtle | April to July | June to October |
| Green Turtle | January to May | March to July |
| Olive Ridley Turtle | June to August | August to October |
Note: there are two main sites to observe the turtles: Awala Yalimapo in the West, and Remire-Montjoly, next to Cayenne.
Try to watch a rocket launch
Whether you are a space geek or not, seeing a rocket launch is indeed a once-in-a-lifetime experience. When booking your ticket to Cayenne, you should definitely check if there are upcoming launches at the Guiana Space Center. This website is often well updated, search for Vega and Ariane flights.
And if you want to witness a rocket launch, here you will find my complete guide with all the information you need. Including the best observation sites.
Enjoy French Guiana's Carnival
Do you like dancing to the rhythm of zouk or samba? Or taking part in festive parades? Carnival in French Guiana is unique. Mixing the many cultures that cohabit the region, their Carnival is indeed to see! Starting after the Epiphany (usually the second weekend of January) it lasts for about two months of festive parties and parades. It ends on Ash Wednesday with the bonfire of King Vaval, when he dies to be reborn like the phoenix the following year.
The parades are very colored and beautiful. Although I only recommend witnessing the three Grand Parades: Saint Laurent, 3 Sundays before Ash Wednesday, Kourou, 2 Sundays before Ash Wednesday, and the final Sunday in Cayenne.
During this period you should attend a masked party. There are Touloulous (when women wear costumes) and Tololos (when men wear costumes). Normally if you are a man at Tololos or a woman at Touloulou not wearing costumes you can't dance. But if you are interested you could rent one of the amazing traditional costumes. Otherwise, some Dancing Halls allow watching the party from the benches.
In conclusion
By now I hope you will have a clearer idea regarding when you should book your flight to French Guiana. But if you still have doubts don't hesitate to write me here or DM me on Instagram. I'll be glad to help!
If you are interested in discovering more activities you can do in French Guiana, check out my dedicated section. You will find everything, from general information to detailed excursion guides. I hope to see you soon in the "Nobody will believe you" country.
Have you liked this post? Pin it for later!