Rome is amazing! But it's also (understandably) very crowded, almost every time of the year. If you are looking for authentic and off the beaten path activities to do you are in the right place! I've asked my uncle (a local guide) to list me the best non touristy things to do in Rome. This is what he came up with. From relaxing in parks to exploring local neighborhoods. Without no further ado, let's dive into the most exciting off the beaten path activities in Rome for a truly unique vacation!
Disclosure: anitabeyondthesea.com is reader-supported. When you make a reservation through links on my site, I may earn an affiliate commission, at no extra cost for you. That will help me keep the blog up and running. Thank you!
Table of Content
Before we start…
These activities are perfect if you are staying in Rome for 3 days or more. In case you have less time, I'd recommend focusing your time and energy to discover the "classic" attractions. The Colosseum, Roman Forum, Vatican City, etc…
Did you know you can "conquer" Rome in a day? With this practical travel guide (complete with a map, and the time to walk from one location to the other), you will get to visit all Rome's landmarks in a day! Although I highly recommend you spend more than one day in Italy's capital.
And if you are preparing a complete itinerary check out the best Colosseum tours.
Drink espresso in Antonio Canova's former atelier
Just a few minutes from the Spanish Steps, Museum Atelier Canova Tadolini is one of the most incredible restaurants in Rome. As you may have guessed from its name, this bar and restaurant is also a showcase to an incredible collection of plaster copies of Antonio Canova's statues, and one of his pupils Adamo Tadolini.
In 1818 Canova bought the atelier in the famous via del Babbuino (literally Baboon's street), and lived and worked there with Tadolini. The Atelier then went to the Tadolini family, who continued to create statues until 1960. In 2003 it reopened as a bar and restaurant but kept all the plasters on display as 5 generations of sculptors left them. Now you can admire the incredible works of master Canova while tasting spaghetti alla carbonara.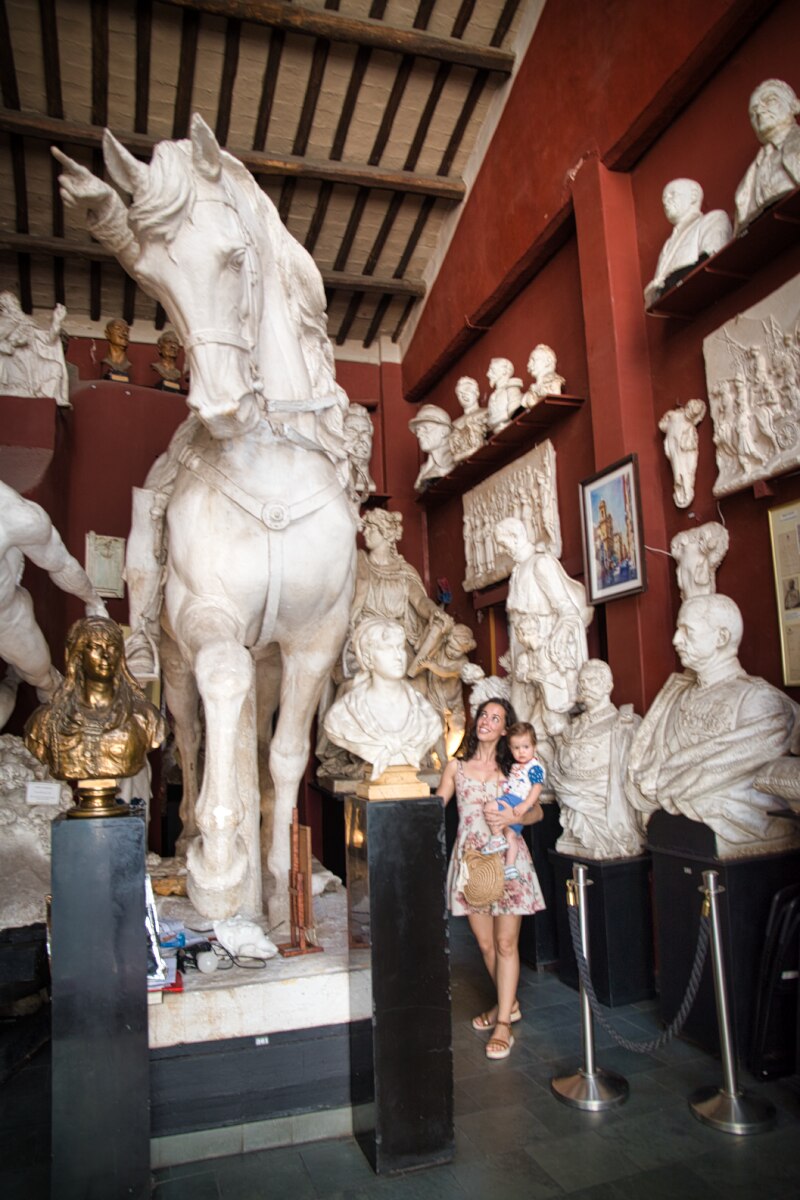 Admire the view from Fontanone dell'acqua Paola
On Gianicolo hill and before arriving at the noon cannon, there is a beautiful panoramic point where many wedding photographers bring their couples. It's Fontanone dell'acqua Paola (Big Fountain of Paolo's Water).
The baroque fountain was built in the second half of the seventh century. Surprisingly it's one of the few in Rome on a panoramic spot. Of course without counting Villa d'Este's fountains. Before heading to Garibaldi's statue and panoramic point, this is indeed a great spot to take some photos.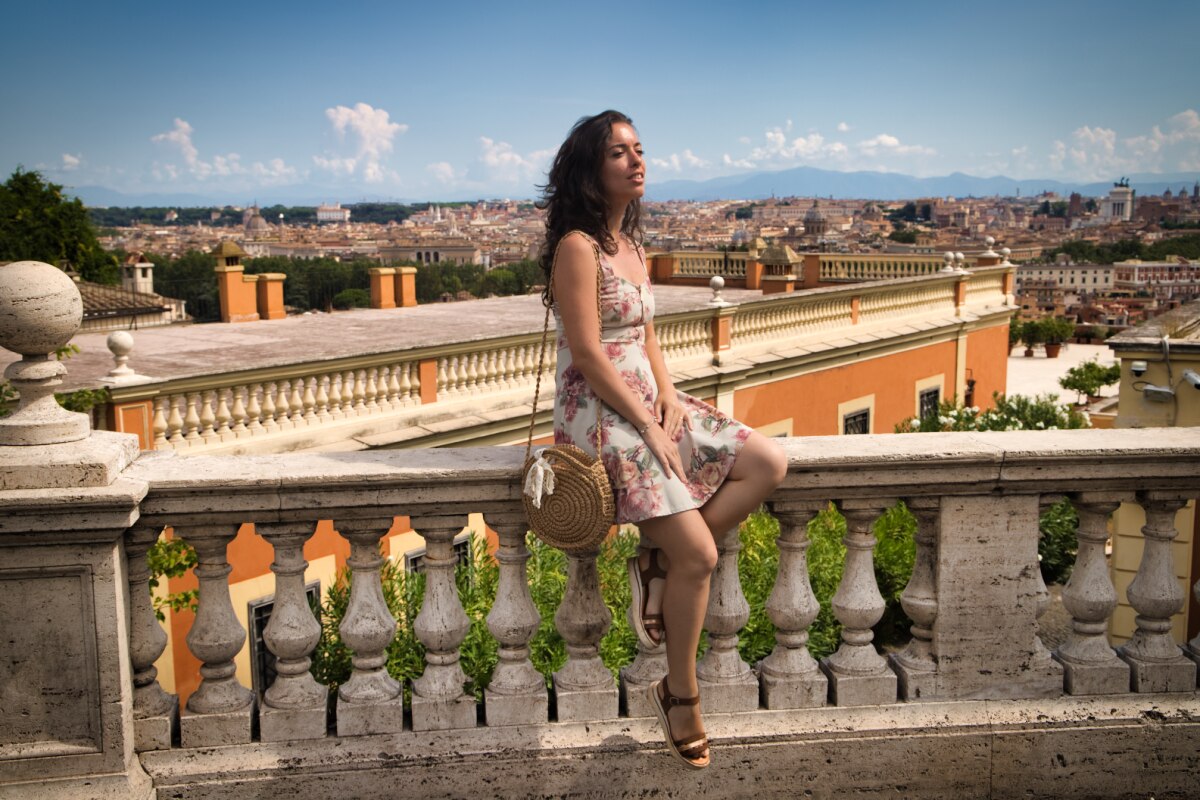 Watch the Cannon at noon from Gianicolo hill
In addition to the beautiful view of Rome, Gianicolo, one of Rome's seven hills, is well known by the locals for another tradition, the noon cannon.
Every day, since 1904, at noon the cannon gets outside from its bunker, which is situated under Giuseppe Garibaldi statue, and greets the crowd by shooting blanks. The reason behind this is to let all Rome's churches ring their bells at the same time.
You can attend this unusual event from two points. On top of the bunker, above the canon, to enjoy the panorama at the same time. Or next to the canon. No matter what you choose, remember that the noise is very loud!
Explore the underground Vatican Necropolis
Under one of the most visited attractions in the world, lies one of Rome's best kept secrets: the Vatican Necropolis.
What makes it absolutely unique is its conservation state. To this day, several centuries after their creation, the Necropolis frescoes are still in perfect condition. They even maintained their original colors!
Visiting the underground Vatican Necropolis is a unique experience. But due to the very special atmospheric conditions, only 250 people per day are allowed to visit. If this experience is on your bucket list, you should reserve your visit the moment you book your flights to Rome. To do that you must write to the entity that manage the archaeological site following their instructions. You can find all the reservation information here. The ticket cost 13€.
No photos are allowed in order to don't damage the colors.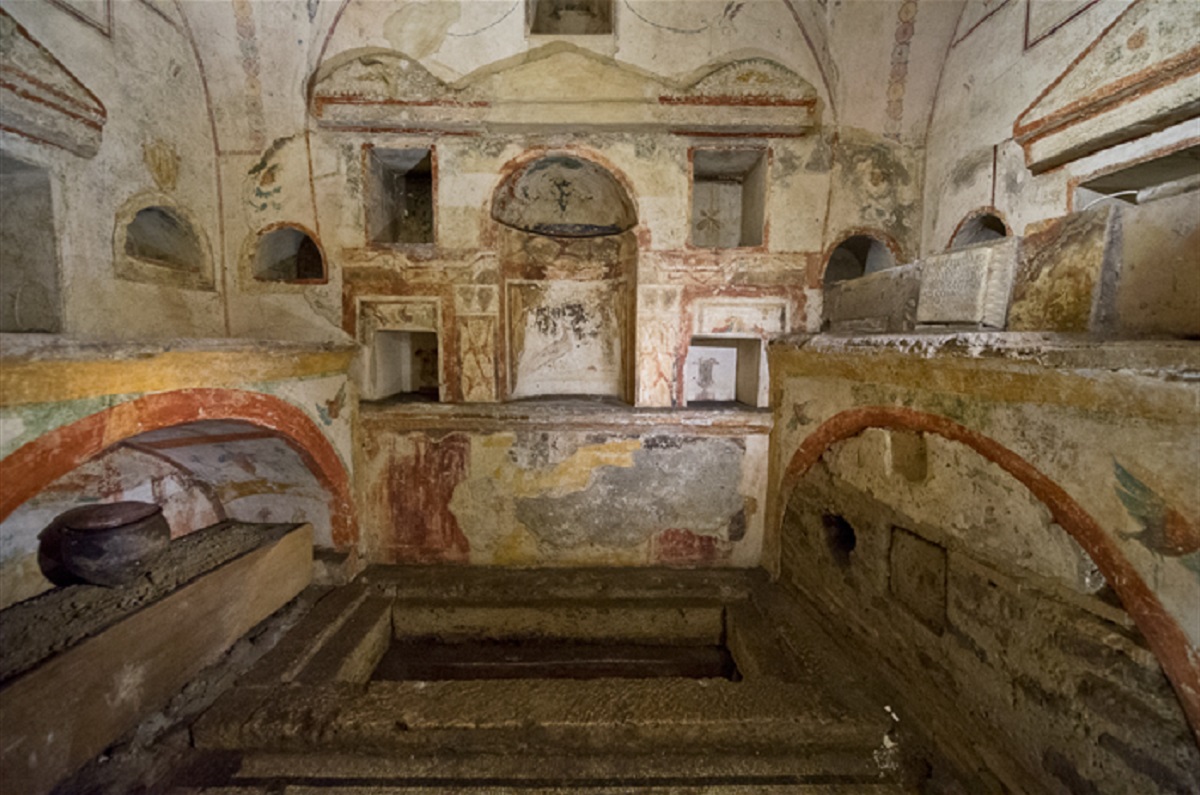 Observe an ancient Pyramid
Soon after Augustus conquered Egypt in 30 B.C., Romans adopted Egyptian culture and architecture. From Obelisks to Sphinxes and even Pyramids! Even if there aren't many official documents about the total number of pyramids (most likely between 4 to 6), Cestio's Pyramid survived centuries of battles and bad weather. The Pyramid has been built in a once burial ground as the tomb of Caio Cestio,
You can see the 36 meters high Pyramid from the outside in the Ostiense neighborhood. For guided visits inside reserve via their website CoopCulture. Even though I don't recommend buying the 6€ ticket as almost all the decorations inside were stolen through the years.
When admiring the Ostiense Pyramid, don't miss the opportunity to visit the monument Tutti Potenziali Bersagli (translation All potential targets). A tribute to the social groups killed during the Holocaust.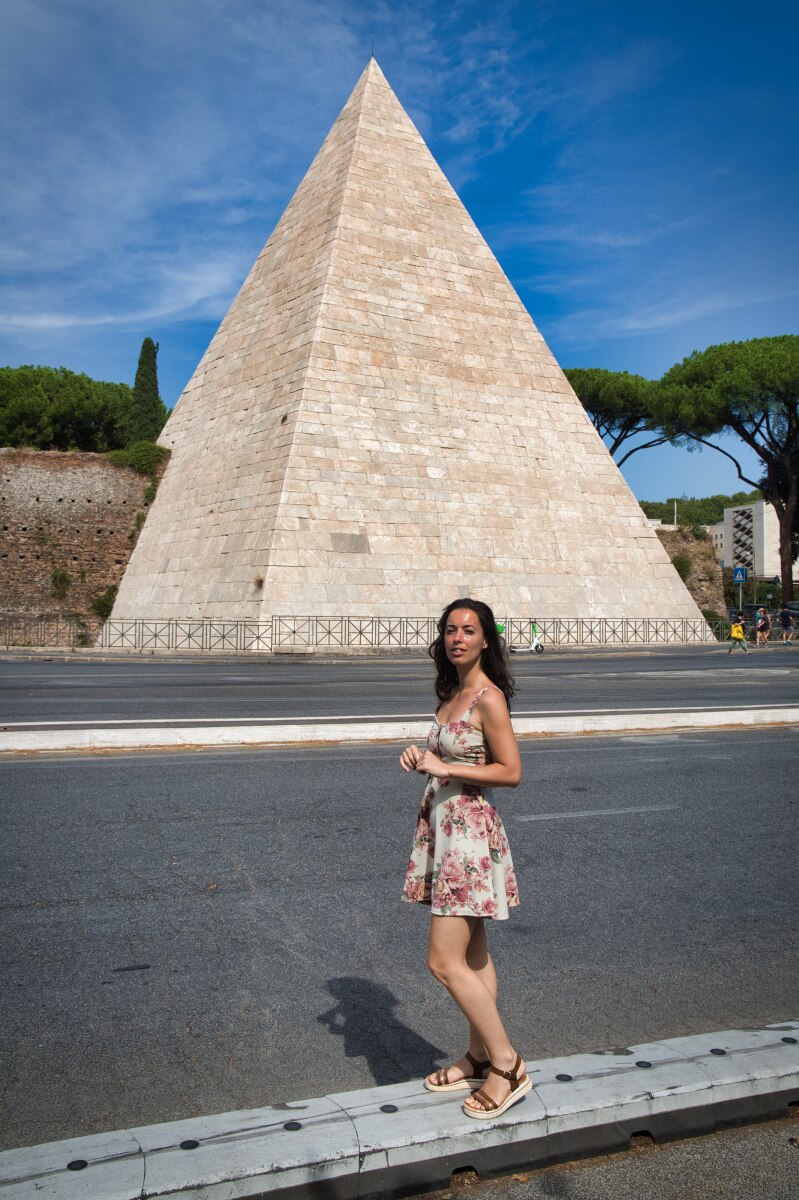 Wander among Trastevere's alleys
Even though in the most recent years Trastevere has grown more and more popular, it's still incomprehensibly a less known neighborhood in Rome. Loved by the locals for its active nightlife and excellent restaurants, you can enjoy Trastevere at every moment of the day.
Besides the charming alleys where you will be tempted by delicious restaurants, you shouldn't miss the opportunity to visit Santa Maria in Trastevere. Without a doubt one of the most beautiful churches in Rome. Golden mosaics and one of the most impressive baroque chapels: Antonio Gherardi's Avila Chapel.
Visit Rome's Small Duomo di Milano
This is a fun one. Did you know that there is a small Duomo di Milano in Rome? Chiesa del Sacro Cuore del Suffragio reminds Milan's landmark because of its Gothic Revival style.
The interior is decorated with polychrome marble, and stained glasses play with the light that enters and colors the interiors. Note: the best moment to visit the church is early in the morning as the sunlight enters via the stained glass and enlightens the whole church.
You can stop by the Piccolo Duomo di Milano, on your way to Castel Sant'Angelo. It's just a few minutes away. And you will get to admire the exterior of the Supreme Court and Palace of Justice, a majestic Renaissance/Baroque building.
Stroll among the incredible buildings of the Fascist period
There is no doubt that one of the most beautiful neighborhoods in Rome is the EUR short for Esposizione Universale di Roma (Rome's Universal Expo). EUR was designed in 1930 with the main purpose to be the location of the 1942 World's Fair and to celebrate 20 years of Mussolini's rise to power.
Following the unfortunate events of World War II the Expo never took place, but the majestic buildings remained. When visiting the neighborhood you shouldn't overlook one of Rome most iconic buildings, the Square Colosseum. Besides being the set of many movies, the Palazzo della Civiltà Italiana is nowadays the headquarter of the luxury fashion house Fendi.
Another must see is La Nuvola (the Cloud), a modern convention center that hosts temporary exhibitions and other events.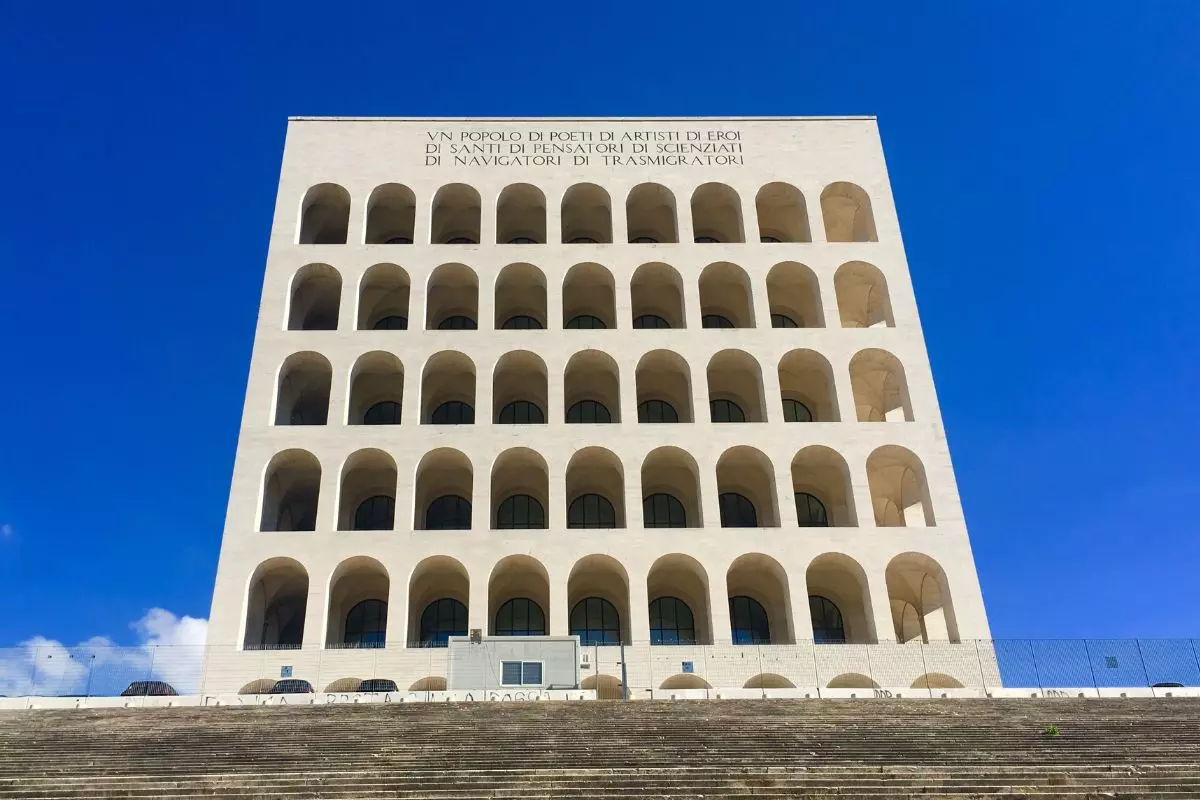 Be amazed by the grandiosity of Stadio dei Marmi
The Stadium of the Marbles is part of a larger complex known as Foro Italico. Just like EUR, Mussolini commissioned the Foro Italico when he was Italy's leader. His project was to create a large sports complex to restore Rome's glorious past. The huge Olympic park includes also the Olympic Stadium, the Tennis Court, and the Olympic Swimming Stadium.
What makes the structure stand out is the decoration. There are 60 marble statues, each one 4 meters high, representing mythological figures as well as athletes in action.
The Marbles' Stadium is open daily from 8.30 AM to 8 PM. On Saturday it closes its doors at 6 PM, while Sunday opening time is from 9.30 AM to 1 PM.
Shop like a local at one of Rome's Flea Markets
Born soon after the war, as a way for poor people to buy goods, flea markets have become a real attraction in Rome. Among the most famous how not to mention the largest of Porta Portese?
Every Sunday from 6 AM to 2 PM, this market welcomes products from many different origins. You can find almost everything there, including exotic souvenirs.
If you are more into antique objects you shouldn't miss the Milvio Bridge flea market. From statues to ancient toys or posters, you will find many curious and strange objects there. I guess the problem is to keep enough place in your luggage.
Discover Galleria Sciarra and its art nouveau decoration
Literally a few meters away from the Trevi fountain, hides one of the most astonishing examples of art nouveau in Rome. Galleria Sciarra is a small courtyard commissioned by the influential Prince Maffeo Barberini Colonna di Sciarra, to connect his properties.
The decoration is a tribute to women and most especially to Maffeo's mother, whose initials are at the entrance of the gallery. Many decorative elements recall also Etruscan, Roman, and Greek cultures.
Sciarra Gallery is open from Monday to Friday from 9 AM to 6.30 PM.
If you liked Galleria Sciarra don't forget to visit also Galleria Alberto Sordi. Very close to the Pantheon, this is another excellent example of art nouveau in Rome. The gallery is also much larger and more crowded than Galleria Sciarra. However, there are also coffee and bars inside.
Visit Doria Pamphilj Art Gallery
Doria Pamphilj Art Gallery is on one of the most crowded streets of Rome, via del Corso. It's the street that connects Piazza del Popolo to Altare della Patria (Altar of Fatherland). Even so, there are a few people that enter to visit Doria Pamphilj palace and art gallery.
Featuring works of art from Jan Brueghel the elder, Parmigianino, Velazquez, Titian, and even Caravaggio and Raphael, this is indeed one of the most incredible art private collections. The icing on the cake? One of the most incredible halls reminds of Versailles' Hall of Mirrors.
The gallery opens from Monday to Thursday from 9 AM to 7 PM. While from Friday to Sunday the opening hours are from 10 AM to 8 PM. The entry fee is 14€.
Get lost in Villa Borghese's beautiful gardens
Ok, I'll confess. Villa Borghese Park and Gardens are not a non-touristy activity. BUT, just like Villa Adriana, even if there are a thousand or more people at the same time you won't notice it, because the park is huge.
Even if Villa Borghese is well known there are very few tourists that venture inside. Mostly stop at the beautiful terrace of Pincio, which is just above Piazza del Popolo. And yet there's no better place to have a picnic while admiring the ancient architecture, or just to rest your sore feet after a long day.
Which non touristy activity have you loved the most?
Personally, it's so difficult to choose! But I'm curious to see which one you will pick. And please if there are some activities you feel I should add let me know. I'll be glad to test them.
Are you preparing a trip to Rome and Lazio? Check out our Italy travel guides (ordered by region) for a perfect vacation. And for more Rome-related inspirational locations check out the best Rome photo spots.
Have you liked this post? Sharing is caring!