Nestled in one of the most remote locations in the Lofoten, Nusfjord is a small fishing village that until the '60s was accessible only by boat. Crowded by tourists during the Summer "hot" months, Nusfjord has become an unofficial open air museum, as one of the most well preserved traditional fishing villages in Norway. When visiting Lofoten the detour is a MUST! But what should you expect exactly from this charming village? Let's see in our detailed travel guide.
Disclosure: anitabeyondthesea.com is reader-supported. When you make a reservation through links on my site, I may earn an affiliate commission, at no extra cost for you. That will help me keep the blog up and running. Thank you!
Note: to regulate over-tourism and help the village economy, Nusfjord has an entry ticket. You can pay it after you have parked your car before entering the ancient part of the village.
In This Article
When is the Best Time to Visit Nusfjord?
There are no doubts that Nusfjord is beautiful all year long, so when choosing the time to visit it will depend on the type of traveler you are. Trekkers and outdoor lovers may prefer Summer months as the temperatures are warmer, there is no snow and you will be able to enjoy the many trekkings in the area.
On the other hand, nothing beats the beauty of the Lofoten archipelago during Winter. Snow covers everything in a white candor, and even though you days are very cold and there isn't much light the landscapes become even more magical. And of course there are the Northern Lights!
How to get there?
Nusfjord was one of the most remote places in Lofoten until the road was built in the 60s. Today getting there is easy when you are on the E10 National Lofoten Road. If you are following our 5 days Lofoten Road Trip itinerary and coming from Svolvaer the detour is before Flakstad.
Don't have a rental car yet? Check out availability on Discovercars.com.
Where to stay in Nusfjord?
Since it has become an UNESCO World Heritage Site in 1975, Nusfjord is classified as one of the most well preserved fishing villages in the Nordics. For this reason the only accommodations you will find are the lovely ancient fishermen cabins locally known as rorbuer (if you like to know more about rorbuer in Lofoten, check out our blog post). There are two types rorbuer: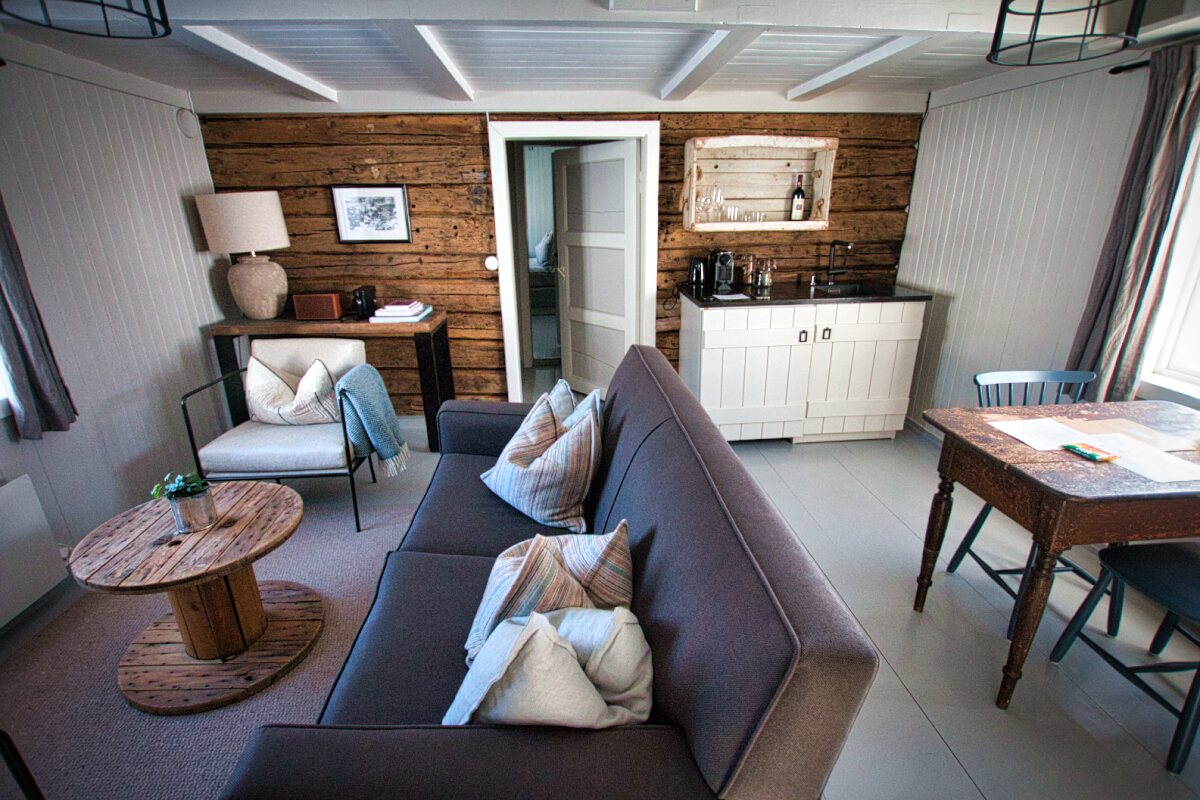 Nusfjord Arctic Fjord
Make it ancient but luxurious: Nusfjord Arctic Fjord rorbuer are cozy cabins that have been reconverted to luxurious small homes. Equiped with a kitchen and all kind of comfort and amenities, these cabins are absolutely ideal if you are willing to treat yourself.
Check out prices/make a reservation.
Lofoten Cottages
Lofoten Cottages are private rorbuer that are rent by the same managers of Nusfjord Arctic Fjord. Less fancy than their neighbors but still cozy and including a kitchen and all the comfort, Lofoten Cottages are an excellent compromise if you don't want to break the bank.
Check out prices/make a reservation.
Where to eat in Nusfjord?
Nusfjord is a very small village but it has all you need when it comes to food.
Considered as one of the best restaurants in Lofoten (and also priciest!) Karoline Restaurant is the place to go for having an excellent meal. Traditional cuisine made with local ingredients at its best. I'd recommend having a look at their menu to avoid bad bill surprises.
Are you looking to enjoy a good pizza? Oriana Kro (Oriana Tavern) has one of the best Italian pizza in Lofoten archipelago. Fresh and good quality ingredients and some very caring staff makes it a great place for having lunch.
Landhandleriet Café is one of the loveliest and coziest cafés I've ever been to! Anciently a general store, the interiors kept many of the ancient objects like the imposing cash register. It also has a small shop where you can buy traditional products. Their specialties are focaccia (similar to sandwiches) with salmon.
Hansines Bakeri Veronica Olaisen is a traditional bakery that serves some of the most famous cinnamon buns in Lofoten. Just like the surrounding buildings the bakery is inside an ancient wooden house so typical of Norway.
What to do in Nusfjord?
Despite its rather small size Nusfjord there are several activities to do, you could easily occupy a full day especially in Summer when the trail to Nesland is easily accessible. During Winter I highly recommend spending the night there to observe the Northern Lights.
Learn more about Nusfjord Story and Traditions
As I already mentioned Nusfjord is a UNESCO site and one of the most well preserved fishing villages in Norway. The village is also a Museum and includes many traditional buildings that you can visit showcasing traditional objects. In this map from Nusfjord Arctic Resort, you can see the buildings of interest including those who are open to the public.
If you have time I recommend visiting them all and stopping at the cod liver refinery where a short movie with archive footage is presented. The village is very picturesque and simply walking among the rorbuers is lovely.
Reach the Scenic Lighthouse
If you continue your walk from the village to the entry of the fjord you will end up at Nusfjord small lighthouse. The modern and small lighthouse is at the entry of the fjord and benefits from a stunning view on the surrounding mountains and Nusfjord.
The lighthouse is accessible all year long. Although during Winter the path is more difficult since the snow covers everything.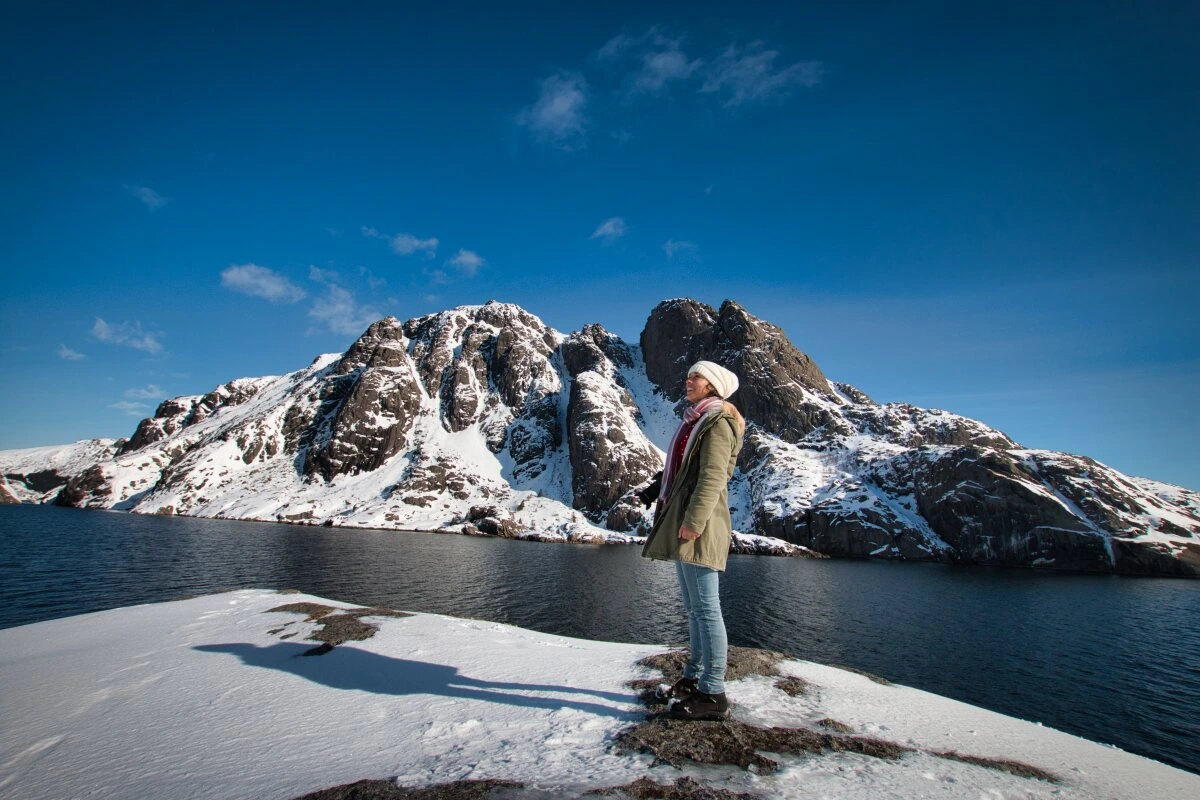 Indulge at the Ancient General Store with a cup of Hot Chocolate or Tea
I already mentioned Landhandleriet Café as one of the places to eat in Nusfjord but it can be a lovely location also to relax and admire the amazing external landscape while eating a waffle and sipping a hot chocolate.
Especially if you are visiting during Winter Landhandleriet Café can be the ideal refuge before your nocturnal Northern Lights hunts. The interiors are the coziest!
Nusfjord to Nesland Trail (recommended in Summer)
The trail to Nesland is a moderate 4 kilometers trail (about 3 and a half hours) that will bring you to Nesland. Just like any other trail in Lofoten, Nusfjord to Nesland is a scenic hike with some breathtaking landscapes.
The passage between the two ancient fishing villages has been used for a very long time by the villagers even before becoming a famous tourist hike. For more informations about this trail check out Outdooractive dedicated guide.
From October to early April: go on a hunt for the Northern Lights
Are you too traveling to Norway to see the Northern Lights? December and January are the most active months. But December is also the month where the days are the shortest and you won't enjoy much daylight. The ideal months are November, February, and March. In February the high season for Winter tourism begins so the prices are the highest.
Nusfjord is an ideal location to photograph the Northern Lights as it's framed by the mountains. Of course framing the rorbuer in your long exposures will be more difficult than in Hamnoy, where you can simply go on top of the Hamnoy bridge. But Nusfjord still offers plenty of interesting observation points.
In case you are interested Nusfjord Arctic Resort also has guided excursions. You can check the availability on their site or simply ask at the reception when arriving for the check-in.
Help Keep Nusfjord Safe from Over-tourism
As a small community of less than 50 inhabitants, Nusfjord is "taken by assault" during the months of June and July. The village was victim of its success and many buses of tourists come there every day. To be respectful of the locals lifestyle consider spending the night in one of the rorbuer cabins or at least eating at one of the village's restaurants.
You will support the local economy and be an ethical traveler!
Frequently Asked Questions
Is Nusfjord Expensive?
Nusfjord is VERY expensive. Karoline Restaurant is one of the most expensive and every extra activity you will do with Nusfjord Arctic Resort will be probably more expensive than in other places.
Also remember that Nusfjord is far from the larger cities and as a very small community the prices go up easily.
Is Nusfjord Worth Visiting?
Nusfjord is without any doubt one of the most charming villages in Lofoten, and I'd dare say the most beautiful. Going to Lofoten without visiting it would be a REAL pity! If you don't have much time and you are visiting only the village/museum, half a day will be enough.
Ideally I'd recommend coming in the afternoon, doing the trail during the Summer, or coming in the late afternoon to observe the Northern Lights in Winter, and saving the morning after to explore the village and go to the lighthouse.
One last word about our Nusfjord Travel Guide
If you are looking for dramatic landscapes, historical places, and outdoor activities Nusfjord is your go to but if you need more ideas of locations to visit in the Lofoten (including the best photo spots in Lofoten) check out also our 5 days itinerary. And keep an eye on our Norway page for more Lofoten and Vesteralen excursions!
Have you liked this post? Sharing is caring!